Hey, remember when Ohio State lost its beloved coach, its Rose & Sugar Bowl MVP quarterback, spent every single week of the calendar being shamed on TV, radio, the Internet and in print and sucked at football?
That was all last year, not this year. This year was so much better.
That's not to say that 2012 was perfect, though. Oh, there were issues. Not the sweet merciful creator please make this nightmare stop issues of 2011, but 2012 still had its flaws. We'll remember them in this column.
WOAH WAIT – don't leave yet. It wasn't that bad. To say 2012 was better than expected from a scarlet and gray standpoint is putting it mildly.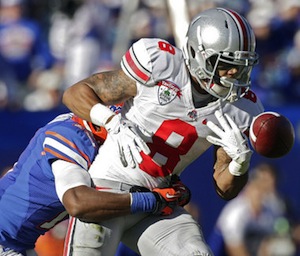 Just one year removed from the Tatgate nightmare and choking to Kentucky in the Sweet Sixteen, you were rewarded with a Final Four run, Urban Meyer and the sixth perfect season in 122 years of Ohio State football.
Your inner Brutus died in 2011. It was reborn in 2012, and before that smiling old man is replaced by a naked little baby in a scarlet and gray 2013 sash, pay your respects: This was a year completely free of radioactivity.
Still, there were a few things that went sideways. There always are.
After an historic four-year run, JB Shugarts finally did not lead the team in false starts in 2012. Nope, he finished tied for second behind Marcus Hall.
Yes, for 2012. Despite only playing in one game.
Shugarts didn't play for Ohio State after New Year's Day, but you still shouted his name this season whenever there was a false start. And you always will. But it's okay – we can finally laugh about it!
And now without further ado: For one final time, let's remember what will better be forgotten about 2012.
11. ETIENNE SABINO BREAKS HIS FIBULA
After another wildly successful edition of Eat Too, Brutus, the pressure was on for the Buckeyes to keep its 11W tailgate game winning streak alive. And it obliged with a 63-point shaming of the Nebraska blackshirts.
Unfortunately that night wasn't all great: Ohio's elder statesman on the linebacking corps – um, the elder statesman who was actually decent, anyway – broke his leg, taking a team leader off the field while adding obnoxious flashing neon lights to what was already a glaring roster weakness.
Every setback creates an opportunity, and Sabino's injury was no different: One week later the linebacking corps was infused with the unlikeliest upgrade and by the end of the season those neon lights were a distant memory.
10. STEFON DIGGS CHOOSES MARYLAND
The undeniably talented playmaker wasn't interested in becoming Ohio State's Percy Harvin. He chose to be Maryland's Stefon Diggs instead. Pfft. On to the next Percy.
9. BRAXTON GETS KNOCKED OUT FOR THE SEASON AGAIN & AGAIN
He was the chocolate in Ohio State's peanut butter. He was the straw that stirred the drink. He was the Big Ten's offensive player of the year and the most exciting player in the conference.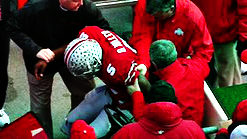 Braxton also defied the normal laws governing injuries to the human body. Try to recall the number of times he laid motionless after a vicious hit. You gasped. We all gasped. Some people actually shouted the word gasp.
His knee bent unnaturally in East Lansing, not soon after his helmet clanged against an equipment cart. His head bounced off the turf repeatedly. His shoulder was driven into the ground and repositioned inside of his throat. His neck was snapped, he was mobilized and left the field on a gurney.
He left the Purdue game in an ambulance. And he was hospitalized.
Yet he didn't miss a single game. That didn't make his repeated flirtations with season-ending injuries any easier for us to digest, regardless of his backup's jazzy and effortless comforting.
Braxton was basically the T-1000 from Terminator 2: He was indestructible, and fortunately for the Buckeyes there was no hot molten magma on the schedule. Hopefully next season he won't cause you to swallow your heart quite as many times.
8. OHIO STATE FALLS TO MICHIGAN IN HOOPS
The Buckeyes beat the Wolverines twice in 2012 by a combined 37 points. Alas, they faced Michigan three times. Ohio State lost the middle game in Ann Arbor, and it was unkind.
Despite the Buckeyes winning 16 of the last 20 games against the Wolverines, that loss stung a little more. Perhaps it was because Columbus' Trey Burke was leading the charge for Michigan, when he easily could have been playing for the team in red.
Regardless, the disappointment of losing in Ann Arbor was quickly remedied with merciless thrashing in the B1G tournament shortly thereafter. Less than a week after that, the Ohio Bobcats ended Michigan's season and Brady Hoke's cute little naming convention exploded like a meth lab in Flint.
7.THE HANGOVER PART II
Call it PTSD from the shitshow of 2011. The punishment was handed down last December, Urban was firmly in charge, the winds of scandal had stopped blowing – but we still weren't quite at peace.
Our emotional well-being wasn't aided by odd comments from Gene Smith, or when ESPN ran stories referencing violations that were never proven or cited in the NCAA NOA as if they were fact (as manufactured villain and certified patsy Dennis Talbott told me: "Who could have seen me peel off $200 in a parking lot? Was I counting the bills out loud like a cashier or something?").
It took the football season finally arriving before we finally exhaled. It's now safe to feel safe.
6. CARDALE JONES AIN'T COME TO PLAY SCHOOL
There's no such thing as an unpopular second-string quarterback. Remember when Joe Bauserman backed up Terrelle Pryor? You loved Joey Football. Then last year you finally saw him throw, and you immediately loved his backup, Braxton Miller.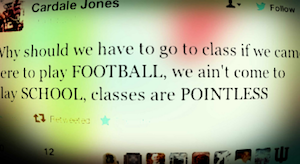 You still love Brax. But you also love Kenny Guiton, because let's face it: He might be the most likable backup QB in school history in addition to being the most respected kid on the roster.
But Guiton's backup is...not as popular. Cardale Jones is from that famous Glendale pipeline that has given the Ohio State program Heismans or headaches. Tarblooders tend to either shine or combust in brilliant fashion.
Jones hasn't seen the field yet, but in October he tweeted his way into infamy:
Why should we have to go to class if we came here to play FOOTBALL, we ain't come to play SCHOOL, classes are POINTLESS
Cardale still hasn't seen the field, but on the bright side it's clear he's seen his classrooms. It would be impossible to pass such honest judgement on the value of his class schedule otherwise.
5. PEE N' FLEE SNAGS STONEY & MEWHORT
The scandal known as Pee n' Flee struck one summer night when Jake Stoneburner and Jack Mewhort relieved themselves in the wee hours on the side of a building.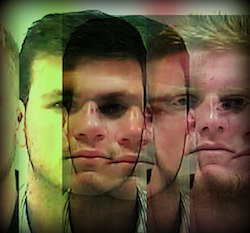 Peeing outdoors, in addition to being enjoyable, liberating and generally underrated is also unfortunately frowned upon by law enforcement. When the ambitious Shawnee Hills police spotted the two Buckeyes and a third friend making open-air maize, they gave chase. Serving and protecting, or something.
Stoney and Mewhort demonstrated nice YAC (yards after citation) but it ended badly when one cop fell down, and the players realized oh hey we're running from police.
In a move to demonstrate he would not metaphorically ignore the next misguided email from Christopher Cicero, Urban pulled the two starters' scholarships and forced them to earn them back, which they did.
For the balance of the summer into fall camp, Stoneburner and Mewhort were off scholarship and had that pee cloud hanging above their heads in humiliating fashion.
A lesson was learned very publicly: You're not like everyone else, Ohio State football scholarship holders. You actually have to be better.
The charges were eventually dropped. Perhaps the judge peed outside during a recess and discovered how fun it is. Sometimes you just need to urinate in someone's shoes. Wait, not in them. You know what I mean.
4. STORM KLEIN CHARGED WITH DOMESTIC ASSAULT
Storm Klein was charged with domestic violence against the mother of his child and almost immediately dismissed from the football team as a result. He remained off the team until the charges against him were dropped.
He rejoined the team in late August, served a two-game team suspension and is serving 18 months probation after paying court costs and copping to misdemeanor disorderly conduct.
3. BUCKEYES FAIL TO HOLD OFF JAYHAWKS IN FINAL FOUR
It's exceedingly difficult to gripe about your team's basketball season ending in the giant awesome party that is the Final Four, but let's do it anyway. Ohio State has come too close in both football and basketball recently to just be happy with getting to that stage.
The Buckeyes took to the Louisiana Superdome floor and quickly shook Kansas out of its game. Unfortunately the second half went nothing like the first half, and despite shooting 24% from the floor the Buckeyes only lost by two, which means had they just been mediocre instead of abysmal they likely would have faced Kentucky for the national title.
And you wanted to see the Buckeyes play an SEC team again for a national championship. It would have been different this time. <-- you can't prove otherwise
2. CHARLES WAUGH COMES TO COLUMBUS
This story had so many moving parts it was hard to keep it straight – but since we're bidding adieu to 2012's garbage, here goes:
This story began with highly sought-after linebacker recruit Alex Anzalone nearing the end of his recruitment ahead of the Ohio State Spring Game. Following his third trip to Columbus – for that scrimmage – Anzalone gave his verbal commitment to Urban Meyer and Ohio State.
Anzalone told 11W's Alex about his plans to be an active recruiter for his Ohio State class as well as his intentions to study at the Fisher College of Business.
Eleven days later he decommitted from Ohio State. So what happened?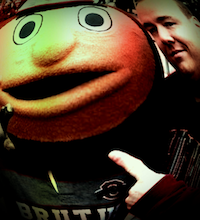 Anzalone's decommitment from the Buckeyes will always be tied to Charles Waugh, a registered sex offender with a documented penchant for underage boys. A resident of Kentucky, Waugh violated his probation when he ventured too far away from home up to Columbus to meet Buckeye recruits – including Anzalone – that he had met on Twitter.
That news, layered with Ohio State losing a prized recruit (who grew up not far from Penn State), a sex offender gaining access to visiting high school kids and the threat that the fallout might cause Joey Bosa to also reconsider his commitment reawakened the paranoia of Spring 2011.
Urban and the staff tried to get Anzalone to reconsider, and he flirted with the idea of visiting Ohio State for a fourth time but in the end the linebacker committed to Notre Dame.
Waugh was arrested and the incident, which was in no way tied to lax security on the university's part (the recruits were on unofficial visits) brought out the worst in some Ohio State fans: Alex's father's pediatric practice was spammed with negative online reviews, as his son found himself dealing with the embarrassment of what had transpired.
A few weeks later 11W's Alex caught up with recruit Jeb Blazevich, who was subsequently contacted by a reader after seeing his phone number flash across the highlight video that was posted with the article. The Waugh incident wasn't even a month old when this happened.
The Waugh affair, coming on the heels of Ed Rife and Bobby DiGeronimo have given many Buckeye fans (proprietors of this site included) absolutely no appetite for adults contacting minors being recruited by Ohio State. Waugh provided the Buckeyes with a To Catch a Predator moment.
One final message for you, convicted sex offenders as well as non-offenders: These kids have enough coaches, bloggers and reporters contacting them under legitimate auspices through correct and appropriate channels already. They have kids their own age contacting them. They have girlfriends, friends and enemies.
They don't need random, starstruck adult males trying to make new teenage acquaintances. Go make other friends instead.
1. BUCKEYES WILLFULLY PARTICIPATE IN TAXSLAYER.COM GATOR BOWL
What better way to reward a lousy 6-6 team than to brazenly send it to Jacksonville in the face of an NCAA Committee on Infractions ruling for two Notices of Allegations?
The program was likely set to emerge without a ban following the Tatgate mess, but DiGeronimo's appearance put that outcome in jeopardy. Regardless, Ohio State sent its worst team of the century to the postseason, where it lost to a similarly disappointing Florida team in a game no fan on either side has re-watched since.
Though that L was technically hung on the Buckeyes in 2012, it seems like light years ago. That game, for all intents and outcomes, was played on December 32nd, 2011.
The bowl ban was levied after Urban was hired but before the Gator Bowl preemptively neutered what became a perfect regular season. Did it lift some tension off of the team, contributing to its perfection? Probably.
But is that tension what makes the college football season the best televised thing in your life? Yeah. It is.
---
2012 in Review
DISHONORABLE MENTIONS: Penn State annihilated by NCAA sanctions, which was not a Buckeye moment per se but it negatively affects Ohio State as well as the entire Big Ten for the next decade.
Bri'onte Dunn arrested then saved by Mom of the Year™ candidate, which resulted in the charges being dropped.
Allowing Indiana to score 49 points and almost come back.
Jordan Hall stepping on stepping on stepping on broken gla-a-aaass.
John Simon finishing his Buckeye career on the sideline against Michigan.
Ohio State's defense for the first half of the season HAHAHAHA remember that?
FAREWELLS: Adam Bellamy, Tyrone Williams, Riquan Southward, Brian Bobek, Dominic Clarke, David Durham, DerJuan Gambrell, Jordan Whiting, Jaamal Berry, Jeremy Cash, Scott McVey, Melvin Fellows, Jamie Wood, JD Witherspoon and Jordan Sibert.
See? That wasn't so terrible. Regardless, here's to 2013 making 2012 look like 2011 by comparison.