Ohio State's recruiting class of 2017 is entering a pivotal season.
Those Buckeyes are entering their third season in Columbus, which means they're expected to be ready to play significant roles for Ohio State if they haven't already. Each of them now have two years as Ohio State players under their belts, and by the end of the upcoming season, all of them will be on the back end of their careers while some of them will have decisions to make about whether it's time to go to the NFL.
With that in mind, Eleven Warriors is taking an individual look this offseason at each of Ohio State's third-year scholarship players – in descending order of their 247Sports composite recruiting rankings – and the expectations that preceded their Ohio State careers, how they have performed in their first two seasons as Buckeyes and the outlook for the remainder of their careers.
In the final position player installment in the Third-Year Reset, we take a look at Ellijah Gardiner, who is still looking to earn his first significant playing time in Ohio State's wide receiver rotation – a challenge that might not get any easier with the talent the Buckeyes currently have at the position and will soon have coming in.
Before He Became a Buckeye
Gardiner played a wide variety of positions at Kemp High School in the small city of Kemp, Texas, including quarterback and cornerback, but played primarily at wide receiver for his final two seasons with the Yellowjackets, earning all-district honors as a senior.
Third-Year Reset
He was a three-sport star at Kemp, also standing out on the basketball court and in track and field, where he set the school record in the triple jump (44 feet, 9 inches) and also posted top marks of 22.6 seconds in the 200-meter dash, 49.8 seconds in the 400-meter dash and 22 feet, 11.5 inches in the long jump.
A late bloomer in the recruiting process, Gardiner did not have any offers from Football Bowl Subdivision schools entering his senior year. He originally committed to Missouri in November 2016, just weeks after receiving an offer from the Tigers. 
Ohio State made a late pursuit of Gardiner, however, after Tyjon Lindsey decommitted from the Buckeyes in January 2017, just weeks before National Signing Day. After making an official visit to Ohio State on the weekend before National Signing Day, Gardiner announced his commitment to the Buckeyes on January 30 and signed with them just two days later.
He became one of five prospects from Texas in Ohio State's recruiting class of 2017, along with Jeffrey Okudah, Baron Browning, J.K. Dobbins and Kendall Sheffield.
Ranked as the No. 796 overall prospect in the class, Gardiner was the only prospect ranked outside the top 300 among the 20 scholarship position players in Ohio State's recruiting class of 2017.
Despite his low ranking, Ohio State decided to take a chance on Gardiner because of his 6-foot-4 frame and his athleticism.
"After I really studied him and our staff really studied him and got to meet him and spend time with him, look what he's going to be like, that's a project-type body, but big and fast," former Ohio State head coach Urban Meyer said. "Kind of if you miss on a player, make sure you miss fast and miss big, and they usually turn into something."
Career to Date
Gardiner took a redshirt as a true freshman and did not appear in any games in 2017. 
He appeared in nine games for the Buckeyes last season, including each of their final six contests, but almost exclusively on special teams; he played only seven total snaps on offense (three against Rutgers, four against Tulane). He became a regular on Ohio State's kickoff coverage unit before the end of the season, but did not record any statistics.
Because he was a project when he arrived at Ohio State, Gardiner was always expected to redshirt his first year on campus. As the Buckeyes returned all six receivers from their regular rotation in 2017 last season, the only significant opening for Gardiner to earn playing time last season came when Austin Mack suffered a foot injury that knocked him out for the Buckeyes' final six games. Fast-rising freshman Chris Olave, however, surpassed Gardiner (and every other wide receiver outside the rotation) to take Mack's place among the top six wideouts for the rest of the year.
Third-Year Outlook
With the departures of Terry McLaurin and Johnnie Dixon from last season, the depth chart is open at the Z receiver position, where Gardiner was among the players practicing this spring. But it still appears likely that could be left on the outside of the wide receiver rotation.
Ohio State moved Mack, who rotated with Binjimen Victor at the X receiver position for the past two seasons, to the Z receiver position this spring in order to fill the void of experience there. The senior could still end up moving back to the X position this fall, though, depending on where the Buckeyes determine he could help them most.
The bigger problem for Gardiner is that he's already been surpassed on the depth chart by Olave, who is a lock for a spot in the Z receiver rotation this year. Gardiner is also likely to be surpassed by fellow Texas native Garrett Wilson, a five-star freshman who appears to be in line for immediate playing time as a true freshman after an excellent first spring as an early enrollee.
Assuming that Mack, Victor, Olave and Wilson will also have spots in the outside receiver rotation, there likely won't be much playing time available at the position for anyone else, and fellow third-year receiver Jaylen Harris would likely be the next man up before Gardiner. 
Ohio State wide receivers coach Brian Hartline did say this spring that he wants the Buckeyes to have a deep rotation at the position, so it is possible he could expand the rotation to get Gardiner on the field if he proves he deserves playing time.
"Truly, the best players play," Hartline said. "We're an uptempo offense, so we need guys, we need depth. We're gonna roll guys. Because in the end, we just can't play fast, unless we have legs. So the more guys, the better."
Gardiner's best chance to make his mark as a redshirt sophomore, though, will likely come on special teams. After earning regular playing time on the kickoff coverage unit late last season, Gardiner should have a chance to become a leader this year on multiple special teams units, where his size and speed give him promising upside. He ran with the punt team as one of its gunners in the spring game, so he's among the candidates who could see playing time in that role, where McLaurin and Dixon were regulars last year.
If Gardiner can show some playmaking ability on special teams this year, that just might be what he needs to make a push for playing time at wide receiver before his career is over.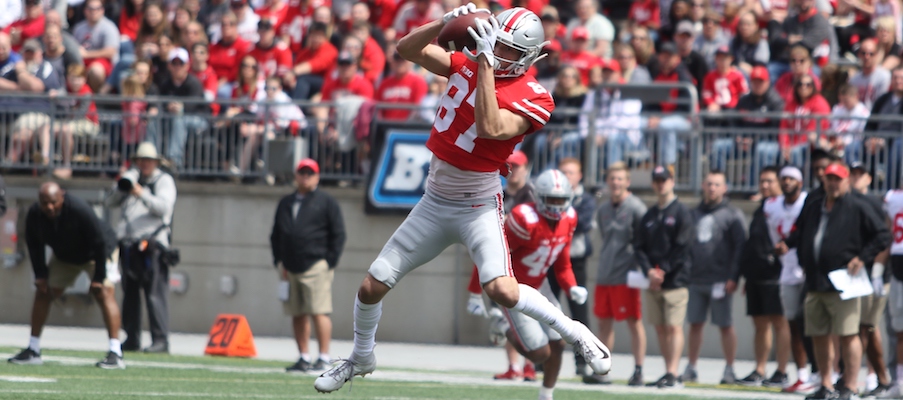 Beyond 2019
While Gardiner probably won't be in line to play a huge role for Ohio State this season, he's going to need to take advantage of the opportunities he gets – whether those come on offense, special teams or simply on the practice field – and make an impression this year if he is going to put himself in a better position to play a bigger role before his Ohio State career is over.
That's because even though Mack and Victor are set to complete their Ohio State careers this season, there still might not be a clear path to substantial playing time for Gardiner in 2020 or 2021, either.
Olave will be at Ohio State for at least two more years while Wilson will be at Ohio State for at least three, and there's a lot more talent coming in behind them. Jameson Williams is an explosively fast receiver who should be a strong candidate for significant playing time next season after arriving this summer, while the Buckeyes also have a trio of top-100 receivers committed to their recruiting class of 2020 – Julian Fleming, Gee Scott Jr. and Jaxon Smith-Njigba – who could all push for immediate playing time next year.
Because those players were much more highly coveted recruits than Gardiner was, Ohio State won't necessarily be disposed to playing Gardiner over them simply because of his experience unless he demonstrates the playmaking ability in practice to prove that he belongs on the field more in games.
With three years of eligibility remaining, there's still time for Gardiner to make a move up the depth chart and make an impact before his Ohio State career is over. He's one of the biggest wide receivers on the team, giving him promise as a downfield target and also as a blocker, and came in as a player who would need time to develop before he'd be ready to contribute for the Buckeyes' offense.
Because of the elite talent that Hartline is stacking up at the wide receiver position, however – Ohio State also already has a commitment from four-star Massillon wide receiver Jayden Ballard for 2021 – Gardiner could get lost in the shuffle if he doesn't make that move soon.