Austin Mack's junior season didn't end up the way he thought it would.
Mack caught a career-high 26 receptions for 331 yards and a touchdown in Ohio State's first eight games, but he broke the fifth metatarsal in his left foot during the third quarter of the Buckeyes' loss to Purdue. The injury required surgery, and he was unable to get back to full speed in time to return for the end of the season.
While his roommate and close friend Dwayne Haskins had the most productive passing season ever for an Ohio State quarterback, Mack was relegated to the sidelines – and even further, watching on TV for the regular-season road games near the end of the season that he didn't travel to. For a player who had envisioned having a career year with Haskins throwing him the ball, that was a hard pill to swallow.
"Shoot, the last part of the season for me was definitely tough. Watching the games on TV at home, and not being out there with the guys is definitely hard for me," Mack said while meeting with the media last week. "I knew my quarterback was probably going to leave, and you always wonder what can happen. So you try and get the most out of it, and when it's taken from you from injury, you're stuck in your apartment by yourself bored all the time, and it sucks."
Last season's disappointment is behind Mack now, though. With Justin Fields or Matthew Baldwin set to take over as Ohio State's new starting quarterback, Mack is feeling fully healthy once again and looking to finish his Ohio State career with a big senior season.
"Everything's 100 percent, and I'm ready to go," Mack said. "I'm ready for another year of Buckeye football."
After undergoing his surgery in October, Mack's initial goal was to be healthy enough to return for the Rose Bowl. He was still in pain as the new year approached, so that didn't happen.
He was cleared to begin working out at full speed again in January, and feels no ill effects – other than "some soreness here and there," and getting used to permanently having a screw in his foot – after going through conditioning workouts all winter.
"It's back to normal," Mack said. "I don't feel it anymore. It's just basically my bone now, it's a rod. So just keep going."
Back on the field for spring practices, Mack has been lining up at a new position – Z receiver – after playing exclusively at X receiver for his first three seasons as a Buckeye. With Terry McLaurin and Johnnie Dixon, Ohio State's top two Z receivers last season, now pursuing careers in the NFL and fellow senior Binjimen Victor also back at the X receiver position, Ohio State wide receivers coach Brian Hartline decided to move Mack to Z – at least for the time being – to get all three of his senior receivers, also including K.J. Hill in the slot, on the field at once.
"He's able to make that transition, because in the end, I need the best three guys on the field at all times," Hartline said. "So to have Ben and Austin in the same position, that doesn't help anybody. So moving Austin over there, getting three seniors on the field and play ball."
Whether Mack stays at Z or moves back to X will depend on what the Buckeyes ultimately decide their best lineup at wide receiver is; while Jaylen Harris is pushing for a spot in the rotation at X, Chris Olave looks more than capable of starting at Z and Garrett Wilson is also pushing for immediate playing time at that position.
Hartline and head coach Ryan Day want Mack to get experience at Z this spring, though, so he has the ability to play either position as needed this fall – like McLaurin, who moved to X after Mack's injury last season, did last year.
"Austin has played so much X, he knows that position really, really well. At any point, he can go back," Day said. "So we can always put him back at X, but want to try to get the best receivers on the field at once, and so that gives them the spring to learn Z, so he has that in his back pocket."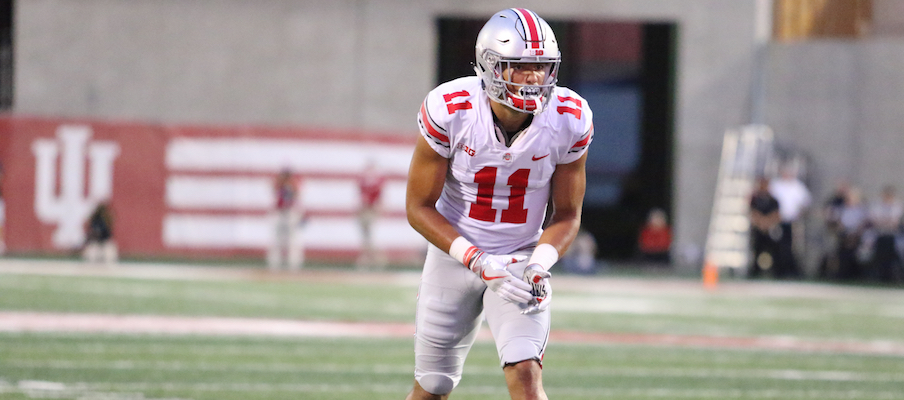 Regardless of where he lines up this fall, Mack expects to be a leader in the wide receiver room this fall – along with fellow seniors Hill, Victor and C.J. Saunders – to fill the leadership void left by McLaurin, Dixon and Parris Campbell, all captains last season.
"With three fifth-year guys leaving, it's up to us to be the voices, to be the leaders and be the energy of the offense, and it's up to us to keep that standard going," Mack said.
Projected as a potential breakout player for Ohio State's offense going into each of the last two seasons, Mack hasn't entirely performed up to expectations – at least not his own. He has 52 career catches for 689 yards and three touchdowns, but he arrived at Ohio State as a highly touted recruit, and has expressed a desire to be like former Ohio State wide receiver Michael Thomas, who is now one of the best wide receivers in the NFL.
As a senior coming off an injury-shortened season, Mack is now as hungry as he's ever been to take advantage of his final opportunity to live up to the hype and make his mark for Ohio State's offense.
"It's time to make a difference and be the player that I should have been for the past couple years," Mack said.