Ohio State's recruiting class of 2017 is entering a pivotal season.
Those Buckeyes are entering their third season in Columbus, which means they're expected to be ready to play significant roles for Ohio State if they haven't already. Each of them now have two years as Ohio State players under their belts, and by the end of the upcoming season, all of them will be on the back end of their careers while some of them will have decisions to make about whether it's time to go to the NFL.
With that in mind, Eleven Warriors is taking an individual look this offseason at each of Ohio State's third-year players – in descending order of their 247Sports composite recruiting rankings – and the expectations that preceded their Ohio State careers, how they have performed in their first two seasons as Buckeyes and the outlook for the remainder of their careers.
The second half of the Third-Year Reset (and 10th installment overall) begins with safety Brendon White, who is in line to play a new role for Ohio State's defense this season after coming out of nowhere to emerge as an impact player for the Buckeyes in the second half of last season.
Third-Year Reset
Before He Became a Buckeye
White grew up in the Columbus suburb of Powell, just a short drive north from Ohio State, and was a star on both sides of the ball at Olentangy Liberty High School.
As a junior in 2015, White intercepted six passes and earned first-team All-Ohio honors as a defensive back while also rushing for 194 yards and two touchdowns, catching 26 passes for 316 yards and three touchdowns and gaining 550 yards on 27 combined kickoff and punt returns.
In his senior season, White took over as Olentangy Liberty's starting quarterback; he threw for 799 yards and 11 touchdowns, ran for 842 yards and 10 touchdowns and caught 22 passes for 220 yards and four touchdowns, all the while continuing to play regularly on defense.
By signing with Ohio State, White followed in the footsteps of his father William White, who was a four-year starting cornerback for the Buckeyes from 1984-87 and went on to play in the NFL for 11 seasons.
Classified as an athlete because of his experience playing a wide variety of positions, White was ranked as the No. 126 overall prospect in the class of 2017.
Career to Date
White moved back and forth between sides of the ball in his first year at Ohio State. He was initially expected to play linebacker when he arrived at Ohio State but spent his first spring as an early enrollee in 2017 at the wide receiver position. He moved to safety that summer and played five snaps at that position in the Buckeyes' fifth game of the season against Rutgers, but ended moving back to wide receiver and playing offensive snaps in two November games.
By the end of the year, White was back to practicing at safety again, but the repeated movement back and forth between positions kept White from earning a steady role as a true freshman. He appeared in just five games, played just 22 non-special teams snaps and recorded just one tackle.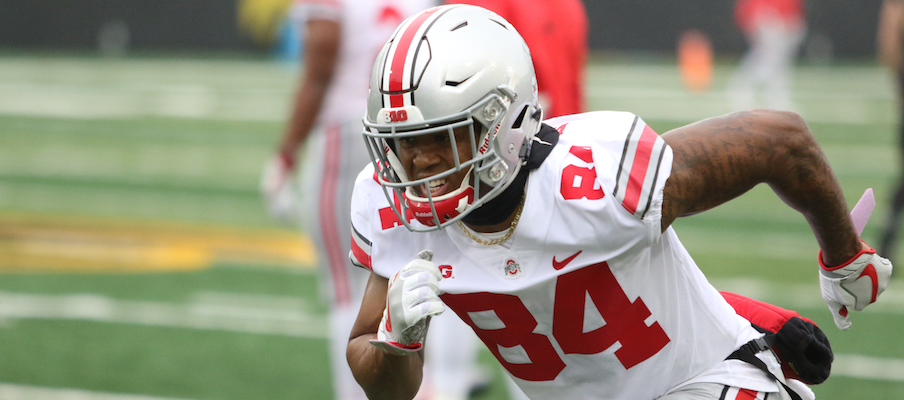 White became a full-time safety for the Buckeyes in 2018 but still played mostly only on special teams in Ohio State's first eight games of the season. In the Buckeyes' ninth game of the season against Nebraska, White finally got his opportunity to play a significant role on defense – after Jordan Fuller was ejected from the game for a targeting penalty, with Isaiah Pryor also sidelined by an injury – and he took it and ran with it.
In 58 snaps at safety against the Cornhuskers, White recorded 13 total tackles with two tackles for loss, which earned him the opportunity to start alongside Fuller at safety for the remainder of the season. White proved to be a huge upgrade over Pryor and Jahsen Wint, who had seen most of the playing time at safety alongside Fuller before the Nebraska game, and was one of the Buckeyes' top defensive playmakers for the rest of the season.
For the 2018 season as a whole, White recorded 48 total tackles with four tackles for loss. He had an interception with a 49-yard return against Michigan and earned Defensive MVP honors in the Rose Bowl after recording eight total tackles, two tackles for loss and a pass breakup in the Buckeyes' season-ending win over Washington.
Third-Year Outlook
With his play in Ohio State's final six games of last season, White made it clear that he belongs on the field for the Buckeyes' defense. That's why White's role in Ohio State's defense will be significant once again in 2019, but it won't be quite the same role that he played last year.
In Ohio State's new defensive scheme this year, choreographed by new co-defensive coordinators Greg Mattison and Jeff Hafley, White is set to play the "Bullet" position, a hybrid safety/linebacker position that was installed into the defense this spring.
At times, that could still mean playing as a traditional safety alongside Fuller, but it also means he could spend more time playing closer to the line of scrimmage. In the spring game, Ohio State substituted White into the lineup to take the place of the strongside linebacker in certain packages, but did not start him in the base defense; instead, the Buckeyes used a single-high deep safety with Shaun Wade playing a hybrid slot cornerback/safety role.
Ohio State will likely continue to experiment with White's new role throughout fall camp to determine how they can best utilize his skill set, so it's still to be determined exactly how often he'll be on the field and how often he'll line up in certain spots. That could vary from week to week, too, as the Buckeyes will likely be more inclined to play White over a third traditional linebacker against pass-heavy spread offenses than they will be against run-heavy pro-style offenses.
"We could go a whole game in Bullet, and then the same time we could go a whole game in regular," Mattison said this spring.
What we do already know is that White will be a prominent player in Ohio State's new defense, and his ability both in pass coverage but also to make plays around the line of scrimmage will be crucial for the Buckeyes to run the defense they want to run. They're going to ask White to take on a wide variety of tasks in the new Bullet position, and Wint was the only other player who practiced regularly at the position this spring.
That's a big responsibility for White, and he said it was "definitely not easy" this spring to have to learn the responsibilities of his new position. He's excited about his new role, though, because he believes it will give him plenty of opportunities to make plays.
"I like it a lot," White said this spring. "It's a versatile position, so I can play the safety spot and I can come down and play the run with the 'backer. So I'm trying right now to do anything I can to learn the position as fast as possible and try to help the team out with a win."
Ohio State's coaches, including linebackers coach Al Washington, expressed confidence this spring that White will be up to the task.
"He's an established player," Washington said of White. "He's one of those guys that's put his body of work in, he's a great kid, works his tail off. He's in all the time, trying to get extra tidbits."
Beyond 2019
At the halfway point of last season, it appeared most likely that if White was to leave Ohio State before his senior season, it would be to transfer to another school where he could get more playing time. Following his breakthrough down the stretch of last season, there's no reason for White to look elsewhere but another possibility has emerged; he could be a candidate to leave early for the 2020 NFL draft.
Listed at 6-foot-2 and 215 pounds with excellent athleticism for his size, White has the physical tools to make a move up NFL draft boards if he can build upon last season's performance and shine in his new role this season. Playing the Bullet position this year could potentially increase his appeal to NFL teams, as he offers the potential to either play a similar role or as a traditional strong safety at the next level.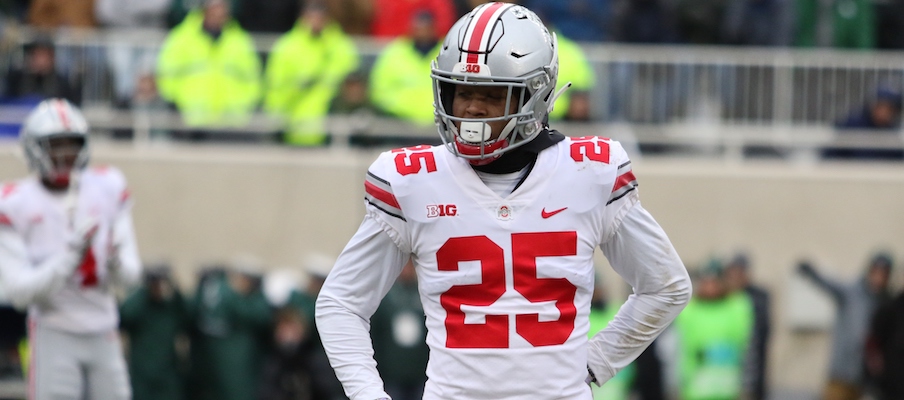 Regardless of how well he plays this year, White could choose to do as his father did and play four seasons for the Buckeyes, a decision Ohio State's coaches would surely like to see him make. With a multitude of current seniors and other potential early NFL draft entrants in the defensive lineup this year, White would be a strong candidate to be a leader for the defense – and potentially even a team captain, like his father was – if he sticks around for his senior year.
Given that it could take some time for White to settle into his new role and Ohio State's new defensive scheme as a whole this season, two more years with the Buckeyes could enable White's role to evolve even more. In order to become one of college football's top defensive players and a top NFL draft prospect, White still needs to become more consistent, and that could take time – especially with a new coaching staff in town.
Ohio State would love to see White continue his rapid ascent and become a star playmaker for its defense in his new role this year, though, and the option to go to the NFL early will be on the table if he's able to make that happen.