Ohio State's recruiting class of 2017 is entering a pivotal season.
Those Buckeyes are entering their third season in Columbus, which means they're expected to be ready to play significant roles for Ohio State if they haven't already. Each of them now have two years as Ohio State players under their belts, and by the end of the upcoming season, all of them will be on the back end of their careers while some of them will have decisions to make about whether it's time to go to the NFL.
With that in mind, Eleven Warriors is taking an individual look this offseason at each of Ohio State's third-year players – in descending order of their 247Sports composite recruiting rankings – and the expectations that preceded their Ohio State careers, how they have performed in their first two seasons as Buckeyes and the outlook for the remainder of their careers.
Third-Year Reset
The seventh installment of the Third-Year Reset brings us to offensive lineman Josh Myers, who could go from sitting on the bench to becoming one of Ohio State's most important players in 2019, as he is set to take over as the Buckeyes' starting center.
Before He Became a Buckeye
Myers quickly became a star offensive lineman at Miamisburg High School, earning a scholarship offer from Ohio State while he was still just a freshman.
He went on to become one of the best high school offensive linemen in the country, earning All-USA honors from USA TODAY in 2016. He was a two-time first-team All-Ohio selection (Division II) and a four-time All-Greater West Ohio Conference selection.
Myers was ranked as the No. 2 guard, behind only fellow Ohio State signee Wyatt Davis, and the top prospect from the state of Ohio for the entire recruiting class of 2017.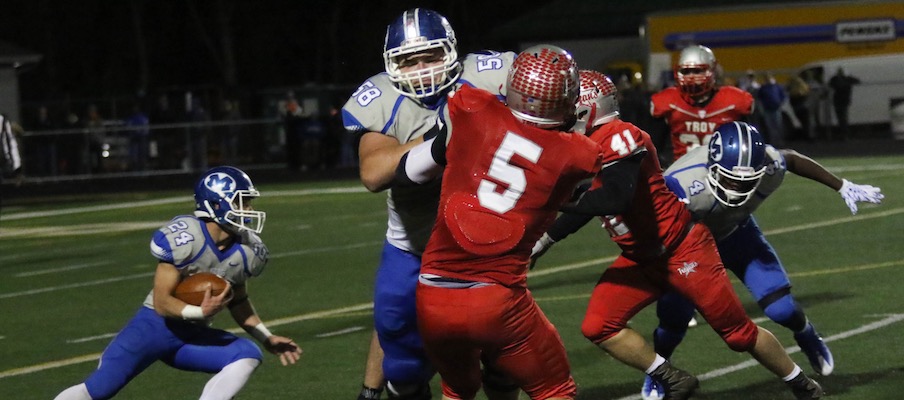 Career to Date
After playing in a Wing-T offensive scheme at Miamisburg, Myers spent his first year at Ohio State acclimating to Ohio State's offense and learning how to pass block. He did not see any game action in 2017, and took a redshirt.
Myers practiced primarily as a guard during his redshirt year, but moved to center during the spring of 2018. After competing for the starting center job during the spring, he ended up serving as the backup to Michael Jordan – who also moved from guard to center – for the entire 2018 season. Myers appeared in all 14 of Ohio State's games last season, but played primarily on the field goal unit.
To date, Myers has played only 72 offensive snaps in his Ohio State career, all of which came within the first four games of last season. He impressed his coaches enough in practice that they had hoped to get him some playing time with the first-team offensive line near the end of last season, but that opportunity never materialized due to a lack of blowout wins.
"We were ready to have him play some center down the stretch for us, in the bowl game, and move Mike Jordan (back) to left guard," Day said this spring. "We were ready to do that. He had worked all season for that opportunity. Never quite presented itself down the stretch for us."
That opportunity should present itself right away in 2019.
Third-Year Outlook
Even though he has yet to start a game for the Buckeyes, Myers appears to have established himself as Ohio State's new starting center for the upcoming season. With Jordan now playing for the NFL's Cincinnati Bengals, Myers ran with the first-team offensive line all spring and took advantage of the opportunity, drawing praise from his coaches for his continued improvement on the practice field.
"Josh has stepped in and really taken the bit. And he's doing excellent," offensive line coach Greg Studrawa said in April. "Before we practiced and went to the Rose Bowl, I really felt confident in that kid. Something clicked during bowl practice before we left and went out there, and his mindset, everything about him, how he carries himself, everything changed. So I'm confident, and now after watching him in nine practices, I really think he's going to be exceptional."
Starting a first-year starter at center will be a change from recent seasons for Ohio State, which has moved a multi-year starter from guard to center (Pat Elflein, Billy Price, Jordan) for each of the past three seasons. With a full year of practice at center under his belt, though, Myers appears – and feels – ready to take on a leadership role on the offensive line.
"I had things really start clicking, especially at the Rose Bowl – I got some first-team reps at the end of practice for bowl practice – and then I was just able to carry it over into spring, which was huge for me," Myers said after the spring game. "I think the way I attacked every day in the winter and felt like I had something to prove carried into spring, and I had a really solid spring."
At 6-foot-5 and 310 pounds, Myers offers the potential to be a dominant run blocker in the middle of Ohio State's offensive line. He has tremendous power and strength to knock defenders backward, and demonstrates a mean streak on the field as well as the quickness to accelerate to the second level of the defense and pick up downfield blocks.
He's still largely untested at this point, especially as a pass blocker, so that remains a concern. He's shown his coaches that he can hold his own against Ohio State's defensive line in practice, though, giving them reason to be confident he'll be up to the task.
"You have to pass block Dre'Mont Jones, or you have to pass block Bosa, so you have to develop that ability, and that's what took him some time," Studrawa said. "He'd never done it, he'd never been taught it, so it took him some ability and some time to make that transition. Now he's done that. He's really done a good job of developing his foot quickness to allow him to pass block those quick guys."
Playing center comes with additional responsibilities that other offensive line positions do not, as it requires making calls for the entire offensive line while building a rapport with the quarterback – where the Buckeyes will also have a new starter this season – in snapping the ball. That puts Myers in a high-pressure position as a first-year starter, and he has huge footsteps to follow, as each of Ohio State's last three centers were first-team All-Americans.
It's easy to envision Myers being an immediate star as a run blocker, though, and if he proves capable of handling all the little things that go into playing center effectively, Ohio State could have one of the best centers in college football yet again.
Beyond 2019
Myers has promising potential as a future pro prospect, with the ability to play both center and guard, and could quickly capture the attention of NFL scouts if he performs up to expectations this season.
Going from having never started a game to playing in the NFL in just one year would be a pretty big jump, though, so it would come as a surprise if Myers declared for the 2020 NFL draft after his redshirt sophomore season.
Ohio State has only had two offensive linemen enter the draft after just three years since 1997, and both of them – Jordan and Orlando Pace – were three-year starters who were in the lineup from their first games as true freshmen.
Myers will likely have some growing pains as a first-year starter in 2019, but he has the eligibility to potentially start at Ohio State for as many as three years to maximize his NFL draft stock and perhaps follow in the footsteps of Elflein and Price, who both won the Rimington Trophy as college football's best center in their fifth-year senior seasons.
Ohio State has signed a top center in each of the last two recruiting classes (Matthew Jones and Harry Miller) and has another committed for the class of 2020 (Luke Wypler), so the Buckeyes should be well-prepared for the future if Myers opt to go pro early. That said, Myers has the potential to be a multi-year linchpin of Ohio State's offensive line and potentially become a team captain in 2020 and/or 2021 if he opts to stick around.