During the football season, Josh Myers doesn't tell time with dates. Instead, he uses days of the week. Each Saturday, he has a job to do. And on Sunday, Monday, Tuesday, Wednesday, Thursday and Friday, he has specific tasks to accomplish that prepare him and the rest of his Ohio State teammates for Saturdays.
Myers doesn't remember Oct. 23, but he remembers what happened that day. It was a Tuesday. He fondly remembers it as "the Tuesday practice during the bye week."
"I had a good inside run period, which is just a brutal drill," Myers said during Rose Bowl media day on Dec. 30. "I went on and won like three or four pass-protection reps in a row in one-on-one pass rush and had a great day offensively, and everything started clicking after that."
He snapped his fingers to signify everything falling into place.
Before Oct. 23, Myers never truly felt comfortable at center. He hadn't played the position before college. Myers entered the program as the second-ranked guard in his class, and standing 6-foot-5, he had the height of a high-level offensive tackle.
As a freshman who enrolled early in the spring of 2017, he quickly realized that coming from a Wing-T offense at Miamisburg, he "definitely had a ways to go pass blocking-wise." Though Myers had developed into a road-grading run blocker with size that dwarfed everyone who lined up across from him, he didn't have much experience pass blocking, especially against Ohio State-level players.
"I think the first spring, first couple practices, I hadn't just gotten in the swing of things yet, and I think I really noticed then," Myers said. "It's fairly obvious when you give up sacks in practice. You can't have that happen."
Some in-state players feel pressure to play immediately, but Myers understood he needed some time to develop. He, like almost every offensive lineman who enters college, felt behind. So, he spent his first year on campus developing as a pass blocker and learning how to play guard at the collegiate level while never playing a snap.
Soon after undergoing shoulder surgery following his freshman season, Myers' path to the field changed courses. Offensive line coach Greg Studrawa presented him with the opportunity to switch to a position he had never played before.
"Coach (Studrawa) just came up to me and was like, 'Hey, what do you think about center? I'm thinking about putting you there,'" Myers recalled. "I said, 'Whatever will get me on the field.' I couldn't care less. I just want to play."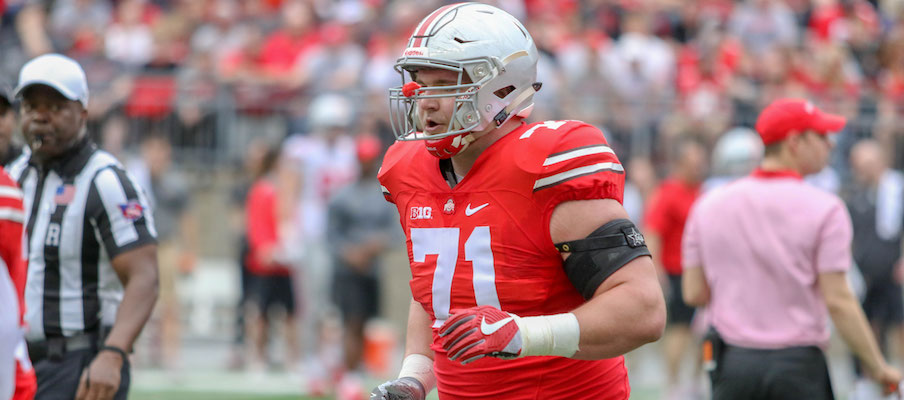 Myers soon realized just how different playing center would be compared to guard. He admitted the transition was difficult.
"I think part of the reason it was really hard for me was because I didn't understand entirely the offense yet," Myers said. "I knew the guard position, which is what I was at. But at center, you have to understand center, guard, tackle, sometimes tight end. It was a learning curve."
Despite the difficulties that stem from learning a new position, especially center, Myers was in position to compete for the starting center position. Billy Price had headed to the NFL, leaving Brady Taylor, Matthew Burrell and Myers battling for the open starting spot.
But rather than starting one of them, Ohio State opted to move Michael Jordan to center and start Malcolm Pridgeon and Demetrius Knox at guard. Myers just wasn't ready yet. Even when the season began, the mental block that prevented him from earning the starting spot remained – until that pivotal Tuesday practice during the bye week.
"There's three main different styles of defense that we go against," Myers said. "I couldn't jump in and out of them and know exactly what to do no matter what style of defense it was, no matter what look we were getting at that point in time. I finally jumped that curve, I don't know how you would say. Everything clicked for me all at once, I think. Like, really clicked for me."
A open spot to get on the field didn't exist for Myers, though. He didn't play a single offensive snap the remainder of the season.
But Myers wasn't alone in viewing the bye week as the point when he became ready. Studrawa said he saw both Myers and Wyatt Davis, the only guard rated higher than Myers in the class of 2017, take their next steps in practice that week.
"See, there comes a time with offensive linemen. They know that you have to learn – there's a learning curve," Studrawa said after the Big Ten championship game on Dec. 1. "There also comes a time when the light goes on in your head and goes, 'I'm sick and tired of sitting. I don't want to sit any more. I don't want to watch him play any more.' So, you know, that switch went off in both of those kids.
"They were sick and tired of being the backup guy, and they started pressing the guys that were starting. They started preparing more. They started putting film time in. They started putting all the things in that you have to teach young guys to become good. They both did that because they got sick and tired of watching, and that's what happens."
Davis had the opportunity to start the Big Ten championship game and the Rose Bowl after Knox suffered an injury against Michigan, but Myers didn't even see the field on offense in either game. His time should come next season.
Even Ryan Day, during the week leading up to the Rose Bowl, verbalized the idea of Myers getting the first shot to win next season's starting center job. At the time, he hoped Jordan would return for his fourth season.
"Josh has really improved this year," Day said. "That would be a nice move for us to move Josh to center and then Mike over to guard."
Jordan headed to the NFL, foiling Day's hope of returning him to the guard position. But the plan to have Myers start at center in the fall remains.
So, does Myers believe his pass blocking is up to par?
"I feel really comfortable right now."
And run blocking?
"I love it."
After two years of waiting, 2019 might finally be Myers' time.
"That's been one of my main goals since I got here, obviously, is to play and start and contribute," Myers said. "It's nothing set in stone. I have to go work for it, and I have to go get it. But I'm just excited for that opportunity to be in front of me."