Long before Parris Campbell set the Ohio State single-season record of 90 catches in 2018, he sat on the bench, where Jaelen Gill spent most of his time in the fall.
Not only did Campbell enter college as a 17-year-old freshman, but he had to change positions. Campbell played running back for St. Vincent-St. Mary, rushing for 1,584 yards and 22 touchdowns as a senior. But the combination of his 6-foot-1 frame and track speed that led him to break the 60-meter dash state record with a 6.85-second sprint made him a natural wide receiver in college. Since he didn't play that position in high school, Campbell endured an extended transition period.
As a freshman at Ohio State, he didn't play a single snap, taking a redshirt year. The next season, he played in four games and didn't catch a pass. In his third year in the program, Campbell became the team's primary kickoff returner, but still had a minor offensive role, catching just 13 passes. He finally broke out with 50 catches as a redshirt junior before his first-team All-Big Ten redshirt senior season that propelled him to the upper rounds of the 2019 NFL Draft.
Campbell needed to take his time, take his reps, to get to where he stands today. Gill, making the same transition from running back to H-back, took his time and reps this season – in practice, of course.
After entering the program as a four-star all-purpose back – the No. 30 overall prospect in his class – who played running back in high school, Gill spent most of the season working on the intricacies of the wide receiver position. He played in just two games, sitting out the rest as Campbell and K.J. Hill manned the H-back spot.
Half a decade ago, Campbell went through the running back-to-wide receiver adjustment period. This fall, Gill has a chance to join the wideout rotation and help replace Campbell.
"I just see a lot of myself in him," Campbell said in December. "Just the raw athlete that he is right now, he's a hell of an athlete. He makes plays all over the field."
Gill's rawness stems from his position change.
As a freshman at Westerville South, he played wide receiver. Even that year, though, he knew he'd end up right back at running back, which is where he spent his final three seasons in high school.
"It's weird because my whole life, I viewed myself as a running back, but here, I'm more at receiver," Gill said after the Big Ten championship game on Dec. 1. "Right now, I'm at H-back, so I guess, I'm more as a receiver right now."
Gill credited wide receivers coach Brian Hartline, along with the starting H-backs, Campbell and Hill, with helping teach him the position. The "biggest challenge," Gill said, has been perfecting routes.
"Obviously at running back, you don't have to run that many routes, the simple things, like swing routes or whatever," Gill said. "But at H, in the slot, you have to run all types of routes. So I've had to learn the footwork for all of that."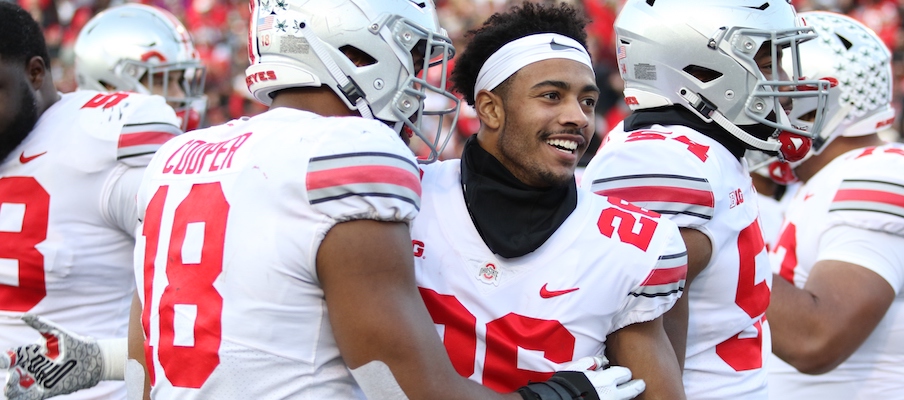 Some H-back converts at Ohio State, such as Campbell and Curtis Samuel, made the move look seamless. Both had impressive athleticism, yet thrived in different ways. Campbell, who had more straight-line speed, was almost strictly a receiver, while Samuel, smaller and shiftier, moved around more.
Demario McCall attempted the same shift to H-back this season, but eventually shifted back to running back. Like Gill, he had the attitude of a running back for most of his life.
Campbell, who spent about three years adjusting before becoming a significant part of the offense as an H-back, believes the difficulty of a move to the slot from the backfield cannot be overstated.
"You go from just taking handoffs directly, having the ball handed to you, to having to catch from Dwayne Haskins, then having to run a route, having to understand coverages. It's a whole different world," Campbell said. "To be able to run two-step cuts, to be able to have two-step top-ends from a running back who has to hit holes and hit jump-cuts, it's a completely different world. But Jaelen Gill, he's made an incredible transition. He's taken a step, he's gotten better for sure.
"It's just the little things of critiquing and becoming a better route runner, becoming just a better receiver. He's going to be a fine player, for sure. It's just that transition."
Gill admitted it was "tough being patient and not being able to play" as a freshman. He played just 15 snaps the entire season, reeling in one pass for 11 yards.
"I think the biggest thing for Jaelen Gill, which was the biggest thing for me, is to never get too low on yourself just because that transition is very, very hard," Campbell said.
With Campbell out of eligibility following the 2018 season, for awhile it looked like Ohio State would lose both its starting H-backs. But Hill decided to return for another collegiate season, leaving an opening in the regular rotation and in the two-deep depth chart as his backup.
After acclimating to a new program and position as a freshman, Gill is primed to earn that spot. Having essentially no game experience at the college level, he must perform well this spring and summer to earn the playing time, but the lacking field of competitors helps him. C.J. Saunders is the most likely candidate to compete for playing time at H-back, though Gill has the athleticism advantage on him.
Gill wants the opportunity in order be part of the offense, of course, but also to simply play football again, which he didn't do much of in the fall.
"I'm just looking forward to just being back, just being on the field, being able to share those moments with my brothers and my team and just being able to keep getting better and learn from all the coaches," Gill said. "There's still going to be some older guys in the room, so just keep learning from them and try to be the best player possible."