Parris Campbell, Johnnie Dixon and Terry McLaurin left inarguable, lasting legacies both as individuals and as a trio of senior wide receivers.
Campbell blossomed from a converted high-school running back to an H-back with track speed who broke the program single-season receptions record in his fifth year. Dixon showcased an unbelievable fortitude during his five years, battling knee injuries and pain that nearly ended his career, but didn't stop the deep threat from catching 16 touchdowns in his final two seasons. McLaurin steadily improved during his five seasons, eventually catching 11 touchdowns as a redshirt senior while becoming one of the best blocking wideouts and most successful punt gunners in the country.
Together, the three graduated receivers transformed a position group that was in dire need of leadership just a couple seasons ago, turning a notable weakness into an obvious strength. Campbell, Dixon and McLaurin, each team captains in 2018, helped navigate the team this summer through the Zach Smith scandal, which had the potential to tear apart the season.
Austin Mack and Binjimen Victor will both be seniors at Ohio State in the fall, but neither have even begun to leave behind legacies remotely similar to the three outgoing receivers. As rising seniors, they have one final year in college to make their marks.
Both Mack and Victor have had their moments of excellence, and each have been projected to break out at different points during their careers, though that hasn't happened for either, yet.
Without Dixon, Campbell and McLaurin on the roster, K.J. Hill will almost assuredly become the top pass-catcher in the fall. He had 70 catches for 885 yards and six touchdowns last season and sits just 49 catches from David Boston's all-time reception record at Ohio State. Whether Justin Fields or Matthew Baldwin starts, Hill should be their primary target, typically playing out of the slot.
Beyond Hill, the Buckeyes need both Mack and Victor to have their best collegiate seasons in order to maximize the passing game.
Mack entered the program as a top-100 prospect and seemed poised for early playing time. He enrolled early and became the first player in the class of 2016 to get his black stripe removed on March 31, 2016. Michael Thomas, Jalin Marshall and Braxton Miller were gone, and many people believed Mack could help replace them, even as a true freshman. He caught two passes for 15 yards that season.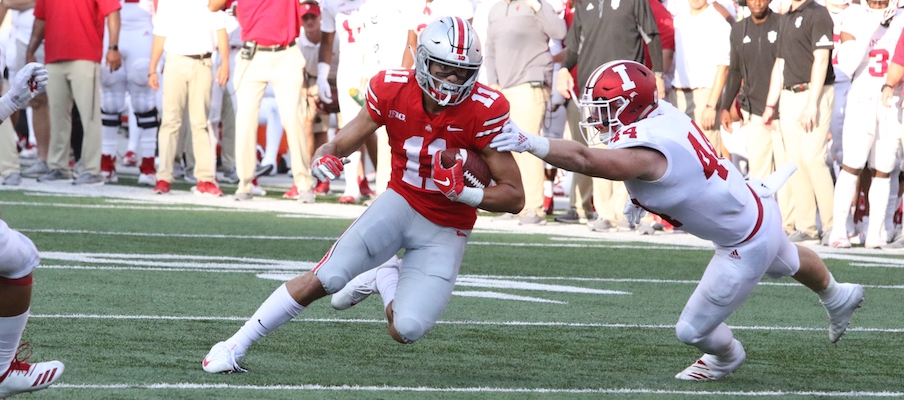 After getting "humbled" his first year on campus, Mack became a co-starter at the X-receiver position with Victor, replacing Noah Brown. Sure, some of the hype slowed down, but the high expectations remained in tact, and at times, Mack met them. His second catch of the season – and fourth catch of his career – came against Oklahoma when he leaped, twirled his body in midair and snagged a 31-yard pass from J.T. Barrett.
Mack had six catches for 90 yards – both are still career-highs – in Ohio State's 39-38 win against Penn State. His only catch against Michigan came on 3rd-and-13 when Dwayne Haskins hit him for a 27-yarder to move the chains. Still, though he had his moments of excellence, Mack played a supporting role as a receiver that year, catching 24 passes for 343 yards. 
A junior in 2018, Mack could finally break out, many believed. No dominant receivers were returning, and someone had to step up into the role as the No. 1 wideout. Even though he was listed as the sole starter, rising from his co-starter position that he had the prior season, Mack didn't emerge as a top option for his roommate, Haskins. He battled drops against TCU and didn't have a game with more than five catches or 84 yards before suffering a season-ending foot injury against Purdue. Mack prematurely ended the season with 26 catches, 331 yards and one touchdown.
Now, for the fourth year in row, high expectations will follow Mack into the 2019 season. This time, though, it'll be more of a necessity and less of a feeling. Mack needs to become a top-three option for either Fields or Baldwin. Hill needs help, and it should be Mack's time in the spotlight.
Victor has endured a similarly unsatisfying three seasons as a Buckeye, though with even more inconsistency.
The 6-foot-4 wideout has spent much of his time at Ohio State adding weight to his lanky frame. As a freshman, he caught just four passes for 64 yards and a touchdown, serving as a backup alongside Mack. In the fall leading into his sophomore season, Victor admitted he wasn't ready for immediate playing time in his first year.
"Last year, I didn't have any clue what was going on," Victor said in August 2017. "This year, I have an understanding. Now I feel more comfortable and I can play."
Splitting time as a co-starter with Mack in 2017, Victor finally showcased some of his potential. He reeled in a three-yard end-zone fade on 4th-and-goal against UNLV for his second touchdown of the season, using his height and length to rise above the cornerback. The following week, he had two catches for 69 yards against Rutgers, including a deep pass where he high-pointed the ball for another touchdown. 
"I have not had many like that. I remember Cris Carter years and years ago, and Mike Thomas was good at going up and getting the ball," Urban Meyer said the week after Victor's performance versus the Scarlet Knights. "But this guy has just sheer size and wingspan and has great ball skills."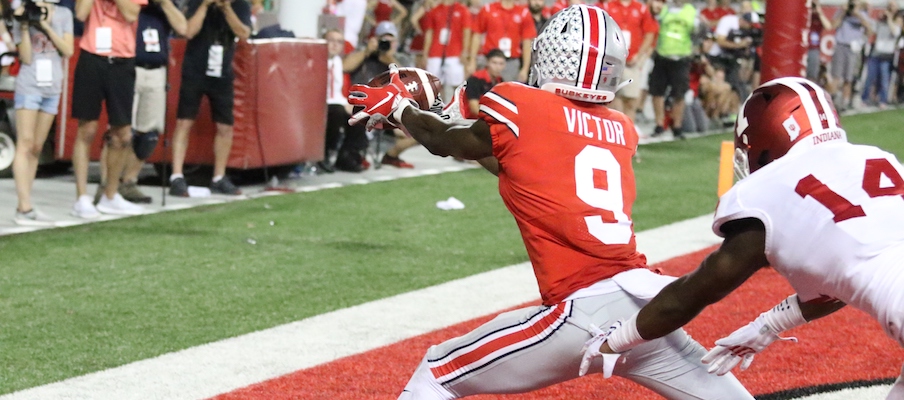 Victor caught four more touchdowns in blowouts, but didn't have a catch in any of the Buckeyes' final five games that were decided by less than five touchdowns, finishing the year with 23 catches for 349 yards and seven touchdowns.
Entering 2018, he dropped the co-starter tag and became Mack's backup. After just five catches in the first four games, Victor made the catch of the season, reeling in a game-changing 47-yard score against Penn State to chip into the Nittany Lions lead.
"In terms of talent level, it's off the charts," then-offensive coordinator Ryan Day said after the game. "That's one catch. Now, we've got to keep building from there."
There wasn't much more building during the season, though. At least, not consistently. Victor gave Campbell "chills" with a touchdown catch against Indiana, but he didn't have more than five catches or 67 yards in a single game the remainder of the season. He finished the season with 21 catches, 354 yards and four touchdowns.
No one would argue about whether Mack or Victor have talent. That's not even a conversation. The week-to-week production, though, has been missing. 
When Victor makes a catch that no one else on the roster other than him could make, like he has done a couple times in the past two years, imagination naturally begins. What could he be if he does that consistently? And when Mack contorts his body in mid-air and comes down with a reception with defenders draped all over him, it's hard not to wonder whether that could happen more frequently. 
Neither Victor nor Mack have left the legacy they headed to Columbus to set, but both have the natural gifts and have put in the time to turn into the players they hope to be. One more season at Ohio State remains for the senior duo to put everything together.