Even during Saturday's game in which he threw two interceptions, equalling his total through the first five games of the season, Ohio State's Dwayne Haskins looked spectacular.
The redshirt sophomore quarterback went 33 for 44 for 455 yards, the second-most in program history. He tossed six touchdowns, which tied him with J.T. Barrett and Kenny Guiton for the single-game Ohio State record. Haskins also became the first player in Big Ten history to pass for at least five touchdowns in three games in a single season, and he just reached the midway point of the regular season.
It could be a while until Ohio State has a better pure passer taking snaps behind center. Parris Campbell, who caught nine passes for a game-high 142 yards and two touchdowns against Indiana, believes everyone is viewing something special.
"I think you guys are witnessing a legend in the making," Campbell said. "The things that he can do throwing the ball, the leader he's becoming, he's just really developing into a great leader. And obviously the stats speak for themselves. Beyond that, just the player he's becoming and the person he's becoming is really legendary status."
Haskins was hit a few times, which led to the interceptions, but he was only sacked one. The Hoosiers, which utilize a varied blitz package designed to confuse a first-year starter like Haskins, couldn't pressure him consistently, even though they made the quarterback hits count.
"Dwayne would be the first one to tell you," Meyer said. "And it's no different than when the run game's cooking, the offensive line is the reason why. When the passing game is cooking, there's guys making phenomenal catches and runs and the offensive line is doing for the most part. I believe we gave up one sack tonight. We did have the one – we had two turnovers, awful. But he's an accurate passer now. You give him time and you give him a good group of receivers, he's a dangerous guy."
Following last year's game against Penn State, a one-point win at Ohio Stadium, Meyer invoked the Heisman Trophy. Calling it the "H word," Meyer said it would be "appropriate" to include J.T. Barrett in the conversation.
And while he didn't go as far for Haskins after Saturday's win, Meyer kept Haskins in the conversation, prefering to talk about the team's performance instead of his quarterback's award potential.
"I never want to hold our players back," Meyer said. "I don't know what else is out there. I'm worried about Minnesota and I'm worried about our defense and I'm worried about our run game. And worried about getting guys healthy. But I certainly never want to take away elite – 455 yards now. And high, high-end percentage completion. It was 33 of 44. I mean, I'm not going to hold him back. But our focus is on Minnesota."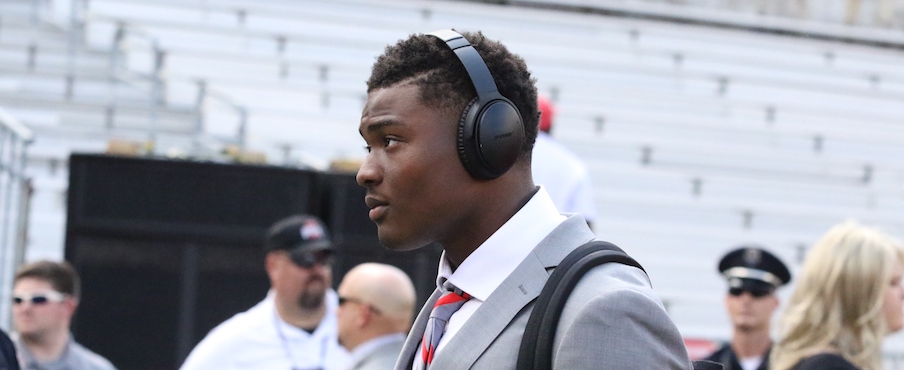 Unsurprisingly, Terry McLaurin gave his endorsement for Haskins to win the Heisman Trophy.
"First of all, we're biased because he's our guy," McLaurin said. "But I feel like a guy who is a first-year starter. I'm not going to take any credit from the guys doing what they're doing at other schools, but he's beat two top-15 teams on the road in tough environments and through a lot of adversity. For a first-time quarterback to come in do that with our offense, the numbers he's putting up, I think coach said he was one time away from some type of record. Helping him out as receivers. The more plays we make for him the more confidence it gives him and his ability takes over the rest.
Binjimen Victor has a knack for the flair.
Two of Victor's four catches in Ohio State's past two games went for touchdowns, and he scored both in exciting fashion. Last weekend's 47-yard touchdown sparked the Buckeyes' 27-26 comeback win against Penn State. He leapt up and snagged the ball from above his head and across his body before weaving through the secondary into the end zone.
On Saturday, he once again pulled in a touchdown with this one coming on an outstretched catch in the back of the end zone to put the Buckeyes up three touchdowns in the fourth quarter. He barely touched his feet on the red-painted end zone before tumbling out of the back of the end zone.
Parris Campbell called Victor's touchdown catch his favorite of the day, meaning he enjoyed it even more than both of his scores.
"I'm just so proud of him," Campbell said. "The things he's doing this season, the person he's become, the player he's become. I'm right there seeing him make that catch. That's not a catch that a lot of receivers can make. He just has so much ability, so much talent. He doesn't even know what he's capable of. When that ball was in the air, I just got chills on the field – I kid you not. I just watched the whole thing happen. It was kind of like slow motion for me. All the excitement just came out. Super proud of him."
In an unusual turn of events, Ohio State ended the opening quarter without a single timeout. The Buckeyes quickly burned through all three timeouts within the first 10 minutes of the game, using the first timeout less than three minutes into the drive and the other two on Indiana's second drive of the game.
Defensive coordinator Greg Schiano wasn't too pleased with the necessity to burn the timeouts so quickly.
"It's kind of three different circumstances," Schiano said. "I guess in 31 years, I probably have somewhere, but it's not something I'm very proud of, to use those timeouts like that. One time was a substitution issue. One time, I just didn't like the call we were in and I feel like, early in the game, don't give up a big play. We're not trying to get into that situation. We need those timeouts."