Neither Urban Meyer nor Chase Young could help themselves from comparing Indiana quarterback Peyton Ramsey to Trace McSorley, the Penn State quarterback who did seemingly whatever he wanted against Ohio State last week.
The Buckeyes certainly didn't imagine that Ramsey would follow up McSorley's career-best 461-yard performance with a career-high game against them on Saturday. That's exactly what he did, though, going 26-of-49 for 322 yards, the most in the redshirt sophomore signal-caller's career. In his team's 49-26 loss, Ramsey also tossed three touchdowns. He did not throw throw an interception for just the second time in six starts this season.
"We're not coaching well enough and we're not playing well enough right now for the standards of Ohio State defense," defensive coordinator Greg Schiano said. "There's a lot of things that go into that, but it's our job to fix it, and that's what's going to happen. We're going to fix it."
The defensive concerns wouldn't be nearly as worrisome for the Buckeyes had similar issues not arisen in their prior games.
Oregon State, which has just one win this season, dropped 31 points on Ohio State. Two weeks later, TCU running back Darius Anderson took a carry 93 yards for the longest run against the Buckeyes in program history. Penn State wideout K.J. Hamler caught a 93-yard touchdown, the longest pass ever versus Ohio State, just two weeks after Anderson's record-breaking play.
Indiana didn't need any 90-yard plays to dice up Ohio State's shaky defense.
Ramsey hit nine passes between 10 and 19 yards and succeeded going downfield a few times, tossing four completions for at least 30 yards. He spread the ball around, tossing passes to nine different receivers, and two wideouts – J-Shun Harris and Nick Westbrook – each had at least five catches and 100 receiving yards.
"At times we played outstanding. But the big hits, and we're a man coverage team. So we've got to keep evaluating," Urban Meyer said. "But some of those weren't even on man coverage. So we just have to keep working at it. I trust our staff. I trust our players. We're banged up a little bit. And we've got to fight through it. But got to play better."
Ramsey, typically a dual-threat quarterback, rushed for just 10 yards, and Indiana had just 21 rushes compared to 49 passes. For all the issues Ohio State had in stopping the pass, it shut down the run, which forced the Hoosiers into a one-dimensional offense.
"We've been fine against the run, but the pass has been killing us and that's going to bite us," Meyer said. "Something we've got to get fixed."
The Buckeyes couldn't take advantage of the discrepancy, though. Meyer said it was something he hadn't seen against the defense the entire season.
"It didn't really snap at us like it did today," Meyer said. "Penn State, guys made some plays on us. But today we really felt it. I felt it. That first half was awful."
All three cornerbacks in the rotation – Jeffrey Okudah, Kendall Sheffield and Damon Arnette – found themselves in bad positions at times and gave up long gains. Even Jordan Fuller, arguably the most indispensable player on the defense due to Ohio State's lack of depth at safety, seemed out of position at times.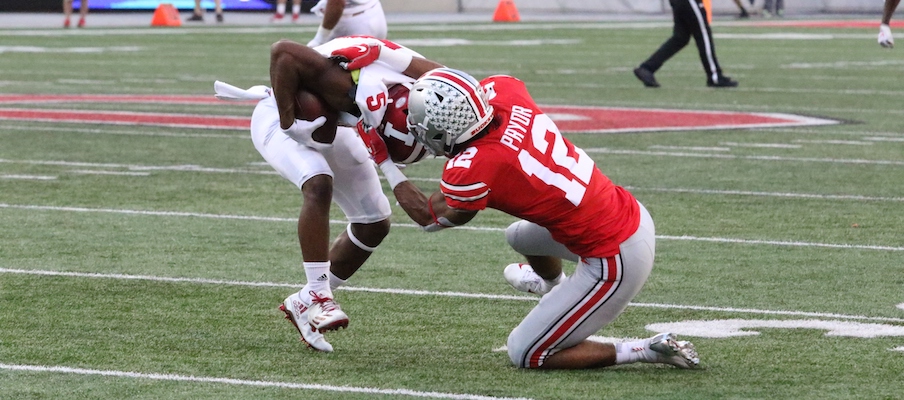 Don't expect the press-man, cornerback-reliant defense to go away, despite the many completed downfield passes by Ramsey. Schiano still believes in the concept.
"Obviously, the perimeter pass plays, whether it's (pass interference) or a completed pass, we play press man-to-man around here," Schiano said. "And when you play press man-to-man, you invite vertical threats. And if you cover them, they stop throwing them, and if you don't, they keep throwing them. We haven't done a good enough job covering. And it's not the players or the coaches, it's everybody together."
Fuller called it a 'C' performance, while Dre'Mont Jones graded the defense a 'C-minus' for giving up so many passing yards.
Answers to the many questions asked about the defense aren't plentiful, at the moment. Schiano said "you can narrow down" the issues "pretty good," but also noted the reasons for the mistakes are different. He said the biggest thing that needs to be fixed is consistency.
"We need to identify them, and we need to look in the mirror and say, well, first is it something we're teaching or coaching," Schiano said. "And, second, can it be improved or do we have to make a change personnel-wise. There's a lot of steps when you identify issues, and we'll continue."
Fuller rattled off a bevy of problems that have plagued the defense this season, including technique issues, 50-50 balls, poor angles and missed tackles.
The issues, however, don't concern Fuller much.
"I'm not worried because we have the guys to do it," Fuller said. "And those same guys, me included, that make mistakes will come right back and make a big play. We just have to shore up the bad plays."
Ohio State locked down Indiana's offense to a considerable degree in the second half.
After totaling 317 total yards in the first half with 239 yards coming through the air, the Hoosiers gained just 89 yards in the second half. Ramsey completed 9-of-20 passes in the final two quarters and Indiana picked up just six first downs after it moved the chains 16 times in the first half.
The Buckeyes didn't make any major second-half adjustments, both Schiano and Fuller said, that led to the uptick in performance.
"It was just reminding ourselves that we're a top-down football team," he said. "We make sure that we take care of the long routes before the shorter ones. I feel like we did that."
A much-improved second half, put together with the team getting stops against Indiana following Ohio State's turnovers, made Schiano optimistic that the defense can play more like it did in the final two quarters more often moving forward.
"Some of those sudden-change situations tonight," Schiano said. "The game was not out of reach and they went out there and stopped them on the plus side of the field. That's the stuff that you can build a defense."
Enough questions persist, however, that if the first-half problems aren't solved, Ohio State's path to its goal of a national championship might not be possible.