COLUMBUS – Expectations were high going into Austin Mack's freshman season at Ohio State last year.
As the first early enrollee ever to lose his black stripe in spring practice since Urban Meyer implemented the tradition at Ohio State, Mack was expected to make an immediate impact on the Buckeyes offense last season.
Instead, the four-star wide receiver recruit caught only two passes for 15 yards in his freshman year.
As a result, external expectations are lower for Mack going into his sophomore season. But he and his coaches and teammates believe he is much more prepared now to make an impact.
Despite the immediate impression he made last spring, Mack wasn't ready to contribute in a meaningful fashion last season. He describes his first season as a Buckeye as humbling.
"It's an eye-opening thing," Mack said Thursday. "Every freshman, we come in, especially the fall camp, it's a new reality. Ohio State football. And you get humbled."
Mack says he struggled with consistency last season, which kept him from getting on the field. Now that he has a year at Ohio State under his belt, however, Mack believes he is ready to be a difference-maker for the Buckeyes.
"Right now, I've got to go through fall camp, be consistent and hopefully I can earn a spot," Mack said. "I think I'll be in the rotation. But my expectation, by the end of this fall camp, I'll be one of the starters. That's the expectation I have for myself. So I'm going to push myself to hopefully reach that expectation."
Mack is currently competing for playing time at X receiver – the position Noah Brown played last year, and Michael Thomas for two years before – with fellow sophomore Binjimen Victor.
The door appears to be open for one of them to start and both of them to see regular playing time. Asked whether Mack and Victor will play a bigger role in the offense this season, wide receivers coach Zach Smith said that's something that "has to happen."
"There's no scenario where it's not going to happen," Smith said. "They have to be a major part of this offense. I don't even want to plan or think for if they're not, because it's that necessary."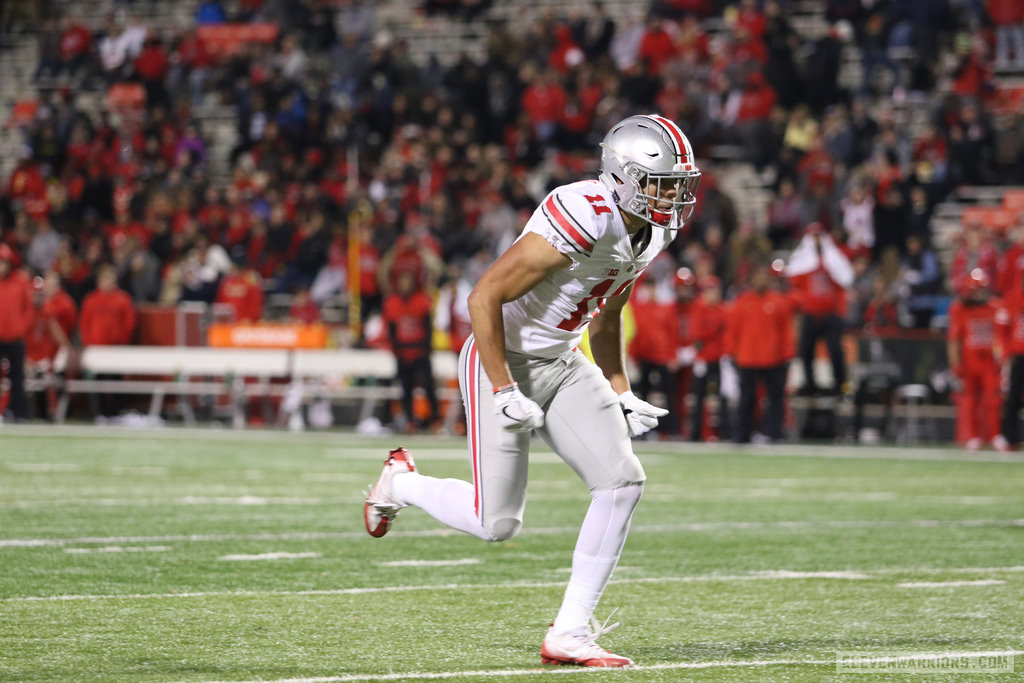 Victor, who had four catches for 64 yards and a touchdown last season, is receiving more hype as a potential breakout player going into this season. But Mack shouldn't be overlooked. Though both were four-star recruits, Mack actually had a higher 247Sports Composite rating than Victor for the 2016 recruiting class.
Smith said he still has the same expectations for Mack that he had when Mack arrived at Ohio State.
"Austin is exactly what I always thought he was in recruiting," Smith said. "I thought he could be a great player; not a good player, but a great player. I knew it was going to take some development. He came in, he showed flashed of what I saw in evaluation and recruiting – what everybody saw. And then it was just a matter of grinding him through it, getting him through the process, making him understand how to become a great player, how to train, how to work how to be a pro. And so he's done that now … he's just gotta keep it up."
Redshirt junior wide receiver Terry McLaurin, one of the leaders of the position group, says he is expecting big things from both Victor and Mack and is impressed with how Mack has developed.
"Austin has really picked up the slack," McLaurin said.
"Austin is exactly what I always thought he was in recruiting. I thought he could be a great player; not a good player, but a great player. I knew it was going to take some development."– Zach Smith
Mack has drawn comparisons to Thomas, who had a slow start to his Ohio State career – actually redshirting in 2013 after catching just three passes for 22 yards in 2012 – but eventually broke out to lead the Buckeyes in receptions in 2014 and in all major receiving categories in 2015. Selected in the second round of last year's NFL draft by the New Orleans Saints, Thomas led all NFL rookies in receptions, receiving yards and receiving touchdowns last season.
To reach the heights Thomas ultimately reached at Ohio State and beyond, Mack knows he must continue to get better, but that's the standard Mack is striving to reach. Mack says he has actually become friends with Thomas – though they never played together at Ohio State – while trying to take after him as a player.
"He's like a big brother to me," Mack said of Thomas. "When he came back (to Ohio State), he would always watch film with me and help me learn. And I always go to his film sometimes when I need pointers, I need to learn something, I always go to his film."
Mack might be the forgotten future star in Ohio State's receiving corps right now, but he isn't letting the lack of preseason hype get him down. He must continue to compete for playing time; McLaurin, Parris Campbell, Johnnie Dixon and K.J Hill are all also expected to be in the wide receiver rotation, along with Victor. But Mack believes playing time and production will follow if he continues working hard to improve his craft.
"I'm just going to keep working and in due time, my time will come," Mack said.