UNIVERSITY PARK, Pa. – Binjimen Victor hasn't found a modicum of consistency, even this season, his third in Ohio State's program.
Zero catches in the season opener. Three catches against Rutgers. Zero catches taking on TCU. Two catches versus Tulane. Two catches on Saturday.
The lanky red-zone threat has flashed a few times in his career. He caught a 21-yard pass in his team's 31-0 loss to Clemson in the 2016 Fiesta Bowl that lent credence to the idea of him breaking out as a sophomore. Last season, Victor caught seven touchdowns — including two against Illinois — but had only two combined catches for 17 yards in the Buckeyes' matchups against Oklahoma, Penn State, Michigan, Wisconsin and USC.
Victor certainly wasn't consistent against Penn State on Saturday, but it didn't matter. All that mattered was him making the most important play of Ohio State's season — and his collegiate career — on the team's most crucial drive of the year, thus far.
On first down from the Penn State 47-yard line with his team trailing by 12 points midway through the fourth quarter, Victor knew Ohio State needed a touchdown — the faster, the better.
"All night, we'd been talking about someone make a play and get this ride started," Victor said. "That's what I had to do."
Dwayne Haskins stepped up in the pocket and delivered an off-balance toss sailing behind Victor. But he used his entire 6-foot-4 frame to leap, twist his body, reach backward and reel in the pass above Amani Oruwariye. Victor shrugged the cornerback off, side-stepped a diving Tariq Castro-Fields and turned his head toward the end zone.
Parris Campbell and Rashod Berry delivered blocks on the outside, allowing Victor to cut back inside, where he saw no one in front of him. Two Penn State defenders just a step behind Victor tumbled over each other as he glided across the goal line to complete the miraculous play.
Binjimen victor. What a touchdown for Ohio State. Still alive. pic.twitter.com/S1cVAFAiO5

— Harrison Klopp (@HarrisonKlopp) September 30, 2018
"It was a dig route," Victor said. "I caught it. There was somebody in my face. All I saw was green grass and I just took off. I had to make a couple people miss, and that was it."
Offensive coordinator Ryan Day called it "probably one of the best plays I've ever seen live."
"Biggest play of anybody's career, that one," Urban Meyer quipped.
Moments before Victor capped off the three-play, 75-yard scoring drive, Meyer thought the game was over. He admitted the fatalistic feeling after the game. With his team managing just 14 points through three-and-a-half quarters and trailing by two touchdowns, hope wasn't exactly plentiful.
"In terms of talent level, it's off the charts. That's one catch. Now, we've got to keep building from there."– Ryan Day
The white pom-poms shook every time the record-breaking crowd of 110,889 fans came alive, and Meyer couldn't help himself. He saw them each time he looked up. But with a single play, Victor shifted the entire scope of the game.
"Ben Vic started that bad boy off, that comeback, and that was one of the best plays right in front of me on the sideline there," Meyer said. "He went and attacked the ball and then the receivers just got in defenders' ways and blocked his heart out. He made a great play and, all of a sudden, that gave the whole sideline hope."
The touchdown, Victor's second of the season after scoring last week against Tulane, put the game back in reach with Penn State leading just 26-21 and 6:42 remaining.
"I think when Ben made that play, there were guys on the sideline saying, 'We're going to win this game right now,'" Day said.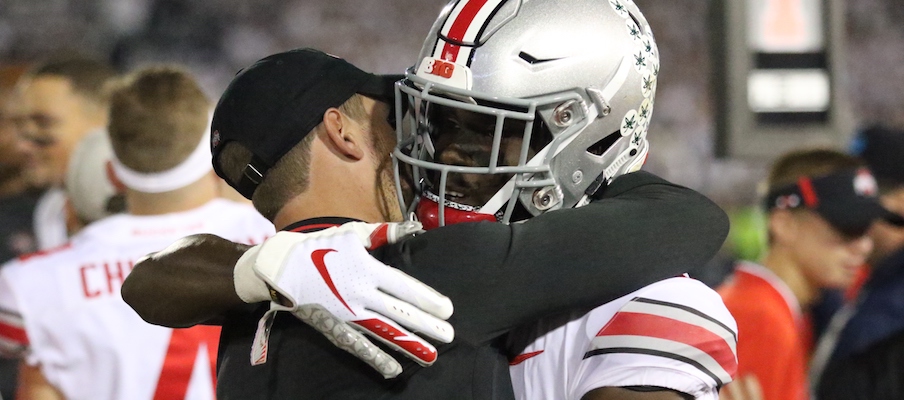 Though Victor didn't catch a single pass against the Horned Frogs and snagged just two balls last week, Ohio State's players and coaches envisioned Victor's imminent emergence.
They watched him make a few key blocks against TCU and catch a touchdown last Saturday. Meyer said Victor had a "great" three weeks of practice leading up to the top-10 matchup.
"Ben does that all the time in practice," Haskins said. "He's a freaky athlete. Every Sunday, we work on two-minute drills and situations like that, and he makes those catches every day. It was time for him to do it in a game, and he came up big."
Day called it a "defining moment" for the junior, who now has seven receptions for 126 yards and two touchdowns this season. Meyer called it a "coming-out party."
What Victor does next will determine just how much Day and Meyer can rely on him going forward.
"In terms of talent level, it's off the charts," Day said. "That's one catch. Now, we've got to keep building from there."
Becoming a reliable downfield threat is the obvious next step for the historically inconsistent wideout. He has all the physical traits and length to become a force, especially near the end zone.
It took him one play to prove he can change a game. It'll take a couple more for him to take the next step and become the consistent playmaker he proved on Saturday he has the potential to be.