UNIVERSITY PARK, Pa. – He threw a quick right jab, then followed up with a left. He did it again — right, left.
As Dwayne Haskins bounced back and forth on his jog from the locker room to the field about a half-hour prior to No. 4 Ohio State's game against No. 4 Penn State, the first-year starting quarterback dropped his chin like a boxer and delivered a couple punches to the air. He turned the corner with his entire team following closely behind him, taking the field at Beaver Stadium amid thousands of booing white-clad Nittany Lions fans.
Haskins looked prepared for a fight, but he certainly got hit first. He and Ohio State's offensive coaching staff knew Penn State would blitz the redshirt sophomore signal-caller — earlier in the week, James Franklin said Haskins had not been tested with pressure in his face — to try to fluster him Saturday in the rowdy road environment.
Early on, it worked.
The Buckeyes managed just 66 total yards on 27 plays in the first eight drives. Neither J.K. Dobbins nor Mike Weber could get into a rhythm, Ohio State's receivers dropped a few passes and pressure forced Haskins to get the ball out early, not allowing him to control the pace of the offense.
"They weren't going to let us throw the ball down the field and that was pretty evident the whole game," Haskins said. "They just had a lot of pressure and I missed a couple throws. Didn't have some great protection on some throws."
The Nittany Lions just didn't count on him pulling everything together down the stretch for back-to-back three-play, 75-yard and eight-play, 96-yard drives that Haskins capped off with touchdown passes to Binjimen Victor and K.J. Hill.
"We had adversity there, and we had to keep fighting, keep swinging. It wasn't pretty, pretty much the whole game, but we relied on each other and had faith in each other, and we came out on top."– Dwayne Haskins
After the come-from-behind 27-26 win that put his team in first place in the Big Ten East, Urban Meyer called the final drive that ended in what proved to be the game-winning touchdown to Hill "one of the great drives in Ohio State history."
"With me, there's never no bleak," Haskins said. "Every opportunity we get on the field is an opportunity to win a game, and it was a tough one, but we wanted it tough. It was good."
No one had seen Haskins in quite as difficult of a situation as the one he was put in on Saturday — except, of course, during the fourth quarter of last year's Michigan game.
In the first eight drives of its season opener against Oregon State, Ohio State racked up 335 yards and scored six touchdowns. The following week against Rutgers, the Buckeyes tallied 396 yards and six touchdown in their first eight drives. They had 291 yards, a touchdown and two field goals in the opening eight drives versus TCU, then six touchdowns and 450 yards against Tulane.
The Nittany Lions completely shut down the Haskins-led offense early on with the Buckeyes not able to manufacture a drive for more than 25 yards in the first half.
"The first half was awful in a lot of ways. And give credit to our opponent, because that's a hell of a team we just played," Meyer said. "And Ryan (Day) and Kevin (Wilson) did an excellent job making adjustments and started protecting him and keeping him upright, and when he's upright, he's very good. And our guys made plays, man."
Day and Wilson had to work to ensure Haskins dropped back into pockets with minimal pressure, for the Nittany Lions tried to get the ball out of his hands quicker than the offense prefered. Haskins said it was "definitely difficult" to try to counter Penn State's defensive looks with plays that worked.
The Buckeyes countered the pressure with a healthy dose of screen passes. Day said the Nittany Lions typically blitzed on half of their plays in previous games. Screens served the purpose of both picking up yards and acting as a threat against Penn State's defenders over-pursuing Haskins and forcing them to keep an eye out for threats out of the backfield.
Hope for Ohio State first surfaced late in the first half when a Haskins-to-Dobbins 26-yard touchdown pass pulled the Buckeyes within six points. It gave the visitors not only their first points, but a much-needed boost of confidence.
Haskins led a 13-play, 75-yard drive ended with Dobbins crossing the goal line for his second touchdown to open the third quarter. The following Ohio State drives ended in a missed field goal, two punts and a turnover on downs, but Haskins — and his complementary playmaking wideouts and running backs — pulled everything together with the game on the line.
Then, as Haskins said, "it came together in the fourth quarter."
The poise of Haskins, a Heisman Trophy front runner despite starting just five career games, impressed Day.
"You wish you had a couple plays back, but there were times where you had to throw the ball behind when it wasn't fun, we didn't have momentum going," Day said. "I think that's showing some maturity for him."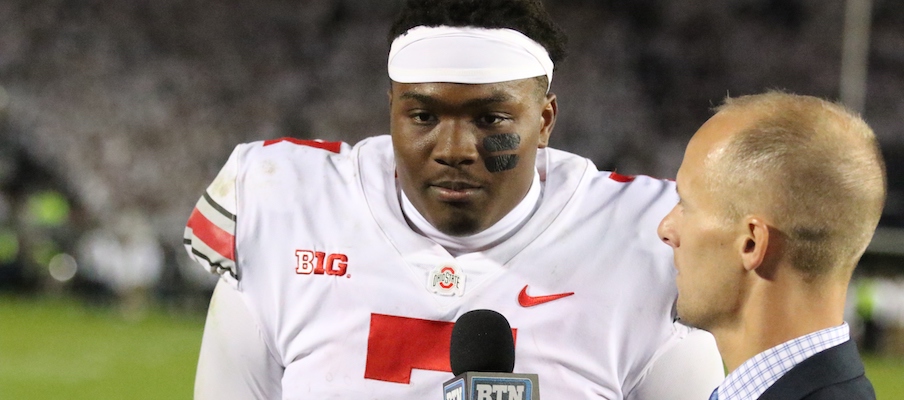 Haskins has always had the moxie and calmness of a veteran, but he had never led a visiting team into such a hostile environment as a starter.
As poorly as the offense looked in the first half, Meyer, Day, Wilson and Haskins made the necessary adjustments to put away their first top-10 opponent of the season.
"We had adversity there, and we had to keep fighting, keep swinging," Haskins said. "It wasn't pretty, pretty much the whole game, but we relied on each other and had faith in each other, and we came out on top."
Penn State defensive end Shareef Miller came out swinging first in a segment on ESPN's College GameDay before Saturday's game, saying that a couple teammates who played with Haskins in the past told him "if you hit him with a lot of times, he's going to fold."
For a while it seemed like that might happen. The Buckeyes seemed incapable of piecing together multiple first downs, let alone scoring.
But down the stretch, with Ohio State's chances to come on top at a low, Haskins delivered the unlikely knockout blow with a pair of touchdown tosses.