After finishing up his fourth-year junior season at Ohio State in 2017, Terry McLaurin gave serious consideration to entering the 2018 NFL draft.
Some critics scoffed at the notion that he could leave early for the NFL, questioning whether he would even be drafted. Some Ohio State fans questioned whether he even belonged in the Buckeyes' starting lineup. But McLaurin had just graduated from Ohio State that December, and thought it might be time to take his chance at playing at the next level, as he wondered aloud whether another season at Ohio State would even improve his draft stock.
"You got to consider a lot of things," McLaurin said after the Cotton Bowl, the Buckeyes' final game of the 2017 season. "If you're coming back, do you see yourself getting better and taking that next step, or have you necessarily topped out? What do you have coming back as an offense? And just basically, do you see yourself playing in the NFL now or later? If you feel like this at point in your career, you can either play or you can't, and I'm going to consider all my things and make my decision from there."
If McLaurin had entered the 2018 draft, he likely wouldn't have been selected any earlier than the draft's late rounds, and it's possible he wouldn't even be on an NFL roster now.
Ultimately, though, McLaurin chose to stay at Ohio State for his fifth-year senior season, and that decision looks like it could lead to a significantly higher selection in this year's NFL draft.
McLaurin has been among the top performers through two days of practice at this week's Senior Bowl, where he has drawn praise from just about everyone who's had something to say about his performance, including former NFL general manager Bill Polian.
"He's an outstanding special teams player, as well as being the star of today's practice," Polian said during ESPN's television broadcast of Wednesday's practice. "He's got quickness, he's got acceleration, he looks as though he's got really good hands, he's fast."
Brad Kelly, a draft analyst for The Draft Network who is also the wide receivers coach at Salve Regina University, wrote that McLaurin was one of the most impressive wide receivers at the event following Tuesday's practices.
"McLaurin entered the week with a lot to like on film, but he far exceeded my expectations during practice," Kelly wrote. "The game comes so easy to McLaurin, expect to hear words like 'natural feel' to describe him."
NFL.com's Lance Zierlein wrote that McLaurin wasn't one of the top players he was watching going into Senior Bowl week, but that his performance in practice on Tuesday – when McLaurin had several impressive highlights, including a deep-ball touchdown catch on which he was recorded running at 22.2 miles per hour, fastest among all Senior Bowl participants – would make Zierlein go back and take a closer look at the Ohio State wide receiver's film.
"He was toasting people vertically and sharp out of his breaks. I thought he gave all the cornerbacks a tough time," Zierlein wrote. "We weren't hearing any buzz about him coming into today, but with his speed and ability to separate, he's definitely on my radar now."
Drew Lock to Terry McLaurin. Absolute perfection. pic.twitter.com/B5CsuTItrc

— Carter Donnick (@CDonScouting) January 22, 2019
Had McLaurin received a Senior Bowl invitation last year – which he would have been eligible for because he earned his degree, though he probably would have been less likely to score an invite – perhaps he would have made a similar impression on NFL scouts then, and sent his draft stock soaring.
But while a big week in Mobile, Alabama, might be what McLaurin needed to get mainstream attention as a draft prospect, he already legitimized himself as an NFL-caliber player during his senior season at Ohio State, which was by far the best of his Buckeyes career.
McLaurin was already regarded as a team leader after last season, having served as a captain in 2017, as well as a strong special teams player and perimeter blocker. He elevated his performance to another level in all of those areas in 2018, though – particularly excelling as a gunner on the punt team, with Urban Meyer naming him as his best gunner ever – while most importantly, having his best season as a receiver, catching 35 passes for 701 yards and 11 touchdowns.
McLaurin has been described as "smooth" and having "an unbelievable polish" this week, specifically in regard to his route running, and much of that can be attributed to his development over the past year while working with former NFL wide receiver Brian Hartline, who became Ohio State's wide receivers coach in July.
Hartline was already a quality control coach at Ohio State before he was tabbed as Zach Smith's replacement, so the opportunity to continue working with him and hone his skill set was a big reason why he made the decision to stay with the Buckeyes for one more year last January.
"One of the big reasons I was coming back was I wanted to really work with him," McLaurin said in August. "Since January, I've been working on my footwork, running out of my routes, just the little things that he brings to the table to make me the best receiver I can, 'cause he's been in my shoes before."
When he reflected back on his decision to stay for his senior year before his final home game against Michigan in November, McLaurin realized that decision should have been a no-brainer, recognizing that he had improved by coming back for another season at the collegiate level.
"To a certain degree I was probably a little silly (to consider leaving)," McLaurin said. "But just everything that I could accomplish this year I've accomplished so far, and that's really, really what you look for coming back for another year. I've been around some great leaders, I've got to witness Dwayne (Haskins) and how great he can be, and I've even been able to make myself a leader and a big part of our offense and those are the things I looked for coming back. To improve, possibly going to the next level and showing that I could be a leader for this team."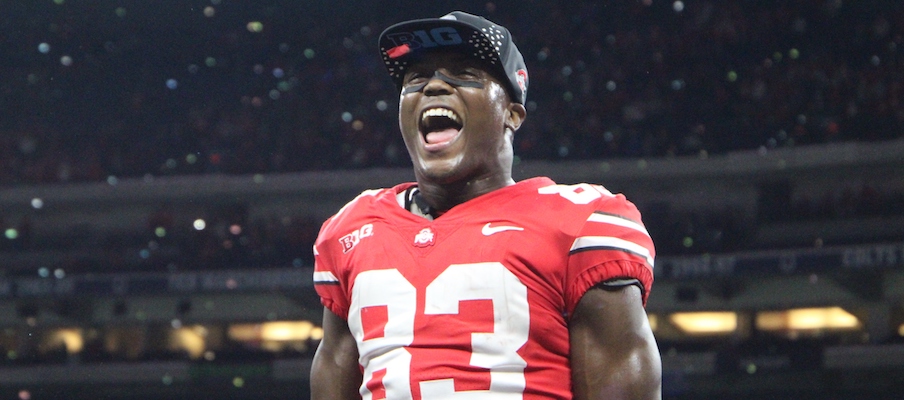 There were plenty of doubters in McLaurin's ability at this time a year ago, but now, he appears to be well on his way to becoming a middle-round pick in the 2019 NFL draft. With his improvement as a receiver coupled with his ability on special teams and his well-regarded work ethic and character, McLaurin could have a lengthy NFL career in front of him.
That's a testament to what another year of development at the collegiate level can do for a player who might not be quite ready for the NFL – fellow fifth-year senior wide receiver Parris Campbell, who was recently projected as a first-round pick by ESPN's Mel Kiper Jr., is also among those who appeared to have benefited from deciding to stay at Ohio State for one more year – and a reminder that a player can get better even if he hasn't performed entirely up to expectations in previous seasons.
For a player like Damon Arnette, who chose to stay at Ohio State for his fifth-year senior season instead of entering this year's NFL draft, McLaurin's improvement serves as a blueprint for his potential to improve. Even though he has been a starter for multiple seasons and even though he hasn't necessarily performed up to expectations, Arnette could still make a big leap forward in his development and thrive under a new position coach (co-defensive coordinator and secondary coach Jeff Hafley).
The same could be true for linebackers like Malik Harrison, Tuf Borland and Pete Werner, who were part of a unit that consistently underperformed in two seasons of being coached by Bill Davis, but will now look to bring its play back up to standard under new linebackers coach Al Washington.
It's never a given that a player will improve from one year to the next, and not everyone has the combination of physical gifts and mental drive that allowed McLaurin to make that happen. But if a player needs a reason he can get better with another year of development, or if a fan needs a reason not to give up on a player who has struggled, they can look to McLaurin as a prime example.