EAST LANSING, Mich. – Drue Chrisman's first punt in Saturday's game at Michigan State was a punter's worst nightmare.
The rest of his day was a dream come true.
On his first punt in Saturday's game against the Spartans, Chrisman shanked the ball off the side of his foot and into the Spartan Stadium stands. The ball went out of bounds just four yards from where he kicked it and gave Michigan State the ball at Ohio State's 35-yard line as a result.
After that punt, Chrisman knew he had to make up for it.
"I didn't realize how strong the wind was," Chrisman said after the game. "Just pushed it out of my hand, right off the drop, came off the side of the foot about 10 rows deep into the bleachers. I think after you have a punt like that, I don't know where it ranks in Ohio State's worst punts in history, but it's definitely my worst punt, and I was just like man, I just got to ball out after this one."
And ball out, he did.
Chrisman's three remaining punts of the first half each traveled either 46 or 47 yards, and none of them were returned. In the second half, all five of his punts were downed inside the opponent's 6-yard line.
On a day that Ohio State's offense scored just two touchdowns and the Buckeyes had to call on Chrisman to punt nine times, the consistent ability to pin the Spartans deep against their own end zone made the difference and ultimately allowed Ohio State to pull away in the second half for a 26-6 win on a cold, windy afternoon in East Lansing, Michigan.
"We just kept playing the field-position game," Ohio State head coach Urban Meyer said. "Six times we kept them inside the 20 … Five inside the 6-yard line. And in those kind of conditions, that was to me the difference."
Asked after the game whether Chrisman's performance on Saturday was the most a punter has ever changed a game in his coaching career, Meyer said, "I think so."
"Especially against this kind of environment," Meyer said.
Thank you #BuckeyeNation for sticking with me. Unbelievable win fighting through adversity the whole way. Love this team!

— Drue Chrisman (@DChrisman91) November 10, 2018
While nine punts is an indicator that a team's offense didn't have a good day, which Ohio State's offense didn't on Saturday, Chrisman's punts led to nearly half of the 19 points that the Buckeyes scored in the second half.
After pinning the Spartans at their own 1-yard line on his fourth punt of the third quarter, Michigan State made the unusual decision to intentionally snap the ball through the end zone – resulting in a safety, and two points for Ohio State – after failing to gain any yardage on a trio of incomplete passes.
Dantonio said after the game that he made that decision because he was worried about the punt being blocked – in part because the Spartans were playing a punter, William Przystup, who had never punted before in a collegiate game, but also because of how far they were backed up in their own end zone as a result of the field position.
"With only 10 yards between the snap and the punter, there's an opportunity for the punt to be blocked and it's still a one field goal game, and I felt like our defense was playing well enough," Dantonio said.
After the Buckeyes pinned the Spartans at their own 2-yard line on Chrisman's final punt, Rocky Lombardi lost a fumble in Michigan State's own end zone that Dre'Mont Jones recovered for a touchdown, giving the Buckeyes a 16-6 lead in the fourth quarter.
Michigan State only scored twice on a pair of field goals in Saturday's game, and the efforts of Chrisman and Ohio State's punt team were a huge reason for that, too.
While Ohio State's defense had one of its best games of the season on Saturday, holding an opponent to six points or less and less than 300 yards (274, to be exact) for the third time this year (after doing so against Rutgers and Tulane), Jones said the defense's performance was made possible by the punt team's work.
"Our efforts are because of Drue Chrisman and Terry McLaurin and their ability to stop the ball before it got to the end zone," Jones said. "That really gave us a lot of juice and a lot of enthusiasm to go out there to get a safety or make a play."
Chrisman made such a big difference in Saturday's game, in fact, that he represented Ohio State as its postgame player interview on FOX's television broadcast of the game – an honor that is rarely bestowed on a punter.
Big performances mean postgame interviews with @JennyTaft and @FOXSports.#GoBucks pic.twitter.com/iMHLlNkt5D

— BuckeyesPR (@BuckeyesPR) November 10, 2018
"I didn't really even know that was a thing," Chrisman said while meeting the rest of the media after the game. "I've seen guys do it after the games, but never a punter. I've seen a kicker a couple times hit a couple clutch field goals, but did not know it could possibly be a punter."
Punter Drue Chrisman in the media room, at the mic, after today's game:

"I didn't even know this room existed."

— Derrick Webb (@dw1509) November 10, 2018
It wasn't just Chrisman who made a big difference for Ohio State in the punting game, though, but also the other players who make up that unit – particularly McLaurin.
On Chrisman's first punt of the second half, McLaurin made a tremendous play to chase down the punt and get a hand on it just before it crossed the goal line, keeping the ball in play and allowing Ohio State to down the ball at the 5-yard line. McLaurin said after the game that particular play was his favorite play he's made yet in his weekly role as a punt gunner.
McLaurin also downed the punt at the 1-yard line that led to Michigan State's intentional safety.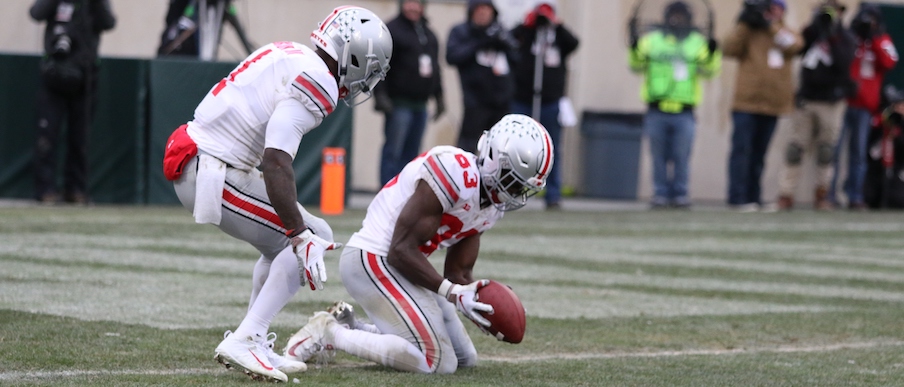 Meyer said after the game that McLaurin, who has made a habit all season of making excellent plays in punt coverage, has now earned the distinction of being the best punt gunner he has ever coached.
"It's with great reverence I say that, because you go back all the way to Brad Roby to Devin Smith to Denzel Ward, Gareon Conley (other gunners that Meyer has had at Ohio State) … Terry's as good as there is," Meyer said. "Terry's taken over the title as the best as I've ever had."
Meyer said McLaurin was "blown out" after chasing down those punts in addition to playing most of the snaps on offense at wide receiver, and nearly needed to come out of the game a couple times, but kept going because "he knew how important it was to get that ball down inside the 5-yard line."
"When you've got a fifth-year guy and a senior, you want him to be able to do everything," McLaurin said. "So I pride myself on being a leader and making plays when we need it, no matter how tired I am."
Ohio State's other punt gunner, Johnnie Dixon, downed the punt at the 2-yard line that led to the touchdown, while long snapper Liam McCullough downed a punt at the 6.
Chrisman said it gives him confidence as a punter knowing that his gunners can make the play to pin the ball deep if he gives them the opportunity.
"They make my job easy," Chrisman said. "All credit to them. They just tell me, 'Just put her around me, and I'll get it down.' And that's what we just did. They've been solid all year. I couldn't ask for anybody better."