With Wyatt Davis and a few of his Ohio State teammates just on the other side of the doorway outside of the media-filled room on the third floor of the southeast edge of Ohio Stadium, Ryan Day fielded one of his final questions after the spring game wrapped up on April 13.
What position, after 15 spring practices, do you have the most concern about entering the summer, a reporter asked.
"I think the offensive line," Day said. "We have four guys to replace there. That's something that (will) probably be the least experienced. That and quarterback are the two for me."
He referenced the many returners on defense before quickly circling back to the offensive line.
"I would say concern-wise, the O-line just because we've lost four real guys there, and Thayer didn't play in the spring," Day said. "So how's that all going to look when we get into the preseason? We do have some guys coming in, which is good. We've got the cavalry coming, which is important."
After just a couple more minutes, Davis walked into the room, along with Justin Fields, Josh Myers and a few other players.
Just like everyone else, he had just heard his head coach call his position group the biggest concern on the team, along with quarterback.
"We never want to be the concern or anything like that," Davis said. "But, you know, he said that, and that show we've got to go back in film and we've got to watch, correct our mistakes and just work on getting better. We definitely feel some type of way about that. We've just got to find ways to get better and not be the concern."
Day's worry stems from a couple factors.
He had just walked off the field at Ohio Stadium, signaling the finale of spring practice. During those 15 practices, the Buckeyes barely had enough offensive linemen to put together two full lines. Typically, as Myers said, they prefer to have at least three lines in practices. Plus, the first-team line couldn't get any work together since Thayer Munford missed the entirety of spring practice with an injury and graduate transfer Jonah Jackson hasn't arrived from Rutgers yet. Naturally, that breeds concern in coaches.
Also, whichever five players run onto the field as starters on Aug. 31, four will begin their first full season as starters for the Buckeyes. Isaiah Prince, Michael Jordan, Demetrius Knox and Malcolm Pridgeon left college for the NFL after than 2018 season. A level of uncomfortability exists when coaches have to replace so many starters.
"The offensive line room at Ohio State has a great tradition, a bunch of just great offensive lines year after year. Our motivation is to uphold that standard."– Josh Myers
But while Day called the offensive line his biggest concern, there's reason to believe it could end up as one of the team's strengths.
"At Ohio State, our goal is always to be the best offensive line in the country and the best individual players that we could possibly be," Myers said after the spring game. "We've got a shot at accomplishing that."
The first problem has an easy, albeit not so fast fix: time.
Jackson will join the team this summer, along with five-star center Harry Miller, four-star guard Enokk Vimahi and three-star tackle Dawand Jones. Jackson is a likely starter, Miller could quickly find himself on the two-deep depth chart, and Vimahi and Jones will provide much-needed depth as they develop.
A lack of bodies forced Greg Studrawa to play linemen in certain positions out of necessity. Joshua Alabi played left tackle on the first-team offense the entire spring instead of competing with Branden Bowen and Nicholas Petit-Frere to start at right tackle. In the spring game, Bowen started at left guard despite being engaged in the right tackle battle.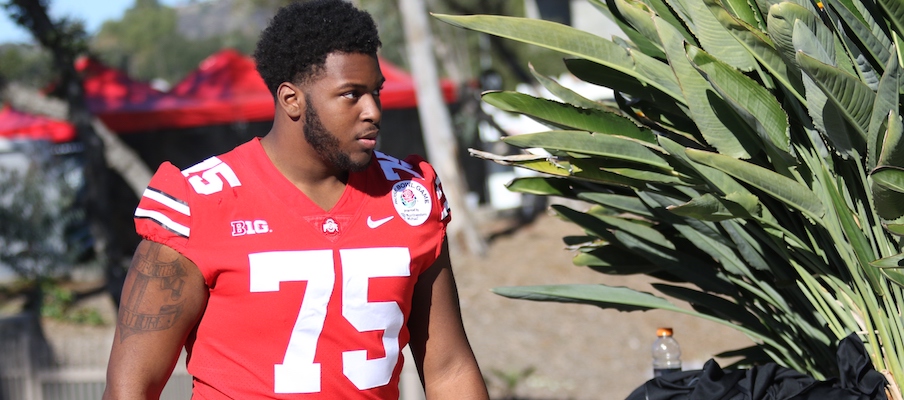 The additions, which Day called cavalry, will aid the depth. Not only will they allow Ohio State to play a third line, but they'll finally give Studrawa the ability to put together his first-team group, which could give the team some confidence in how it will turn out.
Provided everyone's healthy and enrolled, here's how the line will likely look.
Left tackle: Thayer Munford
Left guard: Jonah Jackson
Center: Josh Myers
Right guard: Wyatt Davis
Right tackle: Brandon Bowen or Nicholas Petit-Frere
Room for concern? Sure. The line, with either Bowen or Petit-Frere, has never played a single snap together, even in practice.
But there absolutely should be cautious optimism.
Last year, Ohio State's line had issues at times. Jordan played well, but he was out of position at center. Both Knox and Pridgeon endured struggles, suffering from inconsistency. After a strong junior season, Prince wasn't as reliable as a senior. There's room for improvement, and the Buckeyes have a talented crop of players likely to start in 2019.
Munford arguably had the best season of any Ohio State offensive lineman in 2018, and he returns for his junior season. He has had some injury issues, but when healthy, he's a reliable blindside protector. Jackson, projected to start beside Munford at left guard, has nearly two full years of experience as a starter. He was honorable mention All-Big Ten last season as a redshirt junior captain for Rutgers.
Beside Jackson, Myers has essentially locked up the starting center job. He had to learn the position in the middle of the line while improving as a pass blocker in his first two seasons in college. But Myers entered college as a well-regarded four-star prospect who has earned consistent praise for the past few months.
"This spring, he's taken full control of that center spot, and he's been kind of guiding us and leading us of what we need to do," Davis said. "He's really stepped up to the plate with that."
Davis got a taste of starting at the end of the 2018 season, playing in the Big Ten championship and the Rose Bowl, and he showed why he was once ranked as the top guard in his class. If he plays like he did in those two games over a full season, he'll be in the All-Big Ten mix.
The only uncertain spot on the line is right tackle, where Ohio State has a pair of intriguing options. Either it'll go with Petit-Frere, the No. 7 overall prospect in the 2018 class, or Bowen, who has six games of starting experience. Neither has locked up the job yet, but a choice between a five-star prospect coming into his own and a fifth-year lineman with starting experience is enviable.
This summer, Ohio State must gain some sort of cohesion with its linemen, for that's the most important missing component.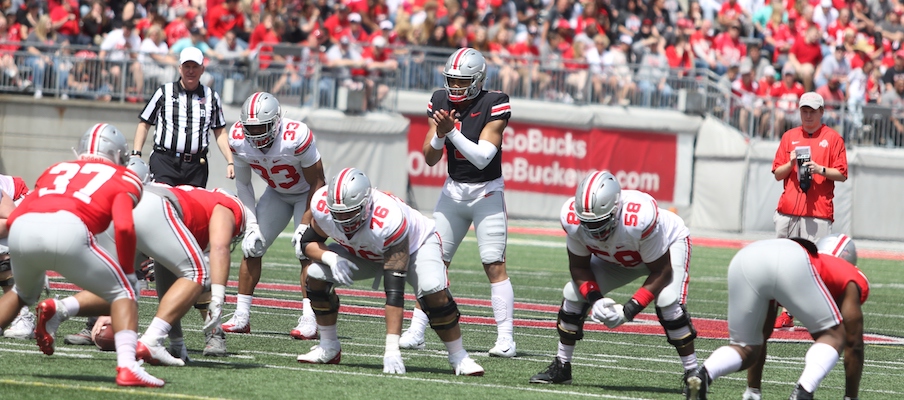 But just look at the personnel. Munford, a returning starter. Jackson, an honorable mention All-Big Ten selection. Myers, a third-year center who was once a five-star prospect. Davis, the top guard in the 2017 recruiting cycle who has two games of starting experience. Petit-Frere, the top-ranked offensive lineman in his class and a top-10 overall recruit. Bowen, who has starting experience. Behind them, either Petit-Frere or Bowen will serve as a backup along with Gavin Cupp, Alabi, Miller and others.
If the Buckeyes can put together a front five that has time to build chemistry before the season begins, there's no reason the line couldn't ultimately become a strength.
"The offensive line room at Ohio State has a great tradition, a bunch of just great offensive lines year after year," Myers said. "Our motivation is to uphold that standard. We don't want to be the group that doesn't uphold that standard. We'll do what it takes to get it done."