Time tests all records.
Ohio State legends including Archie Griffin, Tom Cousineau, Chris Spielman, Eddie George, David Boston and Mike Vrabel litter the program's record book, with many of them maintaining marks set decades ago. J.T. Barrett, Dwayne Haskins, Devin Smith and others have joined them in recent years, laying claim to records.
Every year, decades-old records fall, with current Buckeyes topping lists. Some, though, have remained intact for many years and appear to be safe in coming seasons.
We're looking for the most unbreakable individual player records in Ohio State football history.
Honorable Mention
Career catches by a tight end: 121 – John Frank (1980-83). No one in recent years has come close to this record. Billy Anders (1965-67) is in second with 108 receptions. Only two tight ends who began their careers in the 2000s – Marcus Baugh and Nick Vannett – are in the top 10. Both ended their careers with 55 catches.
Career interceptions thrown: 46 – Art Schlichter (1978-81). Greg Frey is in second with 39 interceptions. J.T. Barrett sits in fifth with 30 picks, but he also threw 104 touchdowns, nearly 50 more than anyone else in the top five.
Career tackles for loss: 66 – Mike Vrabel (1993-96). Vrabel's 66 tackles for loss racked up a combined 349 negative yards, another program record. He also holds the Ohio State record for tackles for loss in a single season with 26 in 1995.
Single-season interception yards: 194 – Derek Ross (2001). Malik Hooker picked off seven passes in 2016 and returned three of them for touchdowns, yet was 13 yards short of Ross, who had seven interceptions, including one for a touchdown, in 2001.
Longest kickoff return: 103 yards – Dean Sensanbaugher (1943). Technically, this record might as well be No. 1 on the list. It's quite literally impossible to break. Kick returns, even those taken from the back of the end zone, are maxed at 100 yards. Thus, Ted Ginn Jr., Michael Wiley, Carlos Snow and Bill Wentz are tied for second with 100-yard kickoff returns.
Single-game passing attempts: 72 – Dwayne Haskins (2018). Prior to 2018, Art Schlichter held the record with 52 passing attempts in a game against Florida State in 1981. Haskins blew away the record with his 72-pass game against Purdue.
Passes completed in a row in a game: 16 – J.T. Barrett (2017). Jim Karsatos completed 12 passes in a row versus Wisconsin in 1985. He held the record until Barrett's miraculous second-half comeback to beat Penn State in 2017.
Single-season made field goals of at least 50 yards: 5 – Mike Nugent (2004). No one in program history has hit more than two field goals of at least 50 yards in a single season. Nugent went 5-for-5 on the long-range attempts in 2004.
Longest made field goal: 59 yards – Tom Skladany (1975). Ohio State kickers have hit four 55-yard field goals, but no one has made one as far as Skladany. The following season, Skladany attempted six field goals of at least 50 yards and didn't hit a single one.
Single-season kickoffs returned for touchdowns: 2 – Lenny Willis (1974). Eighteen Ohio State players have returned one kick for a touchdown in a season. Only one – Willis – returned multiple kicks for six points.
Longest punt: 87 yards – Karl Edwards (1983). Cameron Johnston is the only player in program history to have booted three punts at least 70 yards, but only one punter in Ohio State history kicked a ball more than 80 yards. Edwards bombed his field position-changer in an upset loss to Illinois.
Rushing yards in a single half: 243 – Ezekiel Elliott (2015). Before Elliott tore up Indiana's defense in the second half of a 2015 matchup, no Ohio State player had rushed for more than 200 yards in a half. Keith Byars is in second with a 195-yard second half versus Illinois in 1984.
Before we get started, two records from teams that faced the Buckeyes are worth mentioning.
Michigan State's Morten Andersen hit a 63-yard field goal against Ohio State in 1981. Long before then, back in 1905, Michigan's Al Barlow had a 110-yard punt return versus the Buckeyes, which, well, appears mathematically impossible. Yet, per the program's record book, it happened. 
---
25. Consecutive Games With A Catch: 48 – Gary Williams (1979-82)
Pure consistency. No one is even close to Williams' record – literally. Ohio State doesn't even list anyone else in this category in its record book. It's Williams, and only Williams – for now.
K.J. Hill has 34 games with catches in a row, making it possible that he either ties or breaks Williams' record in 2019. For him to break it, the Buckeyes have to make the national title, and he'd have to have a catch in every game.
Williams never had more than 50 receptions in a season and never had a 1,000-yard season, but there he was, making catches every single week. Williams ended his Ohio State career with 154 catches, the fourth-most in program history, and 2,792 receiving yards, the third-most in program history. 
24. Career touchdown passes: 104 – J.T. Barrett (2014-17)
Bobby Hoying, in second place with 57 touchdown passes, isn't even close to Barrett, who ranks 23rd in Division I history.
In order for an Ohio State quarterback to unseat Barrett, they'd need to start two full seasons and at least a portion of a third season, if not three full seasons. Barrett's record is reachable, but both timing and talent would have to coalesce, and that might not happen any time soon.
23. Yards per catch in a season: 28.2 – Devin Smith (2014)
Only seven players in college football history have averaged more yards per catch in a season than Smith in 2014. He provided J.T. Barrett and Cardale Jones with a deep threat during the magical season that ended with a national title. Smith needed just 33 receptions to rack up a career-high 931 yards and 12 touchdowns.
Cedric Anderson, who averaged 27.6 yards per catch with 20 receptions and 552 yards in 1982, is the only other Ohio State player who has had at least 23 yards per reception in a season. Brian Hartline's 22.8 yards per catch in 2008 rank third.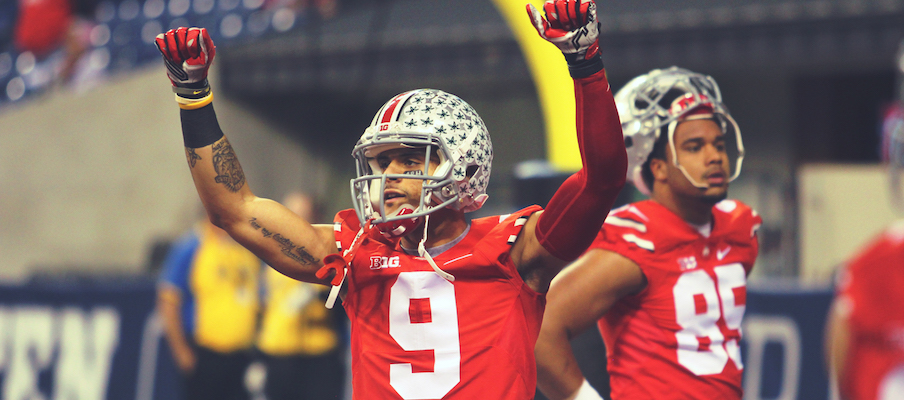 22. Touchdown catches in a season: 17 – Terry Glenn (1995)
Given how explosive passing attacks have become, Glenn's record might eventually be in jeopardy. But he set such a high mark that no one has come within fewer than three touchdowns of it.
David Boston, who caught 14 touchdowns in 1997 and 13 touchdowns in 1998, sits in second and third places.
21. Consecutive extra points made in a career: 216 – Sean Nuernberger (2014-18)
This one needs an asterisk. It's ongoing. Well, not really, considering he ran out of eligibility. But Nuernberger's streak of made extra points never ended. He ended his career a perfect 216-for-216 in PATs.
2014: 89-for-89
2015: 17-for-17
2017: 71-for-71
2018: 39-for-39
Devin Barclay is the only other Ohio State kicker to have never missed an extra point in his career. He went 74-for-74.
20. Passing yards in a season: 4,831 – Dwayne Haskins (2018)
In a single season, Haskins passed for more yards than all but 10 other Ohio State quarterbacks passed for in their careers. His 4,831 yards are 1,501 more than the 3,330 Bobby Hoying passed for in 1998, which was the prior record.
If Ohio State continues to follow the pass-heavy trends of football, Haskins' record could eventually go down. But even if a quarterback's team made it to both the Big Ten title game and the national championship game, they'd have to average more than 322 yards per game to topple Haskins' total. The mark isn't unbreakable, but it will stand for a while.
19. Interceptions returned for touchdowns in a season: 3 – Malik Hooker (2016)
No other Ohio State player has returned three interceptions for touchdowns in their entire career. Hooker needed just a single season.
In his first and only season as a collegiate starter, he burst onto the scene with two interceptions of Bowling Green's quarterback in the season opener. The next week, against Tulsa, he returned an interception 26 yards for a touchdown.
Here's another look at Malik Hooker's pick-six. pic.twitter.com/e016eKRyEZ

— Eleven Warriors (@11W) September 10, 2016
Hooker had a 48-yard pick-six versus Nebraska. Then, in the regular season finale, he returned an interception 16 yards for a key score versus Michigan.
Neal Colzie is the only other Ohio State player to record more than one pick-six in a season. He had two in 1973.
18. Punts returned for touchdowns in a season: 4 – Ted Ginn, Jr. (2004)
In 2004, Ginn returned more punts for touchdowns than any other Ohio State player has in an entire career. The electrifying speedster scored on punt returns in games against Wisconsin, Penn State, Michigan State and Michigan.
Ginn ended his career with six punts returned for touchdowns. His career average of 14.1 yards on punt returns ranks second in program history, behind Neal Colzie's 14.3 yards per return.
17. Rushes in a single game: 44 – Harold Henson (1972)
Welcome to a different era of football.
Running backs in this age simply don't tote the ball as often as they did in past decades. Henson's 44 carries came in a 27-14 win against Northwestern. He averaged 3.5 yards per carry, picking up 153 yards and scoring four touchdowns.
Chris Wells had 39 carries for 222 yards versus Michigan State in 2007. No one since Keith Byars in 1984 has cracked 40 carries in a game.
16. Completion percentage in a season: 70.0 – Dwayne Haskins (2018)
Though Haskins' counting statistics received the most publicity, his efficiency as a 70 percent passer might have the best shot at standing the test of time. 
Prior to Haskins' season that ended with him as a Heisman Trophy finalist, Troy Smith held the record with 65.3 percent passing in his Heisman-winning 2006 season. Haskins' mark ranks 52nd in college football history.
15. Touchdowns responsible for in a career: 147 – J.T. Barrett (2014-17)
Given his productivity as both a passer and runner, this statistical category almost seems like it was created for Barrett. He holds the Big Ten record for most touchdowns responsible for and has a massive lead over Braxton Miller, who briefly held the record and ended his career with 88.
Barrett set dozens of program records, many of which – including this one – came due to his longevity behind center combined with his quality of play. Only a dual-threat quarterback who starts for more than two years would have a shot at downing this record.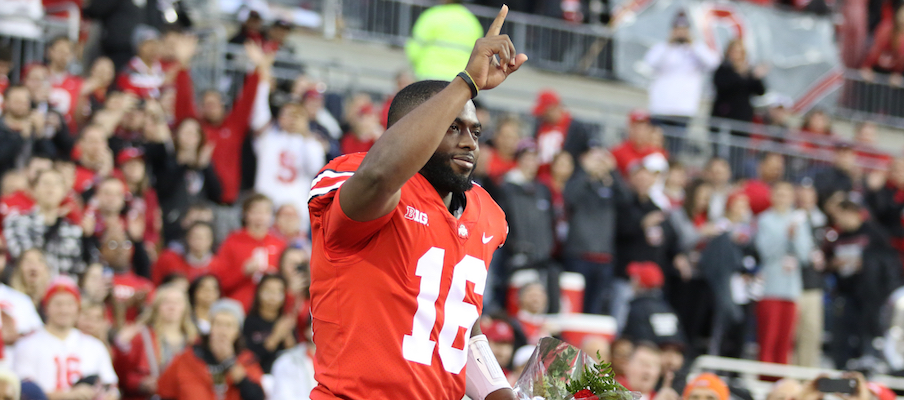 14. Consecutive Made Field Goals: 24 – Mike Nugent (2001-02)
As the only Ohio State kicker ever to win the Lou Groza Award, aptly named after a former Buckeye kicker, Nugent is widely regarded as the best placekicker in program history. 
He only made 7-of-14 kicks as a freshman but made his final kick of the season, beginning a streak that continued into the next season, eventually ending at 24 makes in a row. He didn't miss a kick as a sophomore until the second-to-last regular season game.
The two-time All-American also holds the record for most career points scored with 356.
13. Sacks In A Career: 36 – Mike Vrabel (1993-96)
To put Vrabel's impact into perspective, Joey Bosa finished his career with 10 fewer sacks than Vrabel. Matt Finkes, Tyquan Lewis, Will Smith, Vernon Gholston, John Simon and Nick Bosa didn't come even within 10 sacks of Vrabel. Chase Young, a likely top-10 pick in the 2020 NFL Draft largely due to his pass-rushing ability, has just 14 career sacks.
Jason Simmons sits in second place with 27.5 sacks. 
Vrabel terrorized offenses. Thus, he's primed to sit atop the record book for many, many years. He's the only player in Ohio State history with multiple double-digit sack seasons.
12. Passing Touchdowns In A Season: 50 – Dwayne Haskins (2018)
Haskins' round mark of 50 touchdowns last season could either last decades or be broken within the next few years. The direction of college football impacts this record about as much as any on this list.
Currently, the 50 touchdowns are the fourth-most in college football history, tying him with Fresno State's Derek Carr (2013) and Oklahoma's Sam Bradford (2008). Prior to 2018, J.T. Barrett held the Ohio State record with 35 passing touchdowns in 2017.
11. Wins As A Starting Quarterback In A Career: 38 – J.T. Barrett (2014-17)
Barrett holds more career records than any other Ohio State quarterback, and those statistics translated into victories.
His first win came against Navy in 2014, and he beat USC in the 2017 Cotton Bowl for his final victory in college. 
In order for a quarterback to topple his record, they'd have to start at least three full seasons. And in those years, the Buckeyes would have to be incredibly successful. Barrett might hold this record for decades.
10. Punt Return Yards In A Season: 679 – Neal Colzie (1973)
Another record that will be unbreakable simply due to how teams play in this age.
Ohio State prides its punt team on either forcing a fair catch or pinning the ball near the goal line. Like many teams, it attempts to avoid allowing returners the ability to break long gains by keeping the ball out of their hands.
Colzie took advantage of opponents' willingness to punt him the ball, racking up 679 return yards in 1973. He averaged 17 yards on 40 returns.
9. Rushing Touchdowns In A Career: 56 – Pete Johnson (1973-76)
Johnson had a nose for the end zone, racking up 25 touchdowns as a junior and 19 touchdowns as a senior. 
The fullback, who in 1974 became the only player in program history to score five rushing touchdowns in a single game, paired up with Archie Griffin to run all over opposing offenses for the final three years of his career. The duo became the first in Ohio State history to each run for 1,000 yards in the same season.
Johnson holds a six-score lead in this category over Keith Byars, who had 50 rushing touchdowns. Ezekiel Elliott (44) and J.T. Barrett (43) maintain the fourth and fifth spots, respectively.
8. Tackles In A Single Game: 29 – Chris Spielman (1986) and Tom Cousineau (1978)
Spielman topped 20 tackles only once, coming in a game against Michigan in 1986, but his 29-tackle performance was enough to tie him with Cousineau, who had 20-plus tackles six times in his career. Cousineau's 29-tackle game came versus Penn State in 1978.
Both Cousineau and Spielman rank in the top three of tacklers in Ohio State history, behind only Marcus Marek. 
Cousineau and Ryan Shazier are tied for the most solo tackles in a single game with 16. Shazier racked up his record-tying performance in a game versus Indiana in 2013.
7. Rushing Attempts In A Career: 924 – Archie Griffin (1972-75)
Griffin has three records listed in the top seven, but he legitimately might deserve more. The man ran. And he ran. And he ran some more – 924 times, to be precise.
No one will come close to touching Griffin's career carry mark, unless the Buckeyes stumble into an absolute stud who becomes a workhorse back as a true freshman. And even then, matching 924 career rushes would be virtually impossible gives the increasing propensity of offenses to pass.
Eddie George sits second on the list at 683 carries. Barrett is in fourth at 656 rushes.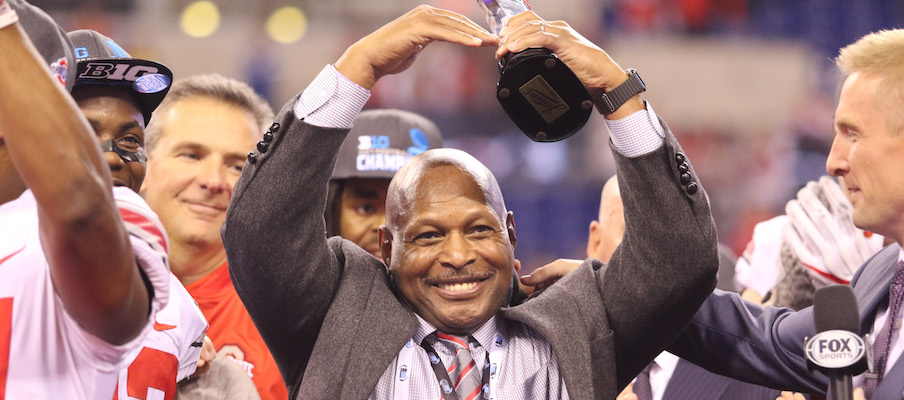 6. Tackles In A Career: 572 – Marcus Marek (1979-82)
Marek took advantage of his time as a four-year starter, racking up more tackles than anyone else in Ohio State history, and likely more tackles than anyone in Scarlet and Gray will ever have.
In each of Marek's final three seasons as a Buckeye, he had at least 140 tackles, leading the team each year. Alvin Washington, the father of current linebackers coach Al Washington, led Ohio State in tackles during Marek's freshman season. 
Marek edged out Cousineau, who had 569 tackles, for the record. 
Malik Harrison and Jordan Fuller led Ohio State with 81 tackles apiece last season. At that pace, they'd need more than seven seasons to beat Marek's record, which is safe.
5. Rushing Yards In A Career: 5,589 – Archie Griffin (1972-75)
To put this in perspective, Griffin also leads the program with 6,559 all-purpose yards. Carlos Snow has the second-most all-purpose yards with 4,851, meaning Griffin has 738 more rushing yards than anyone else has all-purpose yards.
The man simply knew how to pick up yardage. He topped 1,400 rushing yards in each of his final three years. Amazingly, he scored just 26 rushing touchdowns since Ohio State had Pete Johnson, Cornelius Greene, Champ Henson and Bruce Elia to pound it in. 
Ezekiel Elliott has the second-most career yards, having run for 3,961 in the mid-2010s. Braxton Miller, Eddie George, J.T. Barrett, Keith Byars and Carlos Hyde are in the top 10.
4. Interceptions In A Career: 22 – Mike Sensibaugh (1968-70)
Malik Hooker had seven interceptions in the 2016 season as a first-time starter, immediately bounced to the NFL and became the sixth overall pick in the draft. No one with a remote possibility of topping Sensibaugh's 22 career interceptions will stick around Columbus long enough to break the record.
Sensibaugh, a three-year starting safety, had nine interceptions in 1969, which ties him with Craig Cassady for the single-season program record. He also had eight picks in 1970.
3. Punts In A Single Game: 21 – Vic Janowicz (1950)
If you're not an Ohio State football historian, let me welcome you to what is known as the "Snow Bowl," a game the Buckeyes lost, 9-3, to Michigan in 1950 that was played in unplayable conditions.
The Wolverines didn't get a first down the entire game, yet they won. 
Janowicz punted 21 times, but the 1950 Heisman Trophy winner's boots weren't all that successful. He also holds the program record for most punting yards in a game with 685 for an average of 32.6 yards.
No Ohio State punter has ever had more than one punt blocked in a game – except for Janowicz in the Snow Bowl. He had four punts blocked.
In a completely absurd game, Janowicz's absurdity stood out.
2. Tackles In A Season: 211 – Tom Cousineau (1978)
Four of the past nine years, Ohio State's leading tackler hasn't topped 100 tackles, let alone 200. No one will top the mark Cousineau set four decades ago. 
Since Spielman had a 156-tackle season in 1987, no one has reached 150 tackles. Shazier came the closest in 2013 when he had 143 tackles, but he was still remarkably far from Cousineau's record of 211.
Spielman sits in second place with 205 tackles in 1986.
1. Consecutive Games With 100 Rushing Yards: 31 – Archie Griffin (1973-75)
This will never, ever be touched.
Griffin, who led the Buckeyes in rushing all four seasons in Scarlet and Gray, stretched this record over three seasons. His 31-game streak more than doubles Ezekiel Elliott's which lasted 15 games between the 2014 and 2015 seasons. Eddie George had a 12-game stretch of 100-plus yards in 1995.
There will never be another Ohio State back with Griffin's years-long consistency, which the program's record book reflects.