Ohio State's recruiting class of 2017 is entering a pivotal season.
Those Buckeyes are entering their third season in Columbus, which means they're expected to be ready to play significant roles for Ohio State if they haven't already. Each of them now have two years as Ohio State players under their belts, and by the end of the upcoming season, all of them will be on the back end of their careers while some of them will have decisions to make about whether it's time to go to the NFL.
With that in mind, Eleven Warriors is taking an individual look this offseason at each of Ohio State's third-year scholarship players – in descending order of their 247Sports composite recruiting rankings – and the expectations that preceded their Ohio State careers, how they have performed in their first two seasons as Buckeyes and the outlook for the remainder of their careers.
The 15th installment of the Third-Year Reset brings us to Pete Werner, who arrived at Ohio State as one of the class of 2017's lowest-ranked players but has been one of its most regular contributors through his first two seasons as a Buckeye.
Third-Year Reset
Before He Became a Buckeye
Werner played all over the field on defense for Indianapolis' Cathedral High School, lining up at linebacker, cornerback and safety for the Fighting Irish. He earned first-team Indiana All-State honors in 2016 after recording 64 total tackles, 17 tackles for loss, eight sacks and three forced fumbles (despite missing three games due to injury) in his senior season.
The speed that enabled Werner to play all over the defense on the football field also made him a top performer in track, where he ran as fast as 51.2 seconds in the 400-meter dash.
Werner originally committed to stay in-state and play for the Notre Dame Fighting Irish in March 2016, but flipped to Ohio State in December after visiting for the Buckeyes' thrilling double-overtime rivalry game win over Michigan. He became one of two linebackers in Ohio State's class of 2017, along with Baron Browning, and its lone representative from Ohio's western neighbor, Indiana.
A four-star recruit, Werner was ranked as the No. 277 overall prospect, the 14th-best inside linebacker and the second-best prospect from the state of Indiana in the class of 2017.
Career to Date
Werner quickly emerged as a core special teams player for the Buckeyes as a true freshman, playing in each of Ohio State's final 11 games of 2017. He emerged as a regular on the kickoff, kickoff return and punt block units before the end of the season, while he also saw playing time alongside other backups in the second half of four games for a total of 37 defensive snaps.
The young linebacker made a strong early impression on then-head coach Urban Meyer, who made it clear that he expected big things from Werner in the years to come.
"Buy stock in that guy for his career," Meyer said in October 2017. "He's got some good stuff going right now."
Werner continued to impress his coaches last spring and summer, and – somewhat surprisingly – earned the starting strongside linebacker job on Ohio State's defense. He remained in the Buckeyes' starting lineup all season and played 833 defensive snaps, third-most among all defenders (behind only Malik Harrison and Jordan Fuller).
He recorded 58 total tackles, 7.5 tackles for loss, three sacks, seven pass breakups and two forced fumbles over the course of the season.
Ohio State's defense struggled throughout last season, however – the Buckeyes gave up 25.5 points and 403.4 yards per game, more than any other defense in school history – and much of the blame for those struggles, at least among Ohio State fans, was placed upon the linebackers. Werner, specifically, was often in the crosshairs of criticism for inconsistent play as a tackler and in coverage.
Werner played the second-most snaps of any member of Ohio State's class of 2017 last season, behind only left tackle Thayer Munford, but he still enters his third season as a Buckeye with a lot to prove.
Third-Year Outlook
Ohio State's new defensive coaching staff is making changes to the Buckeyes' defensive scheme for 2019, and those changes could lead to less playing time for Werner. With Brendon White now playing the bullet position instead of strictly safety, the Buckeyes are expected to use more defensive packages that will keep only two traditional linebackers on the field, and the Sam linebacker – Werner's position – is expected to be the linebacker who comes off the field in most of those packages.
That means that Werner, who played 47 or more snaps in all but two of Ohio State's games last season, might not be on the field as consistently in 2019 as he was in 2018. But that doesn't mean he won't still be counted to play on a significant role.
Werner continued to take the majority of first-team reps at strongside linebacker during this spring's practices that were open to the media, so it still appears likely that he will be in the Buckeyes' starting lineup and on the field far more often than not in three-linebacker formations.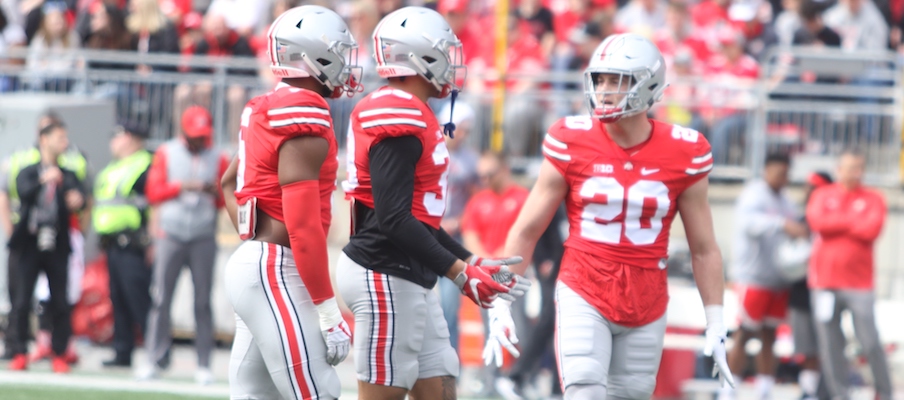 Ohio State hasn't actually named any starters at any linebacker position yet, preferring to keep those competitions going into preseason camp. But new co-defensive coordinator Greg Mattison – who has also taken on the role of position coach for the Sam linebackers and bullets – said last month that he liked what he saw from Werner in his first spring coaching him.
"I think Pete Werner had a really, really good spring," Mattison said. "I think he's going to be a heck of a football player."
While it's fair to say that Werner didn't play up to the usual standards of an Ohio State linebacker in his first season as a starter, it was also apparent that Werner was often put in suboptimal positions to make plays last year, when Greg Schiano was the Buckeyes' defensive coordinator and Bill Davis was their linebackers coach.
Now that Mattison and Jeff Hafley are coordinating the defense and Mattison and Al Washington are coaching the linebackers, the goal inside the Woody Hayes Athletic Center this offseason has been to implement a simpler defense that will allow its linebackers to play faster – and Werner, who has natural speed but didn't always show it last year, could be one of the biggest beneficiaries if that works out as hoped.
Werner probably won't be quite the mainstay on this year's defense that he was on last year's defense, but that could be to his benefit, too. Ohio State's new defensive coaches say they want to implement more packages on defense in order to get more players involved and allow them to play to their strengths, and a simplified, more formation-specific role could be exactly what Werner needs to play at a more consistently high level.
In the new defensive scheme, Ohio State will look to play Werner primarily between the hashes – where he can play downhill as a traditional linebacker – and less in situations where he would be tasked with lining up wide to cover a slot receiver.
"Pete Werner is an outstanding football player," Mattison said. "Him playing outside of the box might not make him as good a player where Brendon might be, so you come up with what we call a bullet position where this guy can cover that guy."
"I think Pete Werner had a really, really good spring. I think he's going to be a heck of a football player."– Ohio State co-defensive coordinator Greg Mattison on Pete Werner
Beyond 2019
Currently listed at 6-foot-3 and 239 pounds with plus athleticism for a player of his size, Werner has the physical tools to be a future NFL linebacker – and follow in the footsteps of his father, Greg, who briefly played in the NFL as a tight end for the New York Jets – but he must play at a more consistent level in order to put himself in a position to be drafted.
With a big junior season this year, it's possible Werner could emerge as a prospect for the 2020 NFL draft, but at this point, Werner appears likely to be best suited by staying at Ohio State for his senior year and playing two more seasons for the Buckeyes.
If he does so, Werner has the potential to finish his Ohio State career as a three-year starter and become one of the Buckeyes' top defensive leaders in 2020, as Ohio State is set to lose eight seniors (and potentially multiple juniors, with Chase Young and Jeffrey Okudah being more likely candidates, as well) on defense after this season.
He's going to have to fend off competition in order to maintain his standing atop the Sam linebacker depth chart, where sophomore K'Vaughan Pope is also pushing for playing time and new freshman Cade Stover is also a strong candidate to climb the depth chart early in his career.
If Werner delivers improved play in Ohio State's new defensive scheme this year, though, he'll position himself to play at least as big a role in the Buckeyes' defense as a senior next year.