Al Washington didn't want to give any secrets away.
Standing at the podium in the football meeting room at the Woody Hayes Athletic Center on Feb. 6, the linebackers coach remained mum about schematics. Instead, Washington offered a broad expectation. He said the linebackers will play fast and aggressive with the coaches simplifying the defense when necessary to maximize production.
A month and a half later, the Buckeyes have stayed relatively quiet in regard to their defensive tactics, only confirming their experiment of implementing a hybrid linebacker/safety position at times called a Bullet. Washington's promise to bring speed and simplicity has persisted, as well.
Tuf Borland, Dallas Gant and Teradja Mitchell all used similar verbiage when asked to describe how the scheme under Washington and Greg Mattison differs from what Ohio State employed last season with Greg Schiano running the defense and Billy Davis presiding over the linebackers.
Borland: "It just allows us to play fast, play free, play easy and just use our athleticism to play."
Gant: "He's just trying to play faster than what we did last year. Not really any specifics to talk about, but it's just mike, will, sam and just playing ball, really."
Mitchell: "It's a lot more simple. It allows us to play ball faster. So I'm all for that."
Fast. Faster. Faster.
The same word that Washington used over a month ago to explain how he wants his unit to play continued to resurface again and again last week.
"Just get back to playing fast, how linebackers are supposed to play downhill, fast, hard," Gant said. "Just keep preaching that. And we're going to do that. We have great personnel in the linebacker room, and we plan to play fast and hard like we do in practice."
At times last season, Ohio State's linebackers drew ire from fans and criticism from the media.
Borland started alongside Pete Werner and Malik Harrison, but the group never found their footing. Purdue took advantage of the unit en route to its 49-20 win buoyed by 539 yards, including 161 yards on the ground for an average of 5.6 yards per carry.
The linebackers appeared a step behind at times, and that might stem from the complexities of the defense implemented by Schiano, a former NFL head coach and current defensive coordinator for the New England Patriots, and coached by Davis, a lifelong NFL coach who currently coaches linebackers for the Arizona Cardinals.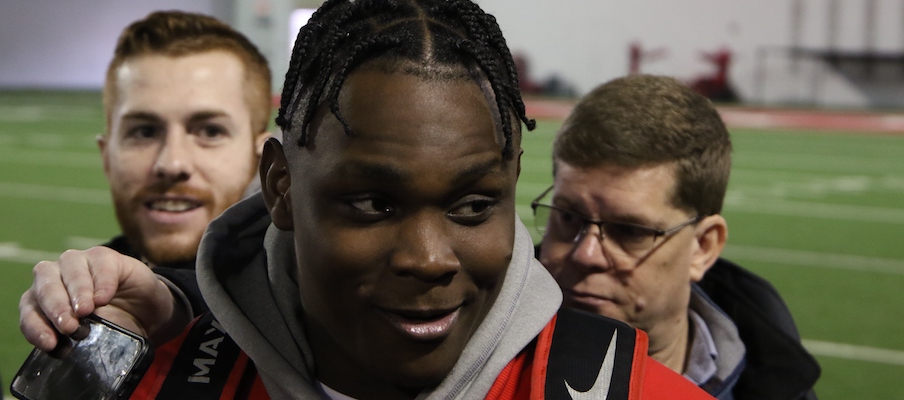 Last spring, even though Schiano had been defensive coordinator for two years and Davis had coached linebacker for a season, Gant entered Ohio State feeling like he wasn't too far behind mentally, saying "it felt like a lot of learning was still going on." Mitchell said he didn't have a full explanation of why the unit's play wasn't up to par with its expectations, but noted it was partially due to "a lot of overthinking."
This spring, Washington and Mattison are trying to crush whatever uncertainty remained in the back of the players' heads on the field.
"I would say that this year we're going to play more straightforward and just going downhill and playing fast and making sure that it's simple and we're getting stuff done and just playing fast," Gant said. "Last year, lot of changes with motions and stuff like that, which wasn't difficult, but sometimes it would be unsure, and sometimes we played that way, which made us play slower, which wasn't a bad thing, it was just a change-up. This year, just playing more straightforward, I would say."
Complexity shouldn't be shunned completely. Some of the best schematic coaches can dial up intricate defenses that overwhelm sharp offensive coordinators. But, undoubtedly, change was needed. 
In this case, simple might mean fast, which would lead to improved play by Borland, Werner, Harrison and the rest of the linebackers.
"A lot less reads allows you to just read the line, read the back, at the end play football, play football from that point on," Mitchell said.
Regardless of the simplification, if the Buckeyes often utilize the Bullet, then the speed at the second level will undoubtedly increase. Brendon White, a returning starter at safety, is getting the first look at the hybrid spot.
Harrison, one of the most athletic players on the team, has a starting linebacker spot locked up. Werner played well in coverage, and Borland stuffs the run well. Baron Browning, Mitchell, Gant and K'Vaughan Pope haven't played as much as the three returning starters, but they're all pushing for significant increases in reps.
Washington has options, and in order to succeed at getting the linebackers – and Bullet – to play fast, his task will be finding whichever combinations of players work best together. And he's not the only one eager maximize the talent in the room.
Both Mitchell and Borland said the linebackers are "very hungry" to prove the group is better than what critics believed.
"I feel like we didn't play up to par, we didn't play like the Silver Bullets play," Mitchell said. "But we're working toward getting back to that culture and that standard."