As he learns how to play his new role in Ohio State's defense, Brendon White has been spending time with two different position groups this spring.
White has been handpicked to play the new "Bullet" position in the Buckeyes' defense – a linebacker/safety hybrid position that new co-defensive coordinator Greg Mattison and linebackers coach Al Washington brought to Ohio State from Michigan, where it was called "Viper" – along with Jahsen Wint.
As a result, White has been spending much of his time this spring with Mattison and in the linebacker meeting rooms as he learns that position, yet he's also been working with co-defensive coordinator and secondary coach Jeff Hafley on continuing to play safety, where he started Ohio State's final five games of last season after a breakout performance against Nebraska.
Bouncing back and forth between position groups has made this spring more challenging, White acknowledges.
"It's definitely not easy," White said while meeting with the media on Wednesday. "I'm just taking it one day at a time. The coaches understand it's going to take time and take patience, so I'm in the film room all the time with them, trying to come in as much as possible so I can get that stuff dialed back."
White is also enjoying learning the new Bullet position, though, and he's honored that he was chosen to play it. Now, he just wants to prove that he should continue to play a big role on Ohio State's defense all year long.
"It's a dream come true," White said. "Hard work definitely pays off. But I still got to have that chip on my shoulder, because anyone can take that Bullet spot. Jahsen Wint's right behind me, doing that spot as well. So I got to go out every day, acting like it's my last day of practice, so I can keep that position."
Even though it has been "confusing and difficult," in White's words, to balance practicing at two different positions while also learning Ohio State's new defensive scheme, he believes he is a natural fit for the Bullet spot, where he will still be tasked with picking up tight ends and other pass-catchers in coverage but also will spend more time playing closer to the line of scrimmage to defend the run, even occasionally rushing the passer.
At 6-foot-2 and 215 pounds, White was already the biggest safety on Ohio State's roster, so he hasn't had to get bigger to play his new position. The biggest thing he has had to learn is the technique of playing linebacker, as he needs to be able to use his hands to shed run blocks and fill gaps around the line of scrimmage.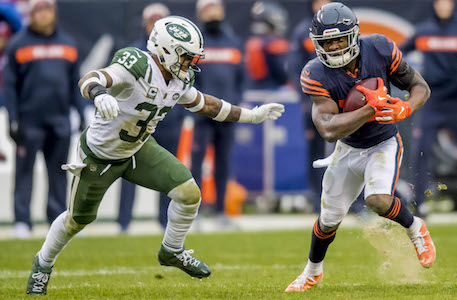 "I'm doing that every day so I can try to get better at it," White said.
Even though the Bullet position was adopted from Michigan's Viper position, White said he hasn't watched any film from the rivals to learn his new position. Instead, he has watched film from the San Francisco 49ers and Cleveland Browns, where Hafley coached a similar position as the secondary coach for those NFL teams.
The player who White said he wants to model his game after, however, is Jamal Adams, a former LSU safety who was the No. 6 overall pick in the 2017 NFL draft and now plays for the New York Jets.
"When he comes down in the box a little bit, he can guard tight ends," White said. "Also, he knows how to play the post as well."
White demonstrated his ability to make plays from the safety position last season, recording at least five tackles in each of Ohio State's final six games. He had two tackles for loss against Nebraska, a game in which he replaced Jordan Fuller in the lineup after Fuller was ejected for targeting, and another two tackles for loss and a pass breakup against Washington in the Rose Bowl, where he earned defensive player of the game honors. He also had an interception, with a 49-yard return, in the Buckeyes' rivalry game win over Michigan.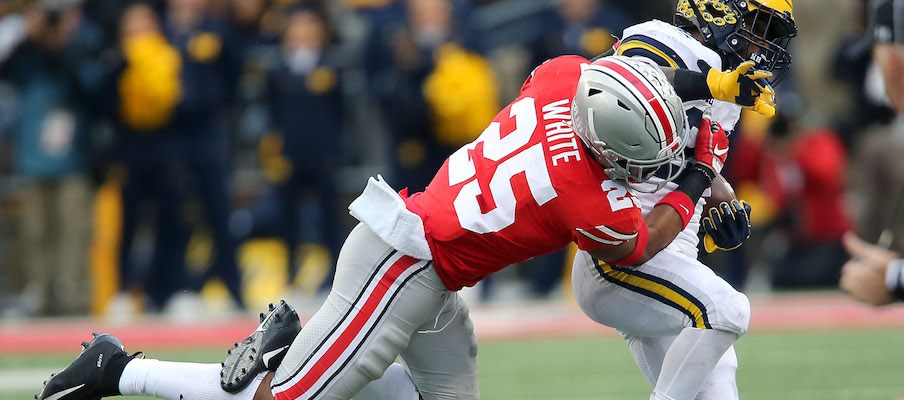 White should have even more opportunities to make plays in 2019 as his new role brings him closer to the ball more regularly.
Now that he is a junior with significant playing experience under his belt, White is also trying to establish himself as a leader for the defense.
As a new season begins with new defensive coaches, though, White knows he can't be content with what he accomplished last year. If he wants to have similar success in what should be his first full season as a starter, he needs to work just as hard as he has to get to this point.
"I still got to have that chip on my shoulder because that was last year," White said. "It's a new year now, with a new coaching staff and everything, so I still got to prove myself."
"I still got to have that chip on my shoulder, because anyone can take that Bullet spot. Jahsen Wint's right behind me, doing that spot as well. So I got to go out every day, acting like it's my last day of practice, so I can keep that position."– Brendon White
As Ohio State figures out exactly how much it will utilize the Bullet position this year and who its best defensive players are, White is still taking regular reps at safety, too. He expects to still see playing time at that position, and Hafley believes that playing multiple positions will actually help White in his ability to play each of those positions.
"Our defense, the way we're trying to build it is very plug-and-play," Hafley said. "So when I'm talking to the group, I'm explaining this position, this position, this position, even if it might be a linebacker in this today, it might be you tomorrow. So if they can learn the why and see the big picture, then they can plug into all those spots."
Ohio State will still need other players to step up at safety since White won't be a full-time safety anymore. That said, Shaun Wade has continued to practice at both safety and cornerback this spring – just like he did last year – while White named Isaiah Pryor and Josh Proctor as two safeties who he believes have stepped up this spring to potentially fill the void at that position.
"Isaiah Pryor's doing really well," White said. "Josh Proctor, he's making plays out there, he's understanding it more and he's actually grown and developed ever since last year. So I'm really proud of him, and he's stepping up as well."
How those players continue to perform between now and the fall at safety could be a factor in how much playing time White sees at Bullet. White is confident, though, that the Bullet position can make the defense better.
"I like it a lot," White said. "It's a versatile position, so I can play the safety spot and I can come down and play the run with the 'backer. So I'm trying right now to do anything I can to learn the position as fast as possible and try to help the team out with a win."