Even though the 2019 NFL draft just happened this past weekend, people are already talking about the 2020 draft.
As is customary for the days following the draft, many draft prognosticators have already released their early projections for next year's draft, as NFL scouts and draft aficionados begin to look ahead at which college football players this fall could become first-round picks next spring.
With a full year to go between now and the 2020 draft, there will certainly be a lot that changes before then, and first-round prospects who emerge this fall despite being unknown commodities now (like Dwayne Haskins this past season). NFL scouts have yet to formally evaluate any of these players, so all of these mock drafts are purely media conjecture; there are players who are projected as first-round picks now who won't be selected nearly that early next April.
No one knows what the selection order for next year's draft will be either, as there's still an entire NFL season to be played before then, so the projected draft order varies from mock draft to mock draft – and trying to forecast what teams' biggest needs will be a year from now is purely conjecture, too.
Much like a preseason poll in college football, though, these early mock drafts serve as a starting point for the discussion of who will be the top NFL prospects in the next draft cycle, and there are already several Buckeyes within that discussion.
Just as was the case in this past draft cycle, an Ohio State defensive end is at the top of that discussion. Nick Bosa was at or near the top of every early mock draft at this time last year, and he ended up being the No. 2 overall pick last Thursday; Chase Young, assuming he chooses to declare for the draft after his junior season like Bosa did, will be looking to follow in his footsteps.
Young is the only consensus first-round prospect from Ohio State in the early mock drafts, which vary far more widely than the mocks you will see in the weeks actually leading up to the draft, but there are a few other Buckeyes who are already being forecast as potential first-rounders, too.
We took a look at the following 12 early mock drafts (each of which only project the first round, as they should this early in the process) to get a first look at which Buckeyes are viewed as potential top picks by those who follow the draft the entire year.
Chase Young, DE
Miller: No. 1 overall, Washington Redskins
Pauline: No. 1 overall, Arizona Cardinals
Sikkema: No. 1 overall, Miami Dolphins
Wilson: No. 1 overall, Miami Dolphins
Brugler: No. 2 overall, Washington Redskins
Easterling: No. 2 overall, Miami Dolphins
Kadar: No. 2 overall, Arizona Cardinals
Brown: No. 3 overall, Cincinnati Bengals
Standig: No. 3 overall, New York Giants
McShay: No. 4 overall, Washington Redskins
Bender: No. 9 overall, Tennessee Titans
Single: No. 14 overall, Houston Texans
Young has been touted as a potential future top-five overall NFL draft pick since before his Ohio State career even began, and he's only strengthened those expectations over the past two years. Nine of the 11 early mock drafts we surveyed forecast that Young will be a top-four overall pick in the 2020 draft.
If he ends up establishing himself as the top edge defender in the 2020 draft class, which many believe he will, whether he comes off the board as early as Bosa did – or potentially even ends up being the No. 1 overall pick – could simply depend on how early a team wants to draft a pass-rusher.
Young has the elite physical tools that will make NFL scouts salivate over his potential, and he's demonstrated the ability to wreak havoc up front with his explosiveness and length. Young still needs to be more consistently dominant in order to be an All-American defensive end at the collegiate level, though, and whether he achieves that level of consistency could determine whether he ultimately gets drafted as early as prognosticators believe he could right now.
Regardless, though, Ohio State fans shouldn't count on Young sticking around for more than one more year, because he certainly appears likely to be in line for a big payday once he's NFL draft-eligible.
J.K. Dobbins, RB
Brown: No. 19 overall, Houston Texans
Standig: No. 21 overall, Houston Texans
McShay: No. 29 overall, Los Angeles Rams
Three of the early mock drafts we surveyed project that Dobbins will be a first-round pick in 2020, and two of them have him landing in Houston, which is only about a 90-minute drive from his hometown of La Grange, Texas. After opting not to select a running back until the seventh round of this year's draft, the Texans are projected to be in the market for one early in next year's draft.
Dobbins looked like a first-round pick in his first season as a Buckeye in 2017, when he rushed for 1,403 yards on 194 carries, breaking Ohio State's true freshman rushing record in the process. Dobbins wasn't quite as spectacular last season, however, rushing for only 1,053 yards on 230 carries.
He's going to need to return to his freshman-year form and have a big junior season in order to establish himself as a first-round draft prospect. He could also opt to stay at Ohio State for his senior season and enter the 2021 NFL draft instead.
It shouldn't come as a surprise if he chooses to leave early, though, as he attended the NCAA's Elite Student-Athlete Symposium – an event for top draft prospects to prepare for their future NFL transitions – in Indianapolis alongside Young in March, and it's commonplace for top running backs to go pro after their junior years.
Jeffrey Okudah, CB
Kadar: No. 19 overall, Minnesota Vikings
Brugler: No. 28 overall, Oakland Raiders
Ohio State has had five cornerbacks selected in the first round of the NFL draft since 2014, and Okudah could follow them as the sixth first-round Buckeye cornerback in seven years in 2020.
He's projected as a first-round pick in two of the early mock drafts we surveyed, and he hasn't even been a full-time starter in Ohio State's secondary yet. He will be for the Buckeyes in his junior season, though, and if his spectacular Rose Bowl performance to end last season was any indication, Okudah could be one of college football's best cornerbacks this fall.
Like Young, Okudah was ranked as a top-10 overall prospect in the recruiting class of 2017, and he possesses elite physical tools for the position he plays. He's made steady strides over the course of his first two years at Ohio State; now, with a new secondary coach in Jeff Hafley who previously coached NFL defensive backs for seven years, Okudah must prove that he can consistently play at the level he did against Washington on New Year's Day.
If Okudah can do that, he has the potential to be drafted as early as the top 10 overall picks in 2020 – which at least one NFL scout has already predicted he will be, according to The Athletic's Ari Wasserman – and will be another strong candidate to go pro after just three years in Columbus.
Jordan Fuller, S
Pauline: No. 20 overall, Pittsburgh Steelers
Fuller could have opted to declare for this year's NFL draft following two seasons as a linchpin in the Buckeyes' secondary, but the starting safety and team captain opted to return to Ohio State for one more year. He said in December that he felt like he "just played OK" in his junior season, so he believes he has a chance to improve his draft stock in his senior year.
DraftAnalyst.com's Tony Pauline believes Fuller could propel his draft stock all the way up into the first round if he plays up to his ability.
"Not many grade Fuller as a first-round prospect, but if he gets back to where he was in 2017, he'll be a top-32 selection," Pauline said.
Fuller probably would have been drafted in the middle rounds this year, but he's a well-rounded player who was the one consistent presence in an otherwise shaky safety group last season. In order to emerge as a potential first-round pick in 2020, however, Fuller needs to finish his career by making more big plays in his senior season.
Malik Harrison, LB
Pauline: No. 29 overall, New Orleans Saints
Single: No. 29 overall, New Orleans Saints
Harrison is another Buckeye who has an elite combination of size and athleticism that could enable him to soar up draft boards if he plays at a consistently high level in 2019 – which The MMQB's Eric Single believes Ohio State's new defensive scheme and assistant coaches will help Harrison do.
"The Buckeyes' new defense should make the most of Harrison's excellent range after he tied for the team lead in tackles as a junior," Single wrote in his mock draft. "A former three-star recruit, his physical gifts will be maxed out this fall for all evaluators to see under the direction of some of the Michigan defensive assistants (Greg Mattison and Al Washington) who helped make Devin Bush this year's No. 10 pick."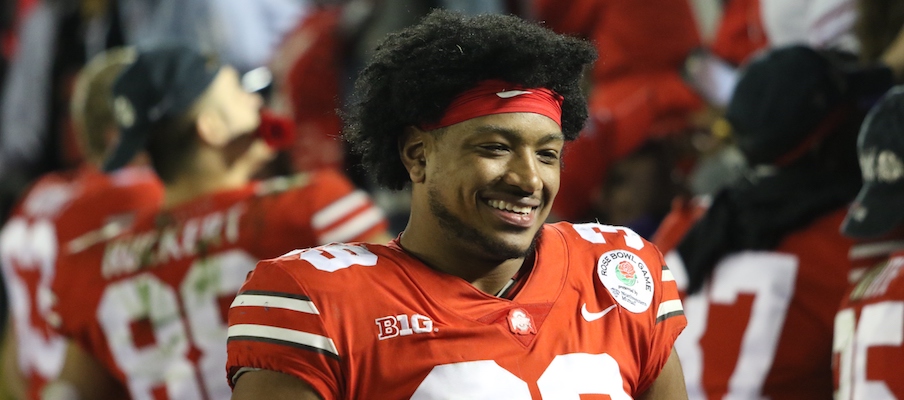 Like Fuller, Harrison could have opted to declare for this year's NFL draft following his junior season, but made his decision to return for his senior year before last season even ended, and that decision could pay off in a big way if he plays up to his potential.
It's unlikely he would have selected anywhere close to the first round this year, but he's flashed the tools to be a star; if he performs up to expectations as the senior leader of Ohio State's linebacker corps this season, he'll garner plenty of attention from NFL scouts.