J.K. Dobbins needed just one game to prove Ohio State had something special at running back.
Looking like anything but a freshman getting his first college action, he started in place of an injured Mike Weber and had 29 carries for 181 yards in his team's season-opening win against Indiana in 2017. Dobbins racked up 1,403 yards on the ground with seven touchdowns in his first season as a Buckeye, averaging 7.1 yards per carry. He had six 100-yard games, including a 174-yard performance against Wisconsin that earned him player of the game honors in the Big Ten championship.
But Dobbins didn't follow up his freshman season by taking the next step in his progression as a running back. Splitting series with Mike Weber for the second year in a row, he still had impressive counting statistics, accumulating 1,053 rushing yards and nine touchdowns. But his efficiency declined, averaging 4.6 yards per rush. His amount of rushes for either negative yards or no gain nearly doubled.
There's no hiding from the drop in productivity, and Dobbins hasn't tried to minimize what happened during the 2018 season.
"I'm not going to make any excuses," Dobbins said Thursday. "It was me. I regressed last year. I didn't have the year that I needed to have. So I put that on myself, and I'll get back to that this upcoming year."
Not often does a rising junior have a goal of returning to what their level of production from their freshman season, but Dobbins had no ordinary first year as a Buckeye, and he knew that.
No one in program history – not Eddie George, Kieth Byars, Ezekiell Elliott, Archie Griffin, Maurice Clarrett, Beanie Wells or anyone else – had ever rushed for as many rushing yards as a freshman. In his first game, he passed Clarett for the most rushing yards in a debut at Ohio State.
"I thought that when J.K. got here, he was so hungry and wanted to take every single rep," Alford said. "If you said, 'Run 100 yards, sprint back and do it again and do it a third time,' he'd do it. But then he had a little bit of success. We spoke about it. In some regards, it was kind of like he had arrived, and he hadn't."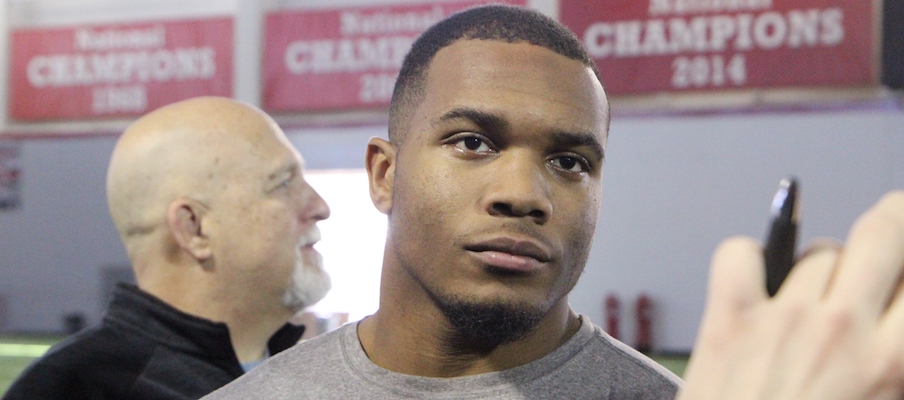 For most tailbacks, a 1,000-rushing yard season, which Dobbins had as a sophomore, would be enough. But Dobbins set a higher than average expectation as a freshman, and he has even greater goals than what he did as a freshman.
"I'm approaching this spring how I approached it whenever I came in my freshman year," Dobbins said. "Work hard, and I just want to be legendary. I want to be like Ezekiel Elliott and Archie Griffin and guys like that. Write my name in stone."
If Dobbins cracks the 1,000-yard mark again in 2019, he would become the first Ohio State running back to do so for three seasons since Griffin.
But in order to take his place in history alongside Elliott, Griffin and other legends who have spent time in scarlet and gray, he'll have to regain the high yard-per-carry average that he produced as a freshman. To do that, he hasn't taken any breaks in spring practice.
Dobbins has two years of experience, has taken enough of a pounding with the ball in his first two seasons and will be such a key player on Ohio State's offense in the fall that it would make sense for him to rest. But he approached Alford this offseason to tell Alford not to take it easy on him.
"A lot of people say I'm going to get a lot of rest, but I don't want that, so I told them that I don't want that," Dobbins said. "So I've been practicing like I was a freshman. I'm not really resting. I've got to get better."
The change has been noticeable to his position coach.
"He's practicing like he did when he was a true freshman, which is exactly what I wanted," Alford said.
Unlike Dobbins' freshman and sophomore seasons, he won't be competing for carries with Weber in 2019.
Both Dobbins and Weber said all the right things in 2017 and 2018. Neither back publicly called for more touches or questioned Alford's use of them, but it wasn't difficult to see how much they enjoyed the idea of being "the lead dog," as Ryan Day said a couple weeks ago.
"He's the back now," Day said. "I think he'll tell you maybe a little bit last year he was looking for home runs because he was kind of splitting reps with Mike. So he's going to have to make those five-yard, six-yard hard runs where he's going to finish them for seven or eight and maybe not try to hit that home run."
Being the sole, undisputed starter in the backfield allows running backs to get into a rhythm that Dobbins never found last year.
Both Dobbins and Alford said the rising junior often felt like he had to hunt for major gains on the ground rather than take what was given to him.
"In his defense, he was always trying to make this huge play because we were rotating backs," Alford said. "And his thing was if I'm only going to get so many reps and I know my rep count's getting cut, every chance I get I'm going to try to blow the doors wide open. And that's not how the game works. You've got to stay with the flow of the play and design of the play, and then there's some frustration that set in. So there's a bunch of things that play into that, the mental aspect of it. And there's something I could've done a better job of helping him navigate those waters, if you will."
Dobbins might have been trying to "hit more home runs" last season, but he didn't have any more long runs than he had as a freshman.
In 2017, Dobbins had 11 runs for more than 25 yards. In 2018, he only had two runs for more than 25 yards. His amount of runs for 11 to 15 yards dropped from 16 in 2017 to 11 in 2018, and he only had five rushes for between 16 and 25 yards in 2018 after having nine rushes in that range during the 2017 season.
"When you're looking for the home runs, you miss the home runs, I guess you could say," Dobbins said. "You've got to let the game come to you, and I wasn't letting the game come to me."
Dobbins won't have to worry about another running backs taking his spot on the top of the depth chart this year, so he doesn't need to aim for the home runs any more.
If he simply plays up to his capability, those plays will come, as witnessed in 2017.