Even though Ohio State has only held two practices so far this spring, we're already starting to have a better idea – or at least have reason to think we do – of what the Buckeyes' depth chart could look like in 2019.
Ohio State opened the first hour of its first two spring practices to the media, giving us a glimpse of which players are currently running with the first-team and second-team offenses and defenses so far, as well as an opportunity to see which players might be making an early impression that gives them a chance to climb the depth charts at their respective positions.
As such, with Ohio State on spring break this week, it's time for an updated early projection of what the Buckeyes' lineups and rotations could look like this year.
With a new head coach and five brand new assistant coaches, Ohio State is just beginning its evaluation of its 2019 roster, so there's still plenty of time for things to change. It's still very early, and just because a player is lining up as a starter during the first two spring practices doesn't mean he will be come fall, or even by the end of the spring.
But with what we've been able to see so far, and a best guess at which players will still surge up the depth chart, there's enough evidence to make an educated prediction of how things will stack up.
In the following projection, at least two players are listed at every position. For positions where the Buckeyes could rotate three or more players into the lineup, all players who are projected to see regular playing time are included.
Quarterback
1. Justin Fields
2. Matthew Baldwin
New Ohio State head coach Ryan Day said after the Buckeyes' first practice that there is "going to be a battle" between Fields and Baldwin this spring, but all signs still point to the starting quarterback job being Fields' to lose.
He came to Ohio State for the opportunity to be Dwayne Haskins' successor, and as the No. 2 overall prospect from the recruiting class of 2018, he didn't transfer from Georgia to sit on the bench somewhere else. He has the tools as both a passer and a runner to potentially be another elite quarterback in Day's offense, and he took most of the first-team reps during the windows of the Buckeyes' first two practices that were open to the media.
Baldwin has a good arm and the potential to be a capable starting quarterback for Ohio State in the future, but he'd have to clearly outperform Fields this spring to seize the starting job away from him.
Running Back
1. J.K. Dobbins
2. Master Teague
3. Demario McCall
While Dobbins is the Buckeyes' clear-cut top running back, the competition to be the No. 2 running back on the depth chart appears to be wide open. Teague and McCall were both limited by injuries in Ohio State's first two practices, opening the door for early enrollee freshman Marcus Crowley to get some reps with the first-team offense right off the bat.
Still, it seems likely that Teague and McCall would have the upper hand on Crowley to earn playing time in the rotation this year given that Crowley is just beginning his Ohio State career.
McCall should be in line to play a bigger role in Ohio State's offense this season, but it remains uncertain how exactly he fits in. McCall's best role, though, looks like it could be the third-down/passing-down back role that he played last season – which could allow him to rotate in regularly, but also allow Teague or Crowley to earn a spot in the rotation as Dobbins' primary backup.
Wide Receiver (X)
1. Austin Mack
2. Binjimen Victor
Given that Mack and Victor have rotated at the X receiver position for each of the past two years, it seems likely that they will do so again this year. Jaylen Harris is pushing for a spot in the rotation at X, too, and it's possible the Buckeyes could move either Mack or Victor to the Z position so that both can be starters in their senior year. But they have more than enough talent competing to play at the Z spot to keep both Mack and Victor at their most natural spot.
Wide Receiver (Z)
1. Chris Olave
2. Garrett Wilson
A breakout star at the end of his freshman season last year, Olave has looked like the Buckeyes' best receiver so far in spring practice, consistently getting open and making plays as he puts his speed, route-running ability and hands on display. With Terry McLaurin and Johnnie Dixon now looking to continue their football careers in the NFL, Olave appears to be well on his way to taking the top spot in the Z rotation this year.
Wilson is just two practices into his Ohio State career, so he's still at the bottom of the pecking order right now, but the early enrollee freshman's potential is already evident as he's looked to be a tough cover in practice. As the spring progresses, the five-star recruit from Austin, Texas, should make a strong push to climb the depth chart and earn a spot in the Buckeyes' receiver rotation this year.
Wide Receiver (Slot)
1. K.J. Hill
2. Jaelen Gill
3. C.J. Saunders
Hill is locked in as the Buckeyes' starting slot receiver, but there's an intriguing battle brewing on the depth chart behind him between Saunders and Gill.
Saunders was ahead of Gill in the order during the first week of practice, and many of Saunders' current and former teammates – including McLaurin, Dixon and Parris Campbell – have expressed that he belongs in the rotation even though he is a former walk-on.
That said, Gill stood out during the Buckeyes' first two practices for his explosiveness and big-play potential, and he looks like a player who Ohio State needs to get on the field one way or another after he redshirted last season.
Tight End
1. Luke Farrell
2. Jeremy Ruckert
3. Rashod Berry
Farrell, Berry and Ruckert all saw regular playing time for Ohio State last season, and that should continue to be the case again in 2019. The battle for position on the depth chart, though, could be one of the most hotly contested this spring.
Farrell is the frontrunner to start for the Buckeyes after starting 10 of 14 games last season, in large part because he is the best blocker of the group. Berry is a fifth-year senior who has shown his share of playmaking ability as a receiver and a blocker over the past two years. Ruckert is the most gifted receiver at the position, though, and now that he has one season as a Buckeye under his belt, he should make a push to move up the depth chart.
Left Tackle
1. Thayer Munford
2. Joshua Alabi
Alabi is among the candidates to potentially fill the vacant starting spot at right tackle, but he's been practicing at left tackle so far this spring with Munford recovering from a back injury.
With Munford set to miss the entire spring with that injury, Alabi could remain on the left side all spring, and given that he has been at that position since he moved to the offensive line from the defensive line – starting at left tackle in the Rose Bowl to end last season – it might make the most sense for the Buckeyes to keep him at that spot with two other potential candidates to start at right tackle.
Left Guard
1. Jonah Jackson
2. Gavin Cupp
Cupp has taken the first-team reps at left guard so far this spring, but Jackson will likely be in line to take over the starting job at that spot when he arrives this summer as a graduate transfer from Rutgers. Jackson could also potentially play center for the Buckeyes, but Day has expressed confidence that Josh Myers will be ready to start this season at that spot, making left guard the most likely position for Jackson, who started at right guard for Rutgers last year.
Center
1. Josh Myers
2. Matthew Jones
With Myers in line to be the starting center, Jones has been in the middle of the second-team offensive line. Five-star recruit Harry Miller could push Jones for the second-team center spot when he arrives on campus this summer, but Jones – who came to Ohio State as a highly touted recruit in his own right – could have the leg up on that spot since he has already been on campus for a year.
Right Guard
1. Wyatt Davis
2. Harry Miller
Davis is in line to be the Buckeyes' starting right guard this season after starting their final two games of the year at the position last season. Early enrollee Ryan Jacoby is currently taking the second-team reps at the position this spring, but that spot on the depth chart could ultimately go to either Miller or Jones, allowing both of them to have a spot on the two-deep.
Right Tackle
1. Branden Bowen
2. Nicholas Petit-Frere
After missing the final eight games of the 2017 season and all of last season while recovering from a broken leg, Bowen has been the first-team right tackle for the Buckeyes so far this spring and looks poised to be both a leader for the offensive line group and the early frontrunner for the vacant starting job at that position.
Petit-Frere, the Buckeyes' top-rated recruit in the class of 2018, should also make a push for a spot in the lineup this season, but Bowen appears set to get the first shot to win the job with Petit-Frere still having four remaining seasons of eligibility.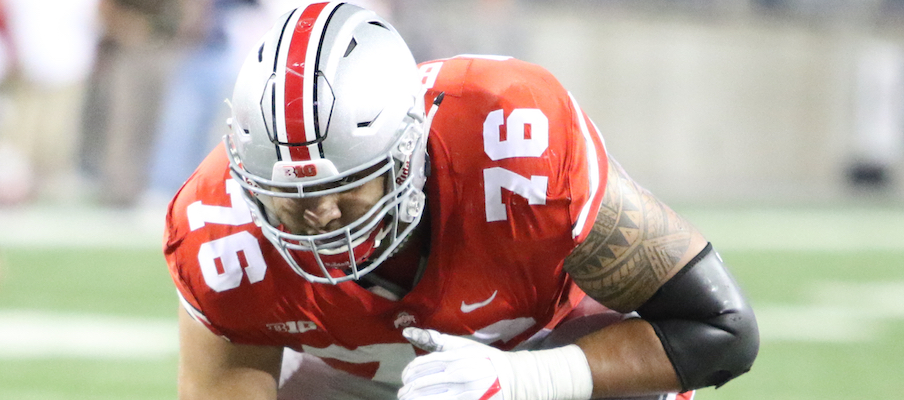 Defensive End
1. Chase Young
2. Tyler Friday
3. Zach Harrison
Defensive End
1. Jonathon Cooper
2. Tyreke Smith
3. Noah Potter
Young and Cooper are both returning starters who should continue to lead Ohio State's defensive end rotation this year. Smith and Friday are sophomores who saw occasional playing time as true freshmen last year, but should be in line for more significant playing time in the rotation this year, with Jashon Cornell moving back inside to defensive tackle.
Larry Johnson likes to have a deep defensive line rotation, which opens the door for early enrollee freshmen Zach Harrison and Noah Potter to potentially earn immediate spots in the rotation, as well. Redshirt freshman Javontae Jean-Baptiste is another candidate to earn a possible spot in the rotation as a third-team defensive end.
Defensive Tackle (Nose)
1. Robert Landers
2. Davon Hamilton
3. Tommy Togiai
Landers and Hamilton appear set to rotate regularly at the nose tackle position once again in 2019, just as they did in 2018. With Landers sidelined by a leg injury early in spring practice, Togiai has also been seeing his share of first-team reps at nose tackle, and could be in line for a bigger share of the snaps as a sophomore. All three should see regular playing time as long as they are healthy.
Defensive Tackle (3-Tech)
1. Jashon Cornell
2. Haskell Garrett
3. Taron Vincent
After moving outside to defensive end last year, Cornell has been splitting first-team reps at defensive tackle with Garrett so far this spring, with Vincent sidelined by an undisclosed injury. With Dre'Mont Jones now preparing for his NFL career, Cornell has the opportunity to compete for a starting job and make a bigger impact inside this season than he would have made outside.
Vincent has the talent to push his way up the depth chart once he is back to full speed, which he is expected to be later this spring, but Cornell and Garrett sit ahead of him in the pecking order for now due to experience. Like at the other defensive tackle spot, all three should rotate and see regular playing time this season as long as they are all healthy.
Weakside Linebacker
1. Malik Harrison
2. Dallas Gant
The linebacker position remains the most difficult position to project on Ohio State's depth chart right now – especially now that the Buckeyes are experimenting with a new hybrid linebacker/safety position, which we'll get to shortly – but the one linebacker who appears to be a sure bet to start is Harrison, who should reprise his role as the weakside linebacker in the Buckeyes' defense.
Gant has been running with the second-team defense so far this spring and appears likely to slot in as Harrison's backup.
Middle Linebacker
1. Tuf Borland
2. Baron Browning
After rotating at the middle linebacker position last season, Borland and Browning have continued to split first-team reps at the position so far this spring. Browning was a five-star recruit who was expected to be a starter by now as he enters his junior year, but Borland is a returning captain who is expected to be a leader for the defense this year.
Teradja Mitchell is another talented young linebacker who should push for a spot in the rotation this spring, but he's been behind Borland and Browning on the depth chart so far.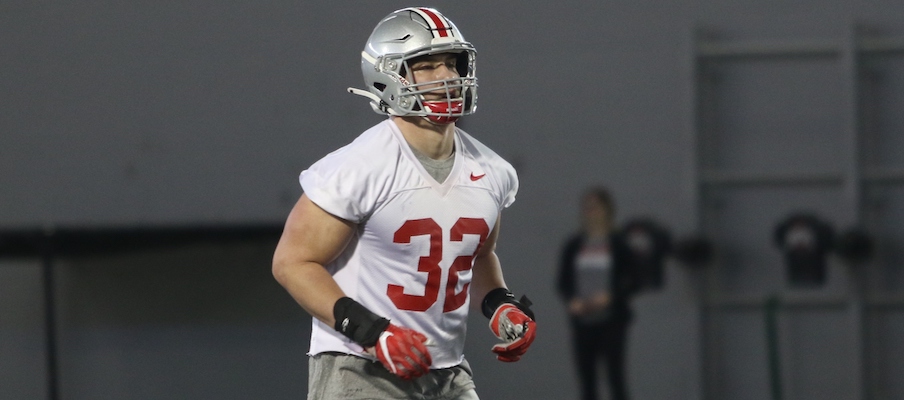 Strongside Linebacker (Bullet/Hybrid)
1. Brendon White
2. Pete Werner
The biggest change from my January depth chart projection comes because of the recent revelation that Ohio State's new defense will include a hybrid linebacker/safety – a position expected to be called the "Bullet" – instead of a traditional strongside linebacker. While the Buckeyes are still experimenting with moving several players around between various positions, White and Jahsen Wint have been practicing primarily with the linebackers after playing safety last season.
After a breakout second half of last season, White should be in the starting lineup somewhere, and the Bullet position – which will probably look a lot like the Viper position that Jabrill Peppers played at Michigan, where new co-defensive coordinator Greg Mattison and linebackers coach Al Washington coached previously – could be a perfect fit for his game.
Werner is more of a traditional linebacker than White, but he's still taking a good amount of reps with the first-team defense this spring as well, so he's still likely to have a spot somewhere on the two-deep after starting last season. The Buckeyes could potentially switch between a more traditional 4-3 look with Werner in some packages and a hybrid look with White in others, but that's all still to be determined at this point.
Cornerback
1. Damon Arnette
2. Sevyn Banks
Cornerback
1. Jeffrey Okudah
2. Marcus Williamson
Slot Cornerback
1. Shaun Wade
2. Amir Riep
Arnette and Okudah have taken nearly all the first-team reps at cornerback for Ohio State so far this spring, so they should be the Buckeyes' starting cornerbacks this season. The biggest question at the position right now is how exactly Wade fits in.
If new Ohio State secondary coaches Jeff Hafley and Matt Barnes choose to stick with a three-man cornerback rotation, Wade could see also regular playing time outside. He's still the top candidate to be the Buckeyes' top slot cornerback in nickel packages after playing that role last season. But he could also potentially be a candidate to start at safety, as he has been splitting time between the cornerback and safety positions so far this spring.
Banks, Williamson and Riep are also among the players pushing for a spot in the rotation at cornerback, with Riep – like Wade – splitting time between cornerback and safety, though he has been primarily with the cornerbacks during the portions of practice that have been open to the media so far. Cameron Brown and Tyreke Johnson could also push for spots in the two-deep, though Johnson appears to still have a long way to go in his development before he will be ready for significant playing time on defense.
Safety
1. Jordan Fuller
2. Isaiah Pryor
Safety
1. Josh Proctor
2. Shaun Wade
Fuller is a sure bet to start at safety this fall even though he is sidelined by an unspecified "lower-extremity" injury this spring. The other safety spot, however, appears to be wide open with White's likely move to the Bullet position.
Pryor and Wade have been taking most of the first-team reps at the position so far this spring, but the safety whose playmaking ability has stood out the most has been Proctor, who could be ready to leap to the top of the depth chart as a sophomore after playing mostly on special teams as a freshman. Proctor has been running with the second-team defense so far this spring, but with Wade splitting time between positions and Pryor coming off a sophomore season in which he was plagued by inconsistent play, the door to a starting spot should be open if Proctor can break through it.
Kicker
1. Blake Haubeil
2. Zach Hoover
Punter
1. Drue Chrisman
2. Jake Metzer
Long Snapper
1. Liam McCullough
2. Bradley Robinson
Holder
1. Drue Chrisman
2. C.J. Saunders
Haubeil, Chrisman and McCullough are all returning starters from last season, and with no other players currently on scholarship at their respective positions, they are expected to retain their starting jobs without much competition.
Kickoff Returner
1. Demario McCall
2. Jaelen Gill
McCall emerged as Ohio State's lead kickoff returner down the stretch of last season and was the Buckeyes' most effective player in that role in 2018, making him the frontrunner to continue in that capacity this season. Gill's speed and agility make him a prime candidate to be a dangerous kickoff returner, too, so he should have a good shot to earn the role of secondary kickoff returner and could potentially even challenge McCall for the lead role.
Punt Returner
1. K.J. Hill
2. C.J. Saunders
Hill and Saunders handled most of the punt-catching duties during the Buckeyes' first two practices of the year, while Gill also mixed in for some work in that role. Like at slot receiver and kickoff returner, Gill could be a candidate to climb the depth chart at this spot as well, but sure-handed seniors Hill and Saunders remain ahead of him on the depth chart for now, with Hill likely be in line to the Buckeyes' lead punt returner for the third year in a row.