Justin Fields will most likely start against Florida Atlantic on Aug. 31.
But Ryan Day hasn't declared the Georgia transfer as the replacement for Dwayne Haskins just yet, and he didn't seem particularly close to doing so when speaking to the media after Ohio State's first spring practice of 2019. Instead, the first-time head coach fully embraced a quarterback competition between Fields and redshirt freshman Matthew Baldwin.
"It's going to be a battle," Day said on Wednesday. "In the way that we kind of look at is this is spring practice, but it's the first practice leading up to the first game of the season. It's a progression along the way. The guys are out there. We're splitting up the reps. During the spring, (quarterbacks coach Mike Yurcich is) going to roll those guys in and out so everyone's competing."
In the first hour of the first spring practice that media members could watch, Fields took most of the first-team reps. Baldwin followed him, taking the majority of second-team snaps. Neither redshirt senior Chris Chugunov nor walk-on Danny Vanatsky will be involved in the competition to start, but they were the third and fourth quarterbacks, respectively, in drills.
"It's going to be a battle."– Ryan Day on quarterbacks this spring
Fields and Baldwin each missed a number of throws, and K.J. Hill said Fields had the natural nervousness of someone going through his first practice with a new team. But Day said he thought the quarterbacks "threw well" and the "timing was good" between them and the receivers.
"I thought it was a good start," Day said. "The guys are learning this offense. Matt's been in it for a year but hasn't really run it with the ones. He had an opportunity today to do that. Justin is a quick learner, he's a sharp guy. He's done a nice job in meetings. So it was good to get out there and kind of feel what this group can handle, who are they, what's their identity going to be. Day 1, so it's hard to tell. But it's not going to be the same. Two years ago with J.T. at quarterback and the guys that we had, that was a different feel. Last year was a different feel. So it's exciting to see what this is going to be like."
Quarterback battles are nothing new to either Ohio State or Day.
One year ago, Day and Urban Meyer presided over a competition between Haskins, Joe Burrow and Tate Martell to see who would replace J.T. Barrett, who once went back and forth in both practices and games with Cardale Jones.
Even though it's hard to imagine the coaching staff wants the quarterback competition to last too long, Day claimed he doesn't have a preference on how long the battle between Fields and Baldwin lasts, saying "the more competition, the better for us at all positions."
"Getting to that first game is a long journey, so we'll take it as it goes, and if one guy wins the job that he deserves to, then we'll do that," Day said. "If not, then we'll keep letting them compete. That's not the focus right now. The focus is on the offense."
Day doesn't want to put pressure on either quarterback to win the job immediately, for he believes it could alter how they play and the rapidness of their improvement.
"Let them compete, let them learn," Day said. "Also, they have to feel like they're allowed to fail, because if you fail, you learn. If you're afraid to fail because you're going to win or lose the job, then you're not getting better at a fast enough rate."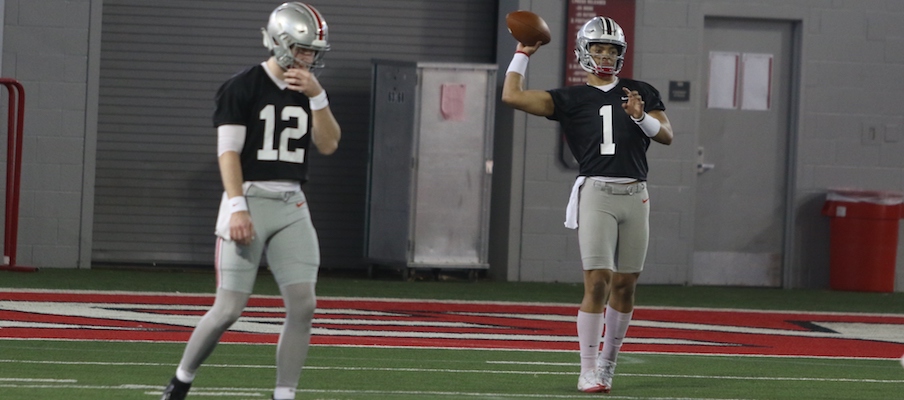 When Meyer was head coach, he had a list of nearly a dozen characteristics he looks for in quarterbacks, with the vast majority of them being intangibles.
Day, when explaining what he and Yurcich will look for in the eventual start, began with an intangible – leadership – but rattled off a bunch of other traits, including taking care of the ball, making great decisions and understanding their strengths and weaknesses. 
"It's a combination of everything," Day said. "But at the end of the day, do you move your team down the field to score and do you show leadership."
Neither Fields nor Baldwin has ever led Ohio State down the field – let alone even taken a snap. But one of them will be charged with following Haskins, who had the most productive season by a quarterback in program history.