As Ryan Day began his search to fill out his defensive staff at Ohio State, he didn't have many schematic conditions on what he was looking for in hiring assistant coaches. As an offensive coach for his entire career, Day turned to the one remaining defensive assistant sticking on his staff.
Day said he had "long discussions" with Larry Johnson, the longtime defensive line coach whom he called a "legend," about the future of the defense, and they came to a key conclusion: the next coaches would utilize a four-defensive lineman front. As Day noted on Wednesday, Ohio State had recruited to a four-lineman defense for the entirety of Urban Meyer's seven-year run as head coach to great success, leading to impressive depth up front.
"Just felt like if we went to a three-down scheme too much that we're taking one guy off the field that maybe we shouldn't," Day said. "There's too much talent there, and that's what we recruited to. Larry's done such a great job. So that was kind of the one thing we started on. We're going to be a four-down front for the most part, and then where do we go from there."
Beyond that, Day said he was open to anything.
Within a couple weeks of becoming head coach, Day filled out Ohio State's defensive staff with Greg Mattison (co-defensive coordinator), Jeff Hafley (co-defensive coordinator and secondary coach), Al Washington (linebackers coach) and Matt Barnes (special teams coordinator and assistant secondary coach).
"For one, our defense is going to look different," Day said. "We obviously made a change there and assessed the situation. Not an easy decision, but that was a major deal. We had a bunch of new guys in the program. That's major."
No one – including the coaches – is just quite sure how "different" the defense will look with nine returning starters and almost an entirely new coaching staff. In the two hours of practice the media has been able to watch, it's clear that the coaches are taking looks at different players in different positions.
At Michigan, Mattison employed a couple positions that Buckeyes haven't used recently. The Wolverines used an edge rusher called an "edge LB" that was typically the team's top pass rusher who could drop into coverage at times. Hypothetically, Chase Young could be used in that role.
While the Buckeyes haven't shown that adaptation of the defense yet, they have given a lens into a new hybrid linebacker-safety position they might use.
Both Brendon White and Jahsen Wint practiced with the outside linebackers on Wednesday and Friday, though each player also took reps at safety in practices. Jabrill Peppers, now a safety for the Cleveland Browns, gained notoriety at Michigan while playing the hybrid position.
Day said the defense "has the ability" to implement a hybrid player, though claimed the coaching staff doesn't know yet whether it'll use the position.
"Based on how we think that best fits our guys, that's yet to be seen," Day said. "Today we're just installing and kind of running around. The good news is we're able to do that where we have flexibility based on who we have, injuries, what they could do, who we think the best guys are to put on the field, how teams attacking us in their personnel groupings.
"Sometimes if there are two tight ends in the game, that would dictate who goes in the game, now it's a bigger guy coming in. There's four wideouts in the game, no tight end, that way we have the ability to maybe put a smaller guy into that role based on what the defense is trying to do. But first we've got to find out who can do it, and then we've got to go from there to build the packages."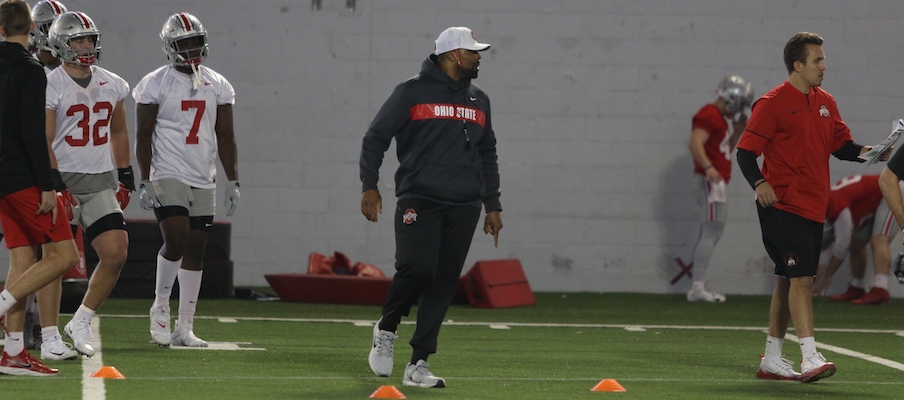 Moving White from safety to a hybrid safety-linebacker would be a substantial change for the defense.
Last year, White earned a starting job at safety next to Jordan Fuller in the middle of the season and had an impressive end-of-year stretch, eventually becoming the defensive player of the game in the Rose Bowl despite having less than half a season of starting experience. 
"I think one of the things that we challenge our defense with is finding the guys on our defense what they can do best," Day said. "If it's come down and cover, if it's fit the run, if it's matched up on a tight end, it's matched up on a running back, whatever those skillsets of the guys we have, it's just like on offense. You assess what you have, and then you try to fit the best scheme into it. Brendon's going to do some different stuff for us, but there's a lot of guys that we're going to test the water and see what they can do."
A move of White from safety to linebacker hasn't officially happened yet because many things on defense, at the moment, are fluid.
Both White and Wint have moved between safety and outside linebacker. Shaun Wade has been seen at cornerback, safety and nickelback. Amir Riep has spent the majority of his time at cornerback, though he has played a bit of safety. Jashon Cornell moved from defensive end to defensive tackle.
Even the defensive coaches have bounced between positions. Mattison and Washington split the linebackers up into two groups – inside linebackers and outside linebackers. Both coaches have been seen coaching each group individually. Hafley has spent the majority of his time during open practice windows coaching the cornerbacks, with Barnes taking the safeties, but they've switched between groups, too.
Ohio State has tried not to overwhelm the players with too many new ideas or schemes, but it has focused on moving players around to maximize the talent on that side of the ball.
"I look at our speed, I look at our guys on defense, I look at our linebackers and I just see a bunch of guys who will run to the ball," Day said. "I think they're really athletic, they're really strong, they're really powerful. And I think when you force the team to kind of work the ball down the field, you force guys to really sometimes check the ball down and take the underneath stuff. We have really good linebackers and guys who can rally to the ball and really make it hard for teams to score. I think that's important.
"But then also having the ability to challenge. We have some really good cover guys and always have here. So mixing those two things up I think are important. But then also making it simple so guys can play fast and the front four can go get the quarterback. So I think when you mix all that up, I think that's kind of what we want, that's the mentality we want, and that's the philosophy."