In Urban Meyer's seven seasons as head coach, Ohio State's quarterbacks almost never took snaps under center.
In Ryan Day's first season as head coach, that could change.
While Ohio State's spread offense will still be run primarily with quarterbacks taking shotgun snaps, Day confirmed last week that the Buckeyes are experimenting this spring with the possibility of putting their quarterback under center on some plays.
"We're going to look at a lot of different things," Day said Wednesday after the Buckeyes' first practice of the spring. "We're always trying to be on the cutting edge of a lot of things. We've studied a lot of people's different film. And we're going to try to find, what is the next step for us? What is the thing that keeps us ahead of everybody else? And so we're going to look at some under center stuff this spring."
Ohio State's offenses under Meyer – even the past two years when Day was offensive coordinator and quarterbacks coach – were almost exclusively based out of the shotgun, and because of that, Meyer was averse to adding under-center plays to the offense. Asked last October why Ohio State didn't do so, specifically in regards to the quarterback sneak play that many teams use in short-yardage situations, Meyer expressed concern that it would lead to turnovers.
"You see teams a lot that operate 99.999 (percent) out of the shotgun, then they go under center and they drop the ball, just because you don't do it," Meyer said. "We've had those conversations over and over again."
Those conversations are different now that Day, who is planning to continue calling Ohio State's offensive plays this year even in his new role, is in charge. Day spent two seasons as a quarterbacks coach in the NFL, where quarterbacks lining up under center are more prevalent, and he recognizes the potential value in adding more variety to the Buckeyes' offensive playbook.
New passing game coordinator and quarterbacks coach Mike Yurcich also believes that going under center in certain situations could be beneficial to Ohio State's offense. While the quarterback sneak is an obvious under-center element that many Ohio State fans want to see added to the offense, Yurcich believes it can also help the Buckeyes in the running game and with setting up play action passes.
"I think that allowing the tailback to receive the ball on certain runs from under center is advantageous," Yurcich said. "Also, the play action that you'll able to gain off of those runs can be advantageous to an offense, because it allows the receivers to get further down the field, because it takes more time on the fake. You're allowed to suck the defense in for a longer interval of time."
How often will the Buckeyes actually go under center this fall? That could depend on whether the Buckeyes' quarterbacks and centers can master those exchanges this spring. Ohio State isn't going to call plays from under center during games unless its players have shown in practice that they can execute cleanly out of those formations.
"We're learning those things, and we'll get better," Yurcich said. "Nowadays, when you're dealing with a lot of quarterbacks that have been in spread systems their whole life, that's really something that isn't really taught. So once we teach it, and they get more comfortable with it, we'll be able to see who's more effective and who's less effective at that skill."
"We're always trying to be on the cutting edge of a lot of things. We've studied a lot of people's different film. And we're going to try to find, what is the next step for us? What is the thing that keeps us ahead of everybody else?"– Ryan Day on why Ohio State is experimenting with quarterbacks going under center
Presumptive starting quarterback Justin Fields already has some experience running plays from under center during his season at Georgia, so he believes the addition of those plays to Ohio State's offense will suit him well.
"I think we're going to do a little bit more under center this year, so I'm comfortable with that, of course coming from a place where they did a good bit of under center stuff," Fields said. "Of course, Ohio State, they haven't done a lot of under center stuff in the past, so it just mixes things up a bit."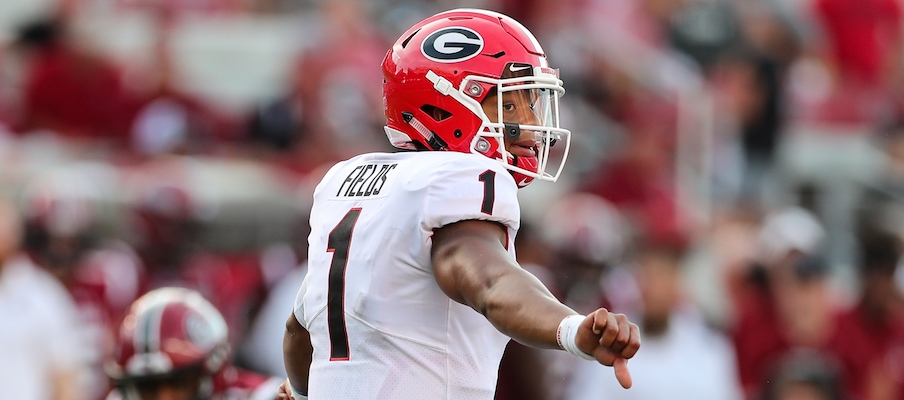 Third-string quarterback Chris Chugunov said the Buckeyes aren't running a lot of plays from under center yet, but considering that they are just two practices into the spring, he believes that package could expand as they ramp up their preparation for the season.
"It's going to be a solid package for us," Chugunov said. "We only have a few plays out of it right now, and you'll have to speak to the coaches as to what they see that looking like in the future, but I think it can be a nice little package for us."
Yurcich acknowledged that the Buckeyes have to be careful about trying to add too many plays to their offense at once, because they don't want to take away from the elements in the offense that already worked well last season, when the Buckeyes ranked second in the Football Bowl Subdivision with 535.6 yards per game.
But with nearly six months still to go until Ohio State opens its season against Florida Atlantic on Aug. 31, it's a good time for the Buckeyes to experiment with new elements that could potentially make their offense even better.
"Ultimately you're just trying to be very productive and efficient as an offense, and you got to be careful that you're not spreading yourself too thin," Yurcich said. "I just know that it's very effective when executed well."