Chris Olave's breakout success as a freshman at Ohio State came as a surprise to many people, including himself.
When asked earlier this month about his emergence as a playmaker down the stretch of the season – catching three touchdowns in the Buckeyes' last two games before the Rose Bowl, against Michigan and against Northwestern in the Big Ten Championship Game, while also blocking a punt that was returned for a touchdown against Michigan – Olave acknowledged that he didn't expect to make such a big impact as a freshman.
"That first touchdown, I was kind of surprised and shocked, but I just went along with it and just played like how I do, and it all came through," Olave said.
To the people who have known Olave best since he was a child, when he was in high school and since he's arrived at Ohio State, however, his success hasn't come as a surprise.
---
Isiah Olave, Chris' oldest brother, recognized his youngest brother's athletic talent all the way back when they were in elementary school.
"We were waiting for our parents to pick us up, so we were throwing a tennis ball around," said Isiah Olave, who just completed his own Division I football career at UC Davis. "Chris, he was probably kindergarten, first grade, I can't remember the exact grade he was in. But he had the tennis ball, and he chucked it probably about 60-70-80 yards like a cannon, and I was just like 'Wow, this dude's pretty athletic.' He has crazy arm strength, he could run and jump. I was like, 'Dang, he's definitely got to be the most athletic out of all of us.'"
In his first year at Ohio State, the now-18-year-old Chris Olave has been playing primarily with and against players who are older than he is – some as many as three or four years older – but that's nothing new for him. Growing up with two older brothers, Isiah and Josh (who now plays Division II football at Azusa Pacific), Olave regularly competed against older boys while playing on the same teams as his siblings.
"I could see how he's been successful this year," Isiah said. "He's played up since he was about 5. For football, he had to play with my middle brother, who's two years older than him. And then for other sports, like basketball for example, we all pretty much played together, so he's playing against guys that are almost four or five years older than him."
The Olave brothers were competitive with one another, too, which forced Chris to grow up fast in order to hold his own.
"I hated losing and what not, so we're playing against each other, I'm trying to whoop them bad," Isiah said. "And a few times, Chris ended up crying, telling my dad I'm cheating and what not. So growing up, we had to toughen him up a little bit, get him out of that. But yeah, we're all pretty competitive with everything we do. Whether that's playing sports, playing video games, anything."
Mission Hills High School head coach Chris Hauser saw that competitiveness from Chris Olave during his junior year of high school, when Olave transferred to Mission Hills after starting his high school career about 50 miles south at Eastlake High School. Olave wasn't allowed to play for the Grizzlies that season due to the California Interscholastic Federation's transfer rules, but that didn't stop him from practicing hard.
"He was a scout (team) receiver, and he and his brother (Josh) both bidded as if they were playing their game every day," Hauser said. "He just made everybody better by the work he put in with his talents that he had. And he embraced a role that most kids don't want when they're that talented."
Because he wasn't able to play during his junior year, Olave didn't receive many early offers. His first offer came during April of his junior year from Hawaii, in part because Hauser had established relationships with multiple coaches on the Rainbow Warriors' staff. The first offer Olave started to seriously consider, though, came from Washington State, in part because of the relationship he built with the coach who recruited him for the Cougars: Alex Grinch.
When Ohio State offensive coordinator and quarterbacks coach Ryan Day made a trip to Mission Hills during the spring of 2017, he wasn't there to recruit Olave. He was actually there to talk to Olave's quarterback, Jack Tuttle, who was the more highly touted recruit at the time. Because of the talent Olave had shown him and how hard he worked on the scout team, though, Hauser made sure to also introduce Olave to Day, as well.
"That's a hard sell to Ohio State, on a guy like Chris Olave who doesn't have a resume," Hauser said. "But that's what I felt about Chris Olave. I wanted to put my neck on the line, my name on the line for Chris. Because I believed in him and I knew that this kid was going to be special."
---
When Olave was able to actually play for the Grizzlies during his senior year, the scholarship offers started to roll in. By the time Ohio State offered Olave in October 2017, he had received offers from 13 other schools: Hawaii, Washington State, San Diego State, Boston College, San Jose State, UC Davis, Wyoming, Colorado State, BYU, Arizona, Utah, Illinois and Boise State. After Ohio State offered, Olave received offers from nine more Power 5 schools: Michigan, USC, UCLA, Tennessee, Nebraska, Oregon State, Florida, California and Oregon, with the latter three coming near the very end of his recruiting process.
Ultimately, though, Ohio State stood out to Olave among all those schools. It helped the Buckeyes' case that Grinch joined their staff as co-defensive coordinator and safeties coach last January. But it was Day, who will become Ohio State's head coach after the Rose Bowl, who led the way to Olave becoming a Buckeye.
"Coach Day was honest with me throughout the whole thing," Olave said. "He kind of told me the truth, and he told me why I was offered, and then he offered me, and he told me like why I was offered and everything, so he just told me the truth through everything, and he was honest, so that's what I love about him."
"I wanted to put my neck on the line, my name on the line for Chris. Because I believed in him and I knew that this kid was going to be special."– Mission Hills High School coach Chris Hauser
While Olave gave consideration to staying close to home and playing at UCLA, visiting the Bruins just two weeks before his commitment to the Buckeyes, his family agreed that Ohio State was the right place for him.
"We all wanted him to go to Ohio State, and he wanted to go to Ohio State, but toward the end, UCLA kind of made a late push," Isiah Olave said. "He was like, 'I could play there. I feel like I could play there early and what not,' and I was just telling him like 'You know, it's not about necessarily playing there, it's about what school's going to develop you and get you to accomplish your goals.' And I would ask him, 'What are your goals?' And he was like, 'Oh, I want to play in the NFL, I want to do this and that.' And I was like, 'I feel like Ohio State is a better spot for you.'"
Olave had reason to be concerned about how quickly he would be able to get on the field at Ohio State, because the Buckeyes went into this season returning all of their top six receivers from last season. Olave certainly wasn't widely expected to be Ohio State's most impactful true freshman this year, considering that he was the third-lowest-ranked prospect in his recruiting class, per 247Sports' composite rankings.
It didn't take long for Olave once he arrived at Ohio State this past summer, though, to feel like he belonged.
"I feel like coming into camp, I was kind of hesitant about if I could play here or not, with my size and stuff," Olave said. "So I got to 175 (pounds) before camp, and first couple days of camp, I realized I could just go play here. So I felt like I could play, and I just stuck to the plan and played my role throughout the season."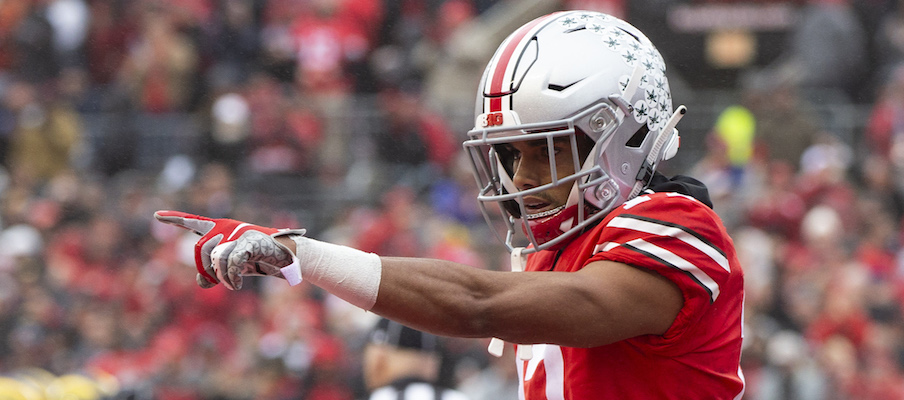 For most of the season, Olave's role consisted primarily of playing on special teams. With veterans Parris Campbell, Terry McLaurin, Johnnie Dixon, K.J. Hill, Austin Mack and Binjimen Victor making up the Buckeyes' six-man wide receiver rotation, there wasn't much opportunity to play Olave on offense.
That doesn't mean that Olave wasn't ready to contribute immediately. He lost his black stripe on Aug. 13, less than two weeks into fall camp, and before the season even began, Dixon was among the veteran wide receivers who said Olave was performing atypically well in practice for a freshman.
"I think he was better than me, Parris and Terry just coming in right away. I haven't seen a guy come in like that yet," Dixon said in August. "Chris was a dude that turned everybody's heads … From day one, he jumped in, you could tell that he could play."
Olave got his chance to see significant playing time on offense, though, when Mack suffered a foot injury in the Buckeyes' eighth game of the season at Purdue. With Mack forced to undergo surgery, Olave was called upon to take his place in the rotation, and it didn't take him long to take advantage.
In his first game in the rotation against Nebraska, Olave didn't catch a pass; Dwayne Haskins targeted him once on a throw to the end zone, but was intercepted. In his second game in the rotation against Michigan State, though, Olave started to put his playmaking ability on display, catching two passes for 41 yards.
Against Maryland, Olave missed an opportunity to catch his first touchdown when he misjudged a throw in the end zone despite being wide open. He more than made up for it the following week in the rivalry game, though, when he was directly responsible for three Ohio State touchdowns – becoming an instant star in the process.
"Changed my whole life," Olave said of his performance against Michigan. "Those three big plays I made, it was unreal, and all the spotlight I got put in and everything."
When Olave arrived at Ohio State this summer, he didn't necessarily expect to have the opportunity to make big plays for the Buckeyes in their biggest game of the regular season. But when that opportunity came his way, he was determined to take advantage.
"That's what I base myself around, my whole life," Olave said. "I tell myself, if I get an opportunity, I got to take advantage of it. And it's either you do or you don't. So I've been put in that position my whole life, and my parents, my brothers, that's what they go by also."
"Changed my whole life. Those three big plays I made, it was unreal, and all the spotlight I got put in and everything."– Chris Olave on his performance against Michigan
Olave's family, which made its first trip to Columbus to watch Olave play against Michigan, was certainly proud to see him seize his opportunity when it came his way.
"Just knowing all the hard work he's put in, and for it to pay off like that and with us all being there, it was really special," Isiah Olave said. "And the funny thing is, my dad was like, before the game he asked me, 'Would you rather Chris score his first touchdown and Ohio State lose?' or 'Would you rather Ohio State win and Chris just plays?' I was like, 'I want him to score his first touchdown.' But luckily, we ended up getting the touchdowns and the win."
Hauser, watching the rivalry game with his family from his home in San Diego County, said he "went through the moon" seeing Olave make such a big impact on the game.
"I was just on top of the world with just watching him," Hauser said. "It brought so much joy, and to know his whole family was there, his mom and his dad and his two brothers, you couldn't have wrote a better script."
Now, after catching another touchdown pass against Northwestern to help Ohio State win the Big Ten title, Olave has the opportunity to finish his first season as a Buckeye in his home state of California in the Rose Bowl, where the Buckeyes will play Washington on Jan. 1 in their final game of the year.
In total, Olave is expected to have more than 20 family members and friends in attendance, including his parents, his brothers and Hauser.
"It's unbelievable," Olave said. "I grew up watching the West Coast, and the Rose Bowl, and being able to play in the Rose Bowl in my first year is awesome. So I can't wait to get out there."
Olave's first season at Ohio State has already been special, and if he can cap it off with a win in a game he grew up dreaming of playing in, he can make it even more of a season to remember.
Given that he is only a freshman, though, this season could be just the precursor of even bigger things to come.
Isiah Olave said he is encouraging his younger brother to stay grounded, and make sure he continues working just as hard as he has to get to where he has gotten this year.
"It's been good for him, just on a confidence-boosting level, but at the same time, I'm reminding him every day: Just keep working hard," Isiah said. "You can always get better at something. Keep working hard, get better. Next year, we want to set higher goals and be able to achieve those. But that's not going to happen if you don't continue to put in the work."
If Chris Olave does that, though, there's no reason to believe he can't continue his upward trajectory and be one of Ohio State's best players for the next two to three years.
"You've all seen him out there," said Dixon, who said he wants to pass his No. 1 jersey down to Olave. "The kid's gonna be special, that's for sure."