When Urban Meyer heard the call and saw the punt block signal, he was "pissed." Not only did he think the play wouldn't work, but he didn't even think it was possible.
On Wednesday, Meyer pulled aside quality control coach Parker Fleming and told him the Buckeyes couldn't pull off the play that Greg Schiano designed. He said Ohio State needed to get to the punter within 2.1 seconds, and that, to him, was not doable. As it turns out, he was wrong.
Chris Olave lined up on the right side of the formation outside of Justin Hilliard and Damon Arnette. At the snap of the ball, he twisted up inside of Hilliard and Arnette, who pulled their blockers away from the middle of the formation, and came free. Earlier this week, Olave told Terry McLaurin he would need to dive in order to secure the first blocked punt of his career, but it only took a partial plunge forward to knock the ball out of the air.
"There's very few that can get there, and he did it," Meyer said.
Sevyn Banks snagged the ball out of the air and raced 33 yards to score a touchdown that gave the Buckeyes a 35-19 lead midway through the third quarter of their 62-39 win against Michigan on Saturday.
Special teams are special. pic.twitter.com/ZnZGlRMGLm

— Eleven Warriors (@11W) November 24, 2018
Ohio State needed a play like that to pick up the momentum lost when the Wolverines scored 14 points in the final three minutes of the first half.
"The end of the first half was kind of a mess," Olave said. "We came out in the second half. We drove down and got a field goal, then defense got a stop, got that punt block and it just shifted the whole game."
Before the 115th rendition of "The Game" on Saturday, many fans didn't even know of Olave.
The freshman had just five catches in the first 11 games of the season and was a late addition to Ohio State's 2018 recruiting class. The three-star prospect from San Marcos, California, had dropped what would have been a 28-yard game-tying touchdown just last week. He wasn't in the receiver rotation before Austin Mack suffered a foot injury during Ohio State's loss to Purdue.
"After that, the bye week came around and they kind of threw me in there, threw me in the rotation," Olave said. "I just got to it and took the role, and that's when it came around."
Olave caught three passes combined in his first three games since entering the six-man receiver rotation.
"I don't know y'all took me serious or not, but the kid's the truth. The kid's the truth. He can play ball. I haven't seen a freshman come in like that, like, ever. He was better than me, Parris (Campbell) and Terry (McLaurin), hands down."– Johnnie Dixon
That quickly changed against Michigan when he caught a 24-yard touchdown to score the first points of the rivalry game. Then, one quarter later, he reeled in a second 24-yard score for the second touchdown of the game, which extended the Buckeyes' lead to 14-6. His name rose in Ohio State-Michigan lore before even blocking the punt, which capped off the breakout game.
"You can see all the talent, all the skill in the world," Dwayne Haskins said. "Didn't have opportunity to play much this year. So when he got in there he made it matter. And he was really smooth, silky receiver. Makes a lot of plays, plays fast."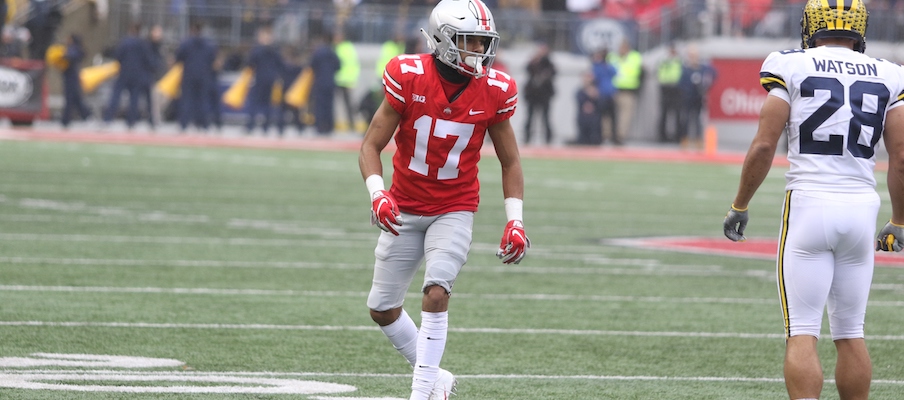 Each time he made a play, he came off the field with a message to Ohio State's seniors playing in the final home games of their careers.
Olave said he teared up watching Johnnie Dixon, Parris Campbell and Terry McLaurin run out of the tunnel and get honored during senior day festivities. He "wanted to do something, contribute to this game just for them."
"I'm really proud of Chris," Isaiah Prince said. "Every play he made, he came to the sideline and he said, 'This is for the seniors.' Thank you to Chris."
No one is unfamiliar with Olave any longer.
"I kind of dreamed for this my whole life," Olave said. "Actually being put in the spotlight, it's unreal."
Not long after Olave stepped foot on campus at Ohio State this summer, his teammates took notice. The 6-foot-1, 175-pound freshman doesn't have overly impressive size, but his raw athletic gifts impressed his fellow wide receivers.
Johnnie Dixon gave the public a heads-up about Olave's talent in the spring when he said he hadn't "seen a guy come in like that yet." He hadn't forgotten about those comments after watching Olave's two-touchdown, one-punt block performance.
"I told you all," Dixon said. "I don't know y'all took me serious or not, but the kid's the truth. The kid's the truth. He can play ball. I haven't seen a freshman come in like that, like, ever. He was better than me, Parris (Campbell) and Terry (McLaurin), hands down."
Big words from Dixon, who named a possible first-round NFL draft pick and one of Meyer's favorite players, along with himself. Campbell backed them up, though, and said "he has the world in front of him."
Prince doesn't spend practices watching the receivers, but even it took him one look at Olave in the fall to realize he could be special.
"I always said to Zone 6 the first time I seen him, I was like, 'That kid is going to be great,'" Prince said. "He just plays so hard. He has natural talent, God-given abilities."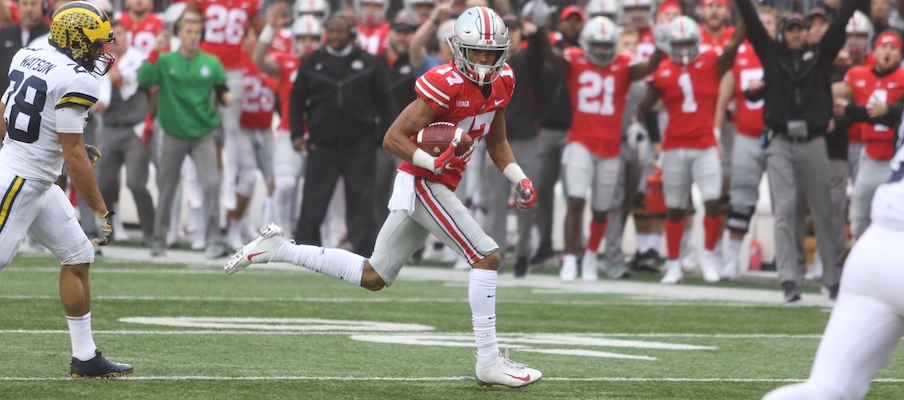 Meyer was suspended for the duration of fall camp, but he also got an early dose of Olave's potential.
"That's the real deal," Meyer said. "Comes from an incredible family. Came all the way across the country to be a Buckeye. And you could see right out of the jump when he started practicing, he's got the 'it.'"
A year ago, Olave had no idea he'd even be playing for Ohio State, let alone starring in a rivalry game that he now calls "biggest game in sports history."
He sat out his junior season after transferring high schools, then began blowing up after his mid-season highlight tape came out during his senior year. Ohio State was the first school to come calling, Olave said, and the Buckeyes didn't waste much time offering him a scholarship.
He visited the campus in November and watched Ohio State beat Michigan State, but didn't commit until late January. Olave admittedly "didn't know much" about the rivalry with the Wolverines.
"When I got here, it all changed," Olave said. "My whole mindset and everything I thought about."
For the first time this season, both Olave's parents and his two older brothers made the trek from California to see him compete.
They couldn't have chosen a better game to see, and Olave couldn't have picked a bigger game to break out in.