The day Jeffrey Okudah committed to Ohio State at the U.S. Army All-American Bowl, he penned a touching letter in the Players' Tribune to mother, thanking her for supporting him throughout his entire life and amid the craziness that comes with being a five-star recruit. 
In the second sentence, Okudah proudly announced on Jan. 7, 2017 that he would be a Buckeye for the next four years. If he consistently replicates his performance in the Rose Bowl during the 2019 season, he'll likely have a chance to head to the NFL after just three seasons in scarlet and gray.
Okudah – along with NFL-bound Kendall Sheffield – had arguably his best game against Washington. He tied his career highs in tackles (five) and pass deflections (two) to cap off a successful sophomore season. Multiple times in the Rose Bowl, Okudah accelerated to knock down a Jake Browning-thrown ball just in time, allowing only a few catches for minimal yardage.
"I just think it's part of being in my little skill set to being a twitchy cornerback," Okudah said after the Rose Bowl. "Watch a lot of film, you kind of have an idea where the ball's going which gives you the ability to react just that much faster.
In the locker room after the game, Okudah said he thought the performance was his best in two years at Ohio State, though he still felt he left some plays on the field.
"I want to say yeah, but at the same time, I didn't make those special teams plays that I like to make," Okudah said.
Along with Terry McLaurin, Okudah became one of the Buckeyes' top gunners on the punt and kickoff teams this season. Urban Meyer said he played at an "elite, elite level" following the win against Penn State, when he had three tackles on punts from Drue Chrisman and was the first player down the field on every kickoff.
Okudah didn't take the journey from Grand Prairie, Texas, to Columbus to develop into a premier special teams player, though, no matter how fond of the unit he has become. He committed to Ohio State to play for Kerry Coombs' unit, hoping to develop into a high-level cornerback who will eventually live out his dreams in the NFL.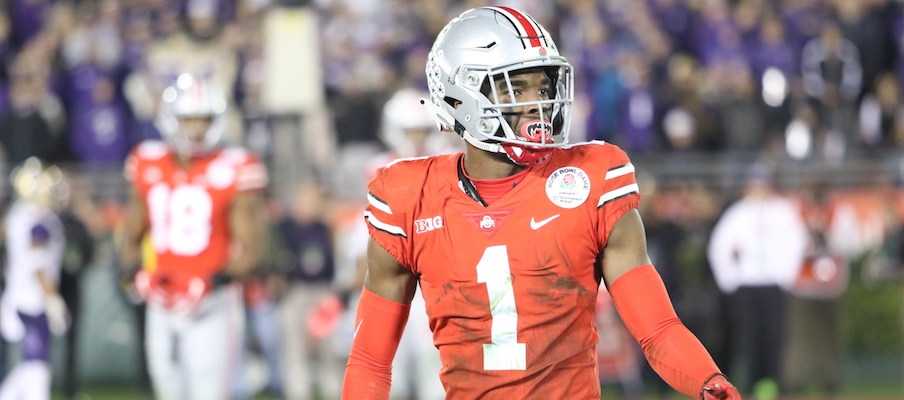 Coombs left for the a job under Mike Vrabel with the Tennessee Titans, but Okudah remains, and in the Rose Bowl he looked every bit like the future All-American many thought he had the potential to become. In high school, he was the No. 8 overall prospect in the country and the top-rated cornerback in his class, one spot above his college teammate, Shaun Wade.
During Okudah's freshman season, Ohio State rotated Denzel Ward, Damon Arnette and Kendall Sheffield at cornerback. When Ward opted not to play in the Cotton Bowl, Okudah – who had impressed teammates during bowl practices – entered the rotation for one game and played well.
In the fall, his second year on campus, Okudah earned a full-time spot in the rotation with Ward gone to the NFL. He had his struggles at times, as did most players on the defense, but ended his sophomore campaign with the best game of his career.
"I think I've taken a big step mentally. Lot of confidence," Okudah said. "Whenever a guy catches a ball, I don't get too down on myself. It's part of the game – we play a lot of great players. So just having the confidence out there every single play is healthy. Make plays. I don't really second-guess myself."
Okudah's third year at Ohio State has the potential to be his last. 
It might seem illogical for a cornerback who hasn't intercepted a single pass to be viewed as a possible first- or second-rounder in 2020, but that's not always a great stat by which to evaluate cornerbacks. Ward didn't have an interception in his first two years at Ohio State, either, and only had two as a junior.
If Okudah continues his development, the path for him to ascend as a possible early NFL draft pick exists. He has the frame and physical traits that made him a top-10 overall recruit. He's working on polishing his game, both from technical and mental standpoints.
Next year could be special for Okudah if the rising junior puts it all together. Let's take a look at each time Browning targeted him in the Rose Bowl for a preview of what he could become.
Pass Deflections in the Rose Bowl
Jake Browning didn't target a Washington receiver that Okudah was covering until early in the second quarter when he tried to hit Aaron Fuller down the sideline. Browning put some air under the pass, but Okudah didn't let Fuller come anywhere near making the catch.
Though Okudah doesn't have an interception in his collegiate career yet, he consistently does a good job getting his hands on the ball when targeted.
Throughout the Rose Bowl, Okudah showed off impressive closing speed. He lined up about eight yards off the ball, once again covering Fuller who comes across the field, never getting more than three or four yards down the field. 
Okudah managed to find a clean lane through the crossing routes designed to create spacing between wideouts and cornerbacks`, and he accelerated fast enough to knock down the pass. Had Browning completed this, Washington would have moved the chains on Ohio State's side of the field. Instead, due to Okudah's play, the Huskies had to punt.
Once again, Okudah used his closing speed to knock down a pass from Browning targeted at Fuller. 
Okudah jammed Fuller off the line, but the Washington wideout managed to get a step of separation on his break toward the home sideline. Still, he didn't have enough room. Okudah laid out to prevent the first-down completion that would have gone for at least 13 yards.
Washington again tried to wash Okudah away in the traffic by using three wideouts on the right side of the formation. But Okudah correctly read what was happening, avoided getting tripped up by both his teammates and opponents, and knocked down a pass on fourth down to end the Huskies' drive at Ohio State's 23-yard line.
The Huskies targeted Fuller, their top receiver, with the game slipping away, but Okudah ensured the four-touchdown lead would remain in tact – at least, for the time being.
"It felt great because I'm able to come back and celebrate with the boys," Okudah said. "Not only were the DB's ready for me on the sideline, the receivers were there. It just kind of shows the brotherhood we have on the team."
Okudah made a great play after Browning delivered the ball to get in front of Ty Jones and knock the pass down. However, he was penalized for pass interference for holding on to the receiver.
Surely, Okudah will learn from this one moving forward. The penalty came at a key moment in the game.
Tackles In The Rose Bowl
Okudah only allowed a couple catches, and here's the first.
There's not much Okudah could've done to prevent the reception. He began sideways backpedaling at the snap of the ball, and Jones made the catch just four yards off the line of scrimmage. Okudah wrapped up and made the solo tackle.
The next play was a nice play by the entirety of Ohio State's defense, including Okudah who makes the eventual tackle, to swarm to Fuller, who barely had any room to run after securing the ball.
Okudah had outside contain on the play, fighting to stay on the outside before delivering the final blow to Fuller.
The next play was an incredible tackle from Okudah, who lined up just in front of the goal line across from Andre Baccellia. 
At the snap, Okudah reacts quickly and darts both forward and to the right, finding a clean angle to Baccellia, swiping his legs and stopping him just short of a touchdown.
"We have a deductive tackling system, so we're not able to wrap and roll," Okudah said. "We have to sweep the ankle. That was the point I was on. I knew I had to sweep that ankle."
Okudah allowed one final catch, but again, there wasn't much he could do to prevent it. 
Lined up 10 yards off the line of scrimmage, Okudah reacted quickly when he realized Jones was running a simple curl route, and he tackled him immediately after he made the catch.