As long as Urban Meyer has been at the helm of the Ohio State football program, all freshmen have had to play special teams in order to earn playing time on either the offensive or defensive side of the ball.
That philosophy applies to all players, including the top prospects in the country, such as former five-star Jeffrey Okudah who was ranked the No. 8 overall player and the top cornerback in his class.
Now a sophomore, Okudah didn't play much last season. He was buried behind eventual No. 4 overall NFL draft pick Denzel Ward, Kendall Sheffield and Damon Arnette as the fourth corner. But given Ohio State's rotation, he played only about 1/3 as many snaps on defense as the trio of players ahead of him.
Instead, he did what most Ohio State freshmen end up doing: play special teams.
This season, Okudah has joined Sheffield and Arnette as one of the top three cornerbacks, but remains a key cog on the special teams unit. The defensive back out of out of Grand Prairie, Texas, serves as a gunner on the punt team and covers kickoffs.
"So, I think it's kind of just one of the things at Ohio State, best players play on special teams. And once you expect that, I feel like your career kind of takes off."– Jeffrey Okudah
In Saturday's 27-26 comeback victory against Penn State, Okudah tallied three tackles as a gunner on punt coverage and, Urban Meyer said, was the first player down the field to cover kickoffs. Meyer said he has performed at an "elite, elite level" thus far on special teams.
Part of his success as a gunner has come due to a competition with Terry McLaurin, the other player tasked with racing down the field to cover Drue Chrisman's punts.
"I think, at the end of the day, you want to be able to do anything for the football team," Okudah said. "Me and Terry have kind of been having a little friendly competition all year over who's the best gunner on the team. We've kind of been going at it. Just getting down there, it's like I know if I'm there, Terry's right behind me or if he's there, I'll be right behind him."
Okudah declined to offer an opinion about whether he or McLaurin were the better gunner, saying, "Y'all saw the game on Saturday. Whoever y'all got."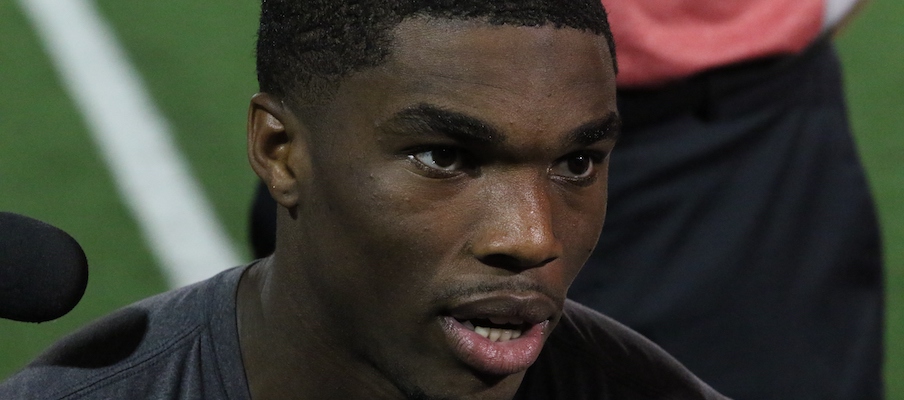 Chrisman booted the ball nine times, which kept Okudah and McLaurin busy.
"Him and Okudah were just blown out to the point where most average human beings would pull themselves out of the game, and they're not doing it," Meyer said. "So, it's phenomenal. And especially when Damon Arnette went down in the fourth quarter. It's more stress on Jeffrey Okudah."
Playing special teams can be both a weird and uncomfortable experience for freshmen who were ranked as highly as Okudah. For at least a year, every college coach in the country came knocking on their doors to offer a scholarship and explain how they can immediately help to improve their respective program.
But once Okudah and the other former five-star prospects, such as Baron Browning or Shaun Wade, get to Columbus, the expectation is they make their first impacts on special teams. To Okudah, that's not too unexpected since it's the standard, and it has been the standard for quite some time.
"I guess if it was weird for me, it would probably be kind of weird for Terry since he's a receiver playing gunner," Okudah said. "So, I think it's kind of just one of the things at Ohio State, best players play on special teams. And once you expect that, I feel like your career kind of takes off."
Okudah's career has begun to take off, with him playing a key role in the cornerback rotation. But he must, of course, take significant steps in order to become the next Ohio State defensive back taken in the first round of the NFL draft, which given his natural athleticism, frame and instincts, is certainly a possibility. 
Okudah said he focuses on improving by 1 percent each week. 
"For me, I feel like I've taken that step every single week," Okudah said. "I guess, now that that past week is done, it's time to get 1 percent better this week for Indiana."