It didn't matter that he entered Ohio State as a five-star prospect, spent last season sitting behind and learning from four NFL defensive ends and has well-regarded defensive line coach Larry Johnson teaching him the trade, Chase Young felt the jitters.
The crowd of 110,889 at Beaver Stadium on Saturday arrived early and made its presence known. Just two weeks prior, the Buckeyes took on TCU in AT&T Stadium in Dallas, but facing Penn State's top-ranked scoring offense in such a hostile environment presented Young with a challenge he had never before faced.
"I was nervous. I ain't going to lie to you," Young said. "Big stage. Going out on the field first. The biggest game I've ever played in my life. I was nervous for sure."
It didn't take long for him to settle in, though. In a top-10 matchup featuring two of the top offenses in college football, Young ensured no one would forget about his performance on the defensive side of the ball.
"I mean, he picks (Nick Bosa's) brain every day about how to rush the passer, things he can learn. And I think that's what you want from a player that's a high competitor guy and wants to be a great player."– Larry Johnson
The 6-foot-5, 265-pound defensive end racked up six tackles, three tackles for loss, two sacks, two quarterback hurries and a pair of pass break-ups. He was honored as Chuck Bednarik Award Player of the Week.
After watching Jalyn Holmes, Sam Hubbard, Nick Bosa and Tyquan Lewis earn the majority of snaps last season, Young returned for his sophomore season with visions of Saturday's performance — but he wants to perform at an even higher level.
He reminded everyone of that on Tuesday, saying his award-winning game was "not close at all" to him reaching his potential.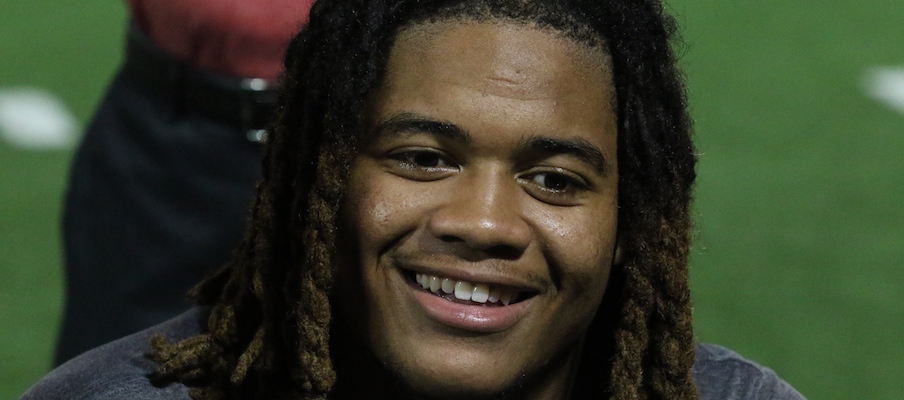 "Chase has got some high expectations for himself, and I think that's cool," Johnson said. "A guy who really wants to be a great player. And everything he does is based on that. He's a great learner. He wants to learn everything. I mean, he picks Nick's brain every day about how to rush the passer, things he can learn. And I think that's what you want from a player that's a high competitor guy and wants to be a great player."
Everyone sees the potential. It's hard not to, considering Young entered college as the seventh-best overall player in his recruiting class and already has an NFL defensive end-type build. Just last year, Holmes called Young a future No. 1 overall NFL draft pick.
With Bosa out until at least November with a core muscle injury, Young has an opportunity to shine without splitting attention with the man across the line. He played 76 snaps against Penn State, 18 more than any other defensive end in that game and 14 more than any defensive end played in any game last season.
"He wants the role," Johnson said. "He understands that. Him and Nick are real close and, so, they talk a lot. And I think Chase, he's a competitor, so he wants to do well."
The main challenge Young, Johnson said, is staying within his "toolbox" of defensive lineman moves. Sometimes, he guesses at which moves might work, which leads to offensive linemen being able to handle him. Every time Young didn't use his hands during a play on Saturday, Young said, Johnson called him out in the film room.
On Ohio State's final defensive snap of the game against Penn State, Young showed what can happen when he combines his physical talent with the toolbox Larry Johnson has continued to fill.
Just moments before Penn State center Michael Menet snapped the ball between his legs on 4th and 5 from Ohio State's 43-yard line with a little over a minute remaining, Young sat on his right knee. While the Nittany Lions looked at the sidelines for the play, Young bowed his head in prayer.
"'God, if this play comes to me, help me make it," Young recalls saying in prayer.
He quickly put both hands down in the grass, got in his stance and made the game-sealing tackle.
"I sent one up and it came to me and I made it," Young said.
Lined up in a Wide Nine technique over the tight end, Young jumped off the snap and moved sideways down the line, inside. He maneuvered past both the tight end and right tackle, then shot in the backfield where he met Miles Sanders, who he tackled for a two-yard loss.
Both Young and Johnson said the play wouldn't have worked had Jashon Cornell, lined up just inside Young, not pushed the right guard back and altered right tackle's ability to put his hands on and slow down Young.
"His hip blocked the tackle and if the tackle got his hands on me, I probably wouldn't have made that play," Young said. "If it wasn't for Jashon getting up the field like he did, I wouldn't have made that play. I thank Jashon a lot."
Young has not become more of a focus by offenses, Johnson said, though that might change given his game against the Nittany Lions.
Still, it's not easy to make that adjustments with other pass-rushing threats on Ohio State's defensive line.
"It's tough to do that now when you turn the protection to Chase, you've got to figure out what to do with Dre'Mont because you can't leave him with a single block, one on one," Johnson said. "It creates a dilemma and teams have to change their offense to do that in protection. A lot of teams are not willing to do that for one player or two players. They do what they do well."