DALLAS – When Jalyn Holmes and Jerome Baker were asked Wednesday which young Buckeyes had impressed them in practices leading up to the Cotton Bowl, both Ohio State defenders gave their first answer without hesitation.
"Jeff Okudah," both said.
Okudah, a five-star freshman cornerback from Grand Prairie, Texas – just a short drive away from AT&T Stadium in Arlington, Texas, where Friday's game is being played – has drawn praise from his coaches and teammates throughout the season for how he has practiced and improved. In the weeks leading up to the Cotton Bowl, however, his coaches and teammates say he has gotten even better.
"It was weird, back in Columbus, his locker is right next to mine, so I talk to him and make fun of him all the time, and to see him now like on the field, he's like a different person," Baker said. "And he's definitely coming along. In a few years, we're definitely going to be saying his name a lot."
Holmes says Okudah is already so impressive than in two years from now, he expects Okudah to be well on his way to being a top pick in the 2020 NFL draft.
"He's going to be a first-rounder," Holmes said of Okudah.
Okudah has been one of the Buckeyes' top performers on special teams this year, playing regularly on the Buckeyes' kickoff and punt coverage units and recording 13 total tackles, mostly in that phase of the game. At cornerback, however, Okudah has had to wait his turn on the depth chart behind Denzel Ward, Damon Arnette and Kendall Sheffield, playing only 156 defensive snaps – mostly in blowout situations – as a result. Ohio State defensive coordinator Greg Schiano, however, says Okudah has taken advantage of his repetitions during bowl practice and made a positive impression with his development.
"Jeff Okudah, who's performed really well on special teams, I think he's played really well in the corner position in this preparation," Schiano said.
While it's uncertain whether Okudah will see increased playing time on defense in the Cotton Bowl, the fact that he has proven himself prepared to take on a bigger role has impressed his teammates in itself.
"With corners, I feel like they're the hardest position to play on defense, and to see a young guy like play very elite … it's definitely fun to watch, and he's definitely one of them," Baker said.
Okudah isn't the only freshman defender who has made a positive impression in Cotton Bowl practices. Schiano listed safety Isaiah Pryor, linebackers Baron Browning and Pete Werner and defensive end Chase Young – all also true freshmen – as other young players who have made evident strides over the past few weeks.
"In the back end, Isaiah Pryor and Jeff Okudah, I think have just continued their trajectory," Schiano said. "At linebacker, Baron Browning has been special. He's really taken a step in this preparation. Chase Young has done really good things all along. But these are true freshmen we're talking about. Pete Werner has done a nice job. So it's encouraging, because you see these guys getting better and you know they are the future, and it's good to see."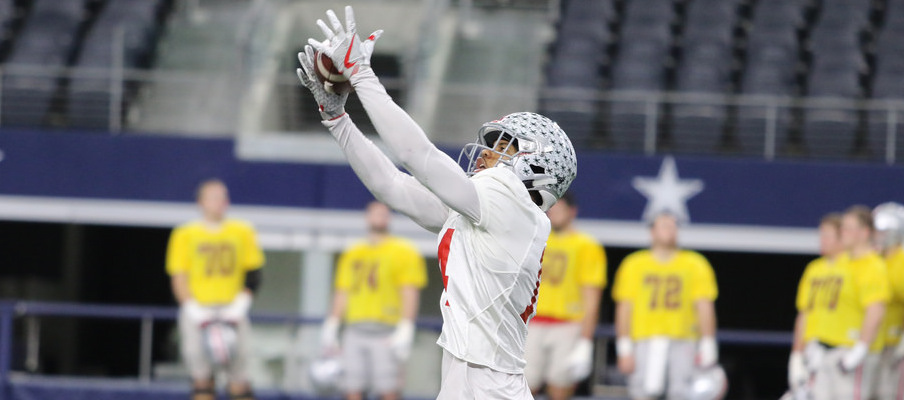 Senior linebacker Chris Worley pointed to Browning, in particular, as the young Buckeye who has caught his eye with his improvement during bowl practices.
"Baron Browning, he's been up-and-down this year as far as practice and things like that, he definitely shows spurts of what he can be but he's not consistent," Worley said. "This bowl camp, he's been unreal and he's started to put it all together, and his future's going to be really bright."
While none of those players have played more than 188 defensive snaps this year, and none of them are likely to play regularly on defense (barring injuries) in the Cotton Bowl, all of them appear to be candidates for increased playing time in 2018. Safety Damon Webb, defensive end Tyquan Lewis, Worley and Holmes are all set to play their final games in the Cotton Bowl. Baker and defensive end Sam Hubbard are both candidates to potentially join them on the way out if they decide to declare for the 2018 NFL draft.