Nine Buckeyes were selected in this year's NFL Draft.
It was another successful NFL Draft for the Buckeyes as nine former players have now found new homes. That number was second only to the Crimson Tide who had 10 selections. Urban Meyer's recruiting and player development were two of the highlights of his seven-year tenure in Columbus, and Ryan Day will look to continue that tradition moving forward. 
A lot has changed on the Ohio State roster and on its coaching staff, but there's still no shortage of talent on the Big Ten's most loaded roster. The 2020 NFL draft will be held in Las Vegas and several Buckeyes are already on NFL radars. 
---
Chase Young • Defensive End • Junior
This is one we've seen coming for a while now, but Chase Young continues to be on track to be Larry Johnson's next great NFL lineman. The 6-foot-5, 265-pounder recorded 9.5 sacks as a sophomore, which is the same number Rashan Gary totaled throughout his entire Michigan career. 
Young clearly has the ideal size to play the position and NFL franchises are more than aware of what Larry Johnson has done with the Bosas, Sam Hubbard and plenty of other players dating back to his days in Happy Valley. This is expected to be Young's final season in Columbus, but he does need to improve his consistency this fall. Some pundits are already projecting him as the No. 1 overall pick.
Jeffrey Okudah • Cornerback • Junior
One of the top-rated signees in the 2017 recruiting class, Jeffrey Okudah will now have his chance to shine in a full-time role at cornerback. At 6-foot-1 and 200 pounds, he's got great size for the position and has shown flashes in his two years thus far. It's no secret that the Buckeyes have been producing an absurd number of NFL cornerbacks, and Okudah should join the likes of Marshon Lattimore, Gareon Conley and Eli Apple. That could happen as soon as next April.
Early Outlook: Rounds 1-2
J.K. Dobbins • Running Back • Junior
This year's draft saw just one running back go in the first round, and while Alabama's Josh Jacobs is a talented runner, he's nowhere close to the Elliott/Barkley tier. J.K Dobbins burst onto the scene in his 2017 freshman debut against Indiana, but his sophomore season proved to be a bit of struggle at times. A more mobile quarterback should aid the ground game this year and help to open some more holes for the tailbacks. 
One thing for teams to keep in mind--next year's RB and WR class looks STACKED!

— Daniel Jeremiah (@MoveTheSticks) April 24, 2019
Even with the position being a bit devalued, Dobbins could be a high selection if he decides to forgo his senior season. His ability to catch the ball out of the backfield is another strength, and NFL franchises tend to go way back when doing their homework on prospects. In doing so, they could take note of him being the Nike+ football rating champion back in 2016.
Early Outlook: Rounds 2-4
Thayer Munford • Offensive Tackle • Junior
Offensive tackle and edge rusher are two of the league's premium positions, and Thayer Munford could have a decision to make after the coming season. He's 6-foot-6 and 310 pounds and was Ohio State's most consistent lineman last season. The junior has been sidelined this spring but is expected to lead the Buckeye offensive line again in 2019. The ground game struggled last year, and an improved rushing attack certainly wouldn't hurt his stock.
Early Outlook: Rounds 1-3
Malik Harrison • Linebacker • Senior
Ohio State's linebacker unit was a major problem last year, but Malik Harrison was the one player who seemed to stand out on a regular basis. With Al Washington now leading the unit, he's got a chance to improve even more heading into his final season. Harrison is an athletic specimen who was an honorable mention all-state selection on the hardwood. At 6-foot-3 and 245 pounds, he's got the size the league covets at the position. Harrison should be one of the leaders on defense before heading off to the NFL
Early Outlook: Rounds 2-3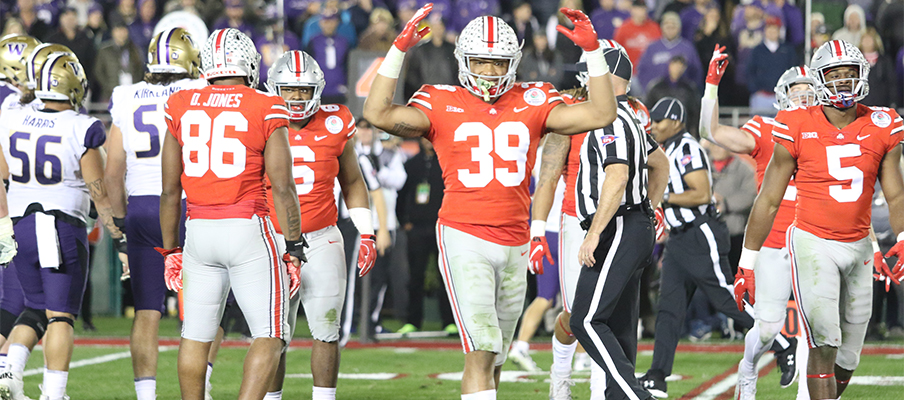 Jordan Fuller • Safety • Senior
Ohio State's safety play was mostly disastrous in 2018, but the weaknesses were definitely more glaring when Fuller wasn't on the field. His return for his senior season was a big piece of news for a Buckeye secondary that will seek some serious improvements under Jeff Hafley. Fuller came onto the scene as a sophomore and will need to get better this year to put himself in the thick of the NFL Draft discussion. He's shown before how good he can be, so there's no reason to doubt he can get back on track. 
Early Outlook: Rounds 2-4
Best of the Rest
Ohio State got a surprising bit of good news when K.J. Hill decided to return for his senior season. He's not going to light the NFL Combine on fire like Parris Campbell and Terry McLaurin did, but Hill has exceptional hands and seems to have a knack for getting open. He's probably in line to be a middle-round pick right now. We'll see how things go for Austin Mack and Binjimen Victor as well. 
Robert Landers is a name that's been talked about quite often on NFL Draft podcasts and other outlets. He's listed at 6-foot-1 and 285 pounds which means his actual height may be closer to the 6-foot range. Obviously not the ideal size to play defensive tackle, but he's flashed with plenty of dominant moments. It's fair to think that he'll hear his name called as well. 
Jonah Jackson arrives this summer and the Rutgers transfer is expected to be an instant starter, likely at left guard. Guards aren't as coveted as tackles, but most seem to think Jackson has some real NFL potential. Damon Arnette doesn't have the talent of Okudah, but he has the chance to boost his stock during his senior season as well.