Ohio State has enough former players in the NFL to make up an entire roster.
Following the 2019 NFL draft this past weekend, there are now currently 56 former Ohio State players on active rosters around the league.
An NFL team is only permitted to carry 53 players on its regular-season roster, which means there are more than enough Buckeyes in the league to put together an entire depth chart built solely with players who once wore the scarlet and gray.
There's reason to believe that team would be quite competitive, too.
Ohio State is represented by players who are in line to be NFL starters this season at just about every position on the field – and at some positions, there would be substantial competition to determine which former Buckeyes would crack the lineup.
Here's a position-by-position look at how that team would stack up.
Quarterback: Dwayne Haskins, Cardale Jones, J.T. Barrett
The All-Buckeye team lacks in NFL experience at the quarterback position, but certainly does not lack in promise for the future.
Ideally, an NFL team with a rookie quarterback would like to also have a veteran with starting experience on the depth chart. Ohio State, however, hasn't had a quarterback start a game in the NFL since 2013 in Terrelle Pryor, who has since moved to wide receiver and is now an NFL free agent. That leaves Jones, who spent last season on the Los Angeles Chargers' practice squad, and Barrett, who spent last season on the New Orleans Saints' practice squad, to join Haskins on this team's depth chart.
Jones' big arm gives him some untapped potential as a backup quarterback, while Barrett brings cerebral leadership to the room, but Haskins wouldn't have to wait his turn behind Barrett at the NFL level. The rookie, perhaps as he should be with the Washington Redskins, is the clear-cut starting quarterback on this roster.
Running Back: Ezekiel Elliott, Carlos Hyde, Mike Weber
Elliott is one of the NFL's best running backs, so he'd be the bell-cow back for the All-Buckeye team, just as he is for the Dallas Cowboys. Hyde, who has 3,300 rushing yards in five NFL seasons, and Weber – who actually is now one of Elliott's backups with the Cowboys – give this team a solid duo of backups who can spell Elliott and fill in as needed.
Should the Scarlet and Gray seek even more running back depth, they could look to the free-agent wire and pick up Rod Smith, who was Elliott's backup for the Cowboys last season but remains unsigned this offseason.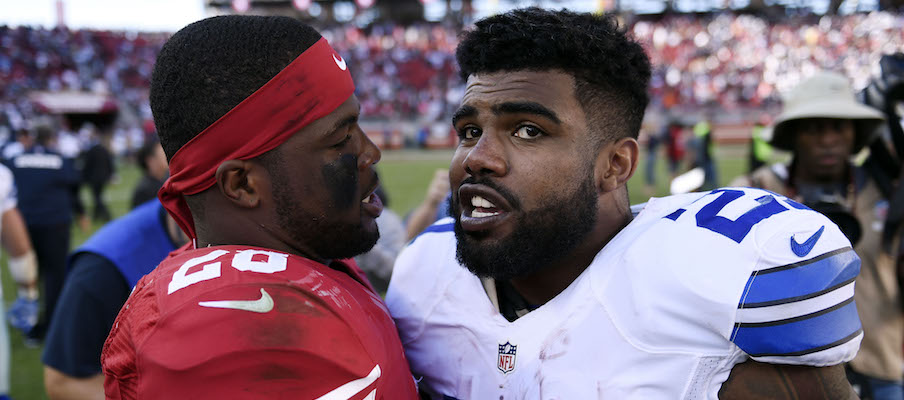 Wide Receiver: Michael Thomas, Ted Ginn, Curtis Samuel, Parris Campbell, Terry McLaurin, Noah Brown/Johnnie Dixon/Braxton Miller/Devin Smith
The All-Buckeye team is loaded at wide receiver, with one of the league's best pass-catchers in Thomas complemented by a quartet of big-play threats with elite speed in Ginn, Samuel, Campell and McLaurin. Ginn, Samuel and Campbell all give the team options in the return game, while McLaurin immediately becomes one of the squad's core special teams players.
With nine wide receivers currently on NFL rosters, head coach Mike Vrabel would be forced to make some cuts at the position, with only one spot remaining for Brown, Dixon, Miller and Smith. Pryor and Jalin Marshall are NFL free agents who have the talent to make plays in a receiver rotation too, but there's probably not any room for them on this squad.
Tight End: Nick Vannett, Jeff Heuerman, Marcus Baugh
Much like the actual Buckeyes, this team probably wouldn't throw to the tight end very often with all of its talent at wide receiver. That said, Vannett and Heuerman provide a solid one-two punch of receivers and blockers at the position assuming Heuerman, who has battled injuries for much of his first four seasons in the NFL, can stay healthy. Baugh, who just signed with the Panthers on Tuesday, adds depth as the third tight end.
Offensive Tackle: Taylor Decker, Jamarco Jones, Isaiah Prince
Decker, who is entering his fourth season as the Detroit Lions' starting left tackle, gives Haskins a reliable pass-protector on his blind side. The other tackle position would be one of this team's biggest question marks, as neither Jones nor Prince has played an NFL regular-season game, but both were multi-year starting tackles for the Buckeyes who will be looking to prove this offseason that they can contribute to their respective teams' offensive lines in 2019.
Interior Offensive Line: Andrew Norwell, Corey Linsley, Billy Price, Pat Elflein, Michael Jordan, Demetrius Knox or Malcolm Pridgeon
Norwell gives the All-Buckeye team an All-Pro at left guard, while Linsley is a rock-solid center entering his sixth season as the starter for the Green Bay Packers. Price and Elflein are also both starting centers for their NFL teams, but on this team, they'd be competing to start at right guard – a position both also played at Ohio State – while the other could serve as the top backup at both center and guard.
Jordan would also provide depth at guard, while undrafted rookies Knox and Pridgeon could battle for the last roster spot on the offensive line. Given the depth on the interior offensive line in contrast to tackle, Jordan and Pridgeon could also be candidates to move outside to tackle; Norwell, who spent time playing offensive tackle during his Ohio State career, could even be a candidate to start at right tackle with a trio of Price, Linsley and Elflein starting inside.
Defensive End: Joey Bosa, Nick Bosa, Sam Hubbard, Tyquan Lewis, John Simon
The Bosa brothers never had the opportunity to play together at Ohio State, as Joey's career with the Buckeyes ended just before Nick's began, but pairing them together as bookends on the same defensive line would likely form one of the NFL's best pass-rushing tandems. Hubbard, Lewis and Simon would give the All-Buckeye team the ability to deploy a deep rotation at defensive end, just like Larry Johnson does at Ohio State now, while Simon also offers the versatility to play as a standup linebacker if needed.
Defensive Tackle: Cameron Heyward, Johnathan Hankins, Dre'Mont Jones, Jalyn Holmes, Michael Bennett
Heyward is technically a defensive end in the Pittsburgh Steelers' 3-4 defense, but he'd be a 3-technique defensive tackle on the All-Buckeye team's defensive line, which would be based out of a four-man front to best fit its personnel (specifically, the Bosas).
Hankins is the only true nose tackle on this roster, so he'd be in line to start alongside Heyward, while Jones, Holmes and Bennett provide rotational options on the interior defensive line, particularly in pass-rushing situations, where Jones would likely be the first man in to replace Hankins (if not one of the defensive ends kicking inside).
Tracy Sprinkle, who is set for a tryout at the Kansas City Chiefs' upcoming rookie minicamp, and Adolphus Washington, who was recently waived by the Cincinnati Bengals, are additional options who could provide depth at defensive tackle.
Linebacker: Raekwon McMillan, Jerome Baker, Darron Lee, Chris Worley, Dante Booker
McMillan gives the All-Buckeye defense a solid starter at middle linebacker, while Baker – who starts alongside McMillan in real life with the Miami Dolphins – and Lee give the team a highly athletic pair of outside linebackers.
Linebacker depth could be an issue for this team, as there are only five Ohio State linebackers currently on NFL rosters and neither Worley nor Booker has played a regular-season NFL game, but as you'll see in the next two sections, the All-Buckeye secondary should give the defense plenty of options to work around that with nickel and dime packages.
Cornerback: Marshon Lattimore, Denzel Ward, Gareon Conley, Bradley Roby, Eli Apple, Kendall Sheffield
There might not be a stronger position on the All-Buckeye team than cornerback, where Ohio State has produced five legitimate starters in the past five years. Secondary coach Kerry Coombs could reintroduce his three-man cornerback rotation from Ohio State's 2016 defense, in which Lattimore, Conley and Ward all played regularly, but Roby and Apple could also make real pushes for playing time. Sheffield isn't likely to see the field much on defense on this depth chart, but his elite speed gives him the potential to be a major asset on special teams.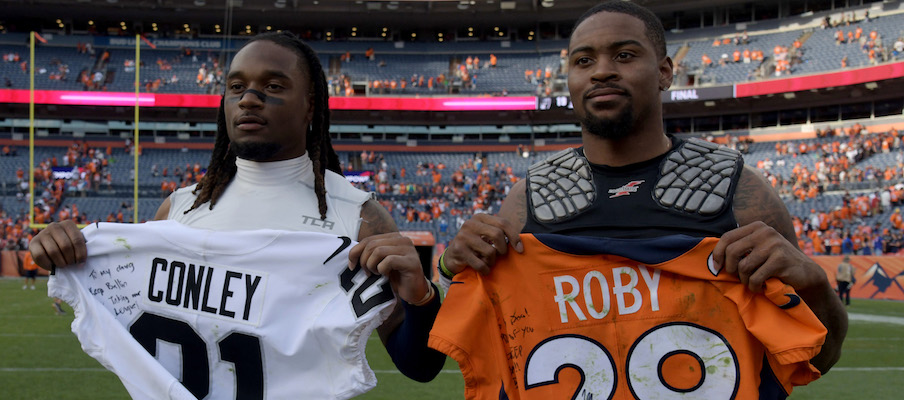 Safety: Malik Hooker, Malcolm Jenkins, Vonn Bell, Nate Ebner, Damon Webb
The safety portion of the All-Buckeye secondary is pretty darn strong, too, with Hooker in line to patrol the back end of the defense as a rangy deep safety while Jenkins would provide veteran leadership as the other starting safety. Bell would also be a candidate to rotate into the lineup regularly and see playing time as a third safety on subpackages.
Ebner would be one of the team's leaders on special teams, just as he has been for the New England Patriots for the past seven years, while Webb would also be expected to contribute in that area while providing depth as a backup safety.
Kicker: Mike Nugent or Sean Nuernberger
Kicker is the one position at which Ohio State isn't currently represented on an NFL roster, so the All-Buckeye team would be forced to choose between a kicker who could be at the end of his NFL career in Nugent, or a kicker just out of college who is still hoping to get the call from an NFL team in Nuernberger. Nugent's 14 years of NFL experience make him the likely choice, but he is coming off a hip injury (though Nuernberger is also coming off a groin injury of his own).
Punter: Cameron Johnston
Johnston was one of the NFL's best punters last season in his first regular season with the Philadelphia Eagles, averaging 48.1 yards per punt, so he'd be a big asset to the All-Buckeye team's efforts to control the field-position battle – which would surely be a priority for a team full of players coached by Urban Meyer and/or Jim Tressel.
Long Snapper: Jake McQuaide
McQuaide is entering his ninth season as an always-steady long snapper for the Los Angeles Rams, so the All-Buckeye team's kicker and punter should have no issues with receiving consistently placed snaps they can rely on.
---
Altogether, the All-Buckeye team certainly looks like one that could be an immediate NFL playoff contender.
They'd have to overcome their inexperience at quarterback in 2019, but skill-position stars like Elliott and Thomas and a strong offensive line would put Haskins in a position to be successful right away.
Defensively, the All-Buckeye team would be led by an excellent defensive line and an elite secondary, allowing them to regularly put pressure on opposing quarterbacks with a multitude of playmakers on the back end who can capitalize on mistakes.
Given how much the importance of special teams was preached to these players during their Ohio State careers, this team would also project to be proficient in that phase of the game, with everyone from the top of the depth chart to the bottom ready to contribute on special teams units when called upon.
Because the NFL has a salary cap, it wouldn't actually be realistic to put all of these players on the same roster, as there are former Buckeyes at almost every position who are already among the league's top earners or will be when they receive their next contract. Hypothetically, though, it would certainly be a fun team to watch.