Ohio State's recruiting class of 2017 is entering a pivotal season.
Those Buckeyes are entering their third season in Columbus, which means they're expected to be ready to play significant roles for Ohio State if they haven't already. Each of them now have two years as Ohio State players under their belts, and by the end of the upcoming season, all of them will be on the back end of their careers while some of them will have decisions to make about whether it's time to go to the NFL.
With that in mind, Eleven Warriors is taking an individual look this offseason at each of Ohio State's third-year scholarship players – in descending order of their 247Sports composite recruiting rankings – and the expectations that preceded their Ohio State careers, how they have performed in their first two seasons as Buckeyes and the outlook for the remainder of their careers.
The 16th installment in the Third-Year Reset brings us to Thayer Munford, who was the third-lowest ranked recruit in Ohio State's class of 2017 yet has emerged as one of the class' most important players as the Buckeyes' starting left tackle.
Third-Year Reset
Before He Became a Buckeye
Munford's journey to playing at Ohio State wasn't an easy one. A native of Lincoln Heights, Ohio, Munford grew up in a crime-ridden neighborhood and without a steady father figure in his life and struggled to keep his grades up and his weight down.
Munford became a star on the football field at La Salle High School before moving to Massillon – where Massillon Washington head coach Nate Moore, his former coach at La Salle, and his wife Becca became his legal guardians – and finishing his high school career there.
Even though he was ruled ineligible for all but four games of his senior season after the Ohio High School Athletic Association decided that Moore violated recruiting bylaws, Munford made an impression on Urban Meyer and the Buckeyes' coaching staff and improved his grades enough that Ohio State took a chance on his potential and offered him a scholarship.
Munford was ranked as the 14th-best prospect in the state of Ohio, the 28th-best offensive tackle nationally and the No. 285 overall prospect in the class of 2017.
Career to Date
Given his tumultuous journey to Columbus and his standing as one of the lowest-ranked prospects in the Buckeyes' class of 2017, Munford seemed likely to be a project who would need to develop for multiple years before playing a significant role at Ohio State. But that proved not to be the case at all.
While most offensive linemen redshirted their true freshman years during Meyer's tenure at Ohio State, Munford played in each of Ohio State's final 12 games of 2017, including 148 offensive snaps – the fourth-most snaps of any true freshman that year – across eight games as the second-team right tackle. Meyer said last spring that the Buckeyes would have preferred not to have to thrust him into that role immediately, but a lack of depth at offensive tackle at the time left them with few other options.
"Freshmen shouldn't have to do that," Meyer said last April. "It's just there were some recruiting errors, etc., so he was forced into action. But I'm glad he was, and I'm glad he's here."
That early playing time paid off for Munford last spring, when he emerged as Jamarco Jones' successor at left tackle, earning a starting job at the most prominent position on the offensive line less than a year after he arrived on campus.
Munford started each of Ohio State's first 13 games at left tackle last season. He played a total of 920 offensive snaps – the most snaps among all second-year Buckeyes in 2018 – and earned honorable mention All-Big Ten recognition. He did not play in the Buckeyes' season-ending Rose Bowl win against Washington, however, after battling injuries throughout the second half of the year.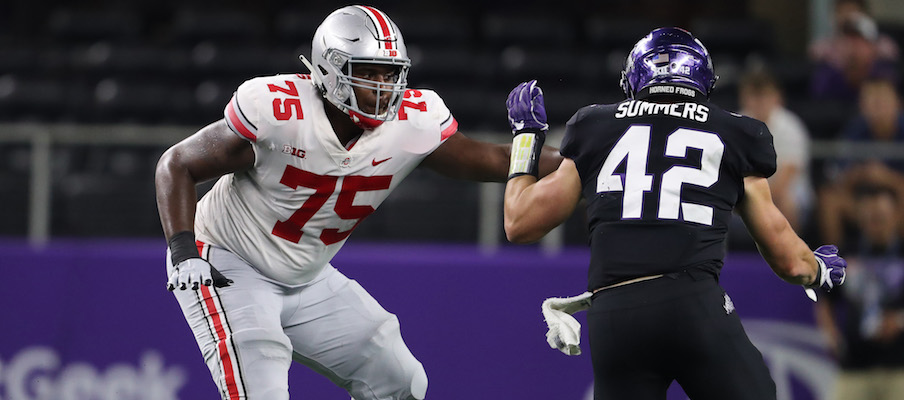 Third-Year Outlook
Even though he did not practice at all this spring while recovering from back surgery, Munford's standing as Ohio State's starting left tackle remains safe.
Following the departures of Michael Jordan, Isaiah Prince, Malcolm Pridgeon and Demetrius Knox from last season, Munford is the only returning starter from last year's offensive line and the only offensive lineman on the roster with more than six career starts at Ohio State.
Munford was one of Ohio State's most consistently solid performers on the offensive line when healthy last season, and now that he is an upperclassman with a year of starting experience under his belt, the Buckeyes are expecting him to be one of their leaders up front this year.
Even with the exodus of four starters from last year, there's plenty of optimism surrounding Ohio State's offensive line entering this season. Fellow third-year offensive linemen Josh Myers and Wyatt Davis, who were much more highly touted recruits when they arrived at Ohio State, are potential stars at center and right guard. Graduate transfer Jonah Jackson, who was a starter and team captain at Rutgers, should provide immediate stability at left guard. Five-star redshirt freshman Nicholas Petit-Frere and fifth-year seniors Branden Bowen and Joshua Alabi give the Buckeyes three potential options at right tackle.
Given his experience at Ohio State and the position he plays, though, no one will be more important to the success of the Buckeyes' offensive line this season than Munford.
"I have high hopes for the offensive line, seeing the way they're running around right now," new Ohio State head coach Ryan Day said in June. "Thayer Munford is really looking strong right now."
While Munford wasn't able to practice this spring, Ohio State's coaches don't expect that to set him back too much. He's expected to be back on the field for preseason camp, and they are confident he will be able to build cohesiveness quickly with the Buckeyes' new starters up front.
"That's one thing I don't worry about," offensive line coach Greg Studrawa said this spring. "Thayer's had the experience. He'll jump right back in. It won't take him long."
Now that Munford is firmly established in his role as a starter on Ohio State's offensive line, the question is just how good he can be. 
Considering how much he has already exceeded expectations in his first two years as a Buckeye, Munford certainly has the potential to be one of the Big Ten's best left tackles – perhaps even one of the nation's best – this season, as long as he can stay healthy.
Beyond 2019
Now that he is entering his second season as a starter for the Buckeyes, Munford could explore the possibility of entering the 2020 NFL draft. Listed at 6-foot-6 and 310 pounds, Munford has the physical tools that NFL teams look for in an offensive tackle, and a big junior year could put him firmly on the radar of pro scouts.
That said, it has been extremely rare for offensive linemen to leave for the NFL after just three years at Ohio State; Jordan was the first to do so since Orlando Pace in 1997, and both of them were three-year starters who were in the lineup from the beginning of their freshman years.
If Munford starts to generate buzz as an NFL prospect this fall, he'll have a real decision to make after the season. Should he ultimately stay for his senior season, though, he'll likely be a three-year starter at left tackle for the Buckeyes and potentially have the opportunity to propel his draft stock higher.
Munford will surely be in a position to be a leader for not only the offensive line, but the entire team, if he stays for his senior season. Ideally, Ohio State would certainly like to see him stay for two more years, as they are already set to lose Bowen and Alabi after this season – which could leave the Buckeyes with a need for a graduate transfer tackle in 2020 if Munford does not return.
Regardless of what his future plans might be, both Munford and his coaches will be hoping he plays at a level this year that proves he has the talent to play at the next level and gives him a legitimate decision to make for 2020.