Over the summer, Eleven Warriors is taking a look at the state of every position on the Ohio State football team.
With Michael Jordan, Isaiah Prince, Demetrius Knox and Malcolm Pridgeon off to the NFL, Ohio State must figure out how to replace four starters on the offensive line.
Despite the notable turnover, there's reasonable optimism that the Buckeyes could put together a better offensive line than the one they trotted out last season. They still have depth issues. But with the transfer addition of Jonah Jackson, return of Thayer Munford and belief in Wyatt Davis and Josh Myers, Ohio State has a high-upside front five in 2019.
The Personnel
Ohio State expects to have 15 scholarship offensive linemen on the team next season.
Branden Bowen (RS-Sr.): In 2017, Bowen won a preseason position battle and started the first six games of the season at right guard. However, his season ended prematurely when he suffered a broken leg. He spent over a year recovering from the initial injury, which preceded three surgeries. Bowen hasn't taken a snap since then. Entering his fifth season, he's battling Nicholas Petit-Frere to become the starting right tackle, and he could compete with Jonah Jackson to start at left guard. The 6-foot-7, 315-pound lineman is a native of Draper, Utah. 
Joshua Alabi (RS-Sr.): Though he began his career as a defensive lineman, Alabi has found his home on the offensive side of the ball. The 6-foot-5, 305-pound Detroit native has an outside chance to start at right tackle, but he'll likely slot into the depth chart as Thayer Munford's backup at left tackle. He earned his first start in the Rose Bowl when he filled in for Munford, who missed the game due to injury. 
Jonah Jackson (RS-Sr.): Despite pursuit from Oklahoma as well, Jackson chose to transfer from Rutgers to Ohio State for his fifth and final year of eligibility. He's expected to take over the starting left guard spot, though he has also played center in his collegiate career. The 6-foot-4, 305-pound interior lineman started 11 games last year for Rutgers at right guard, and the prior season he started five games at center. Both coaches and media voted Jackson honorable mention All-Big Ten last season. 247Sports ranked him as the top transfer offensive lineman along with Georgia Tech's Parker Braun, who chose Texas.
Kevin Woidke (RS-Sr.): The St. Ignatius graduate began his career as a walk-on but earned a scholarship this spring, though it is not guaranteed for the fall.
Gavin Cupp (RS-Jr.): In his first three years as a Buckeye, Cupp has played sparingly, but he might be the primary backup at both guard spots this season. The Leipsic native who flipped from Michigan State to Ohio State as a recruit spent most of spring practice with the first-team at guard since Jackson hadn't graduated from Rutgers yet. Once Jackson arrives, Cupp will likely be relegated to reserve duty behind Jackson and Wyatt Davis. The 6-foot-4, 308-pound lineman still has a chance to win the starting job at left guard if he outplays Jackson in the preseason, though.
Thayer Munford (Jr.): For the second year in a row, Munford will man left tackle. By the end of spring practice in 2018, Munford had essentially locked up the starting left tackle spot despite having just completed his freshman season. The 6-foot-6, 310-pound blind-side protector battled injuries in his first year as a starter, but he played well enough to garner honorable mention All-Big Ten honors. Munford, who didn't play in the Rose Bowl due to an undisclosed injury, missed the entirety of spring practice after undergoing surgery. He's expected to be fully healthy entering fall practice.
Wyatt Davis (RS-So.): By the midpoint of the 2018 season, Greg Studrawa felt confident in Davis, but he didn't have a chance to play him until Knox suffered a late-season injury. Davis started both the Big Ten title game and Rose Bowl, playing well in each and setting himself up to become Ohio State's starting right guard entering the 2019 season. Though no one has declared him a starter, it would be a shock for him not to open the year at right guard. Davis, who stands 6-foot-4 and 313 pounds, was the top-rated guard in the 2017 recruiting cycle.
Josh Myers (RS-So.): After switching from guard to center, Myers has put himself in position to open the 2019 season as a starter. The 6-foot-5, 310-pound bruiser entered college as a hard-nosed run blocker, but he had to learn how to pass block with consistency. Myers, a Miamisburg native, worked with the first-team offense throughout spring practice and is in a similar situation to Davis. No one in power has outright called him the starting center, but he essentially has the job locked down.
Nicholas Petit-Frere (RS-Fr.): Without landing Petit-Frere late in the 2018 recruiting cycle, Ohio State's offensive tackle situation would be much more dire. The 6-foot-5, 295-pound tackle was the top-rated offensive lineman in his class, and he's in the mix to start at right tackle in his second year in college. Petit-Frere and Bowen were locked in a position battle through spring practice. In the spring game, Petit-Frere took the first snaps with the No. 1 offense. 
Matthew Jones (RS-Fr.): Like most offensive linemen, Jones didn't play as a true freshman and redshirted. He's in line to be a backup interior lineman this season and could find himself as Myers' backup at center. Throughout spring practice, Jones spent most of his time as the second-string center. The 6-foot-4, 299-pound lineman was the top-rated center in the 2018 recruiting cycle. He played football for Erasmus Hall in Brooklyn, the same high school Curtis Samuel and Jahsen Wint attended.
Max Wray (RS-Fr.): In his first season as a Buckeye, Wray did not see the field. He redshirted, leaving him with four remaining years of eligibility. Given the presence of Munford, Petit-Frere, Bowen and Alabi, Wray likely won't have a role on offense again this season. Once Bowen and Alabi run out of eligibility after the 2019 season, though, an opportunity for him to ascend onto the depth chart will open. Wray, a native of Franklin, Tennessee, is 6-foot-7, 300 pounds. His brother, Jake, a four-star 2020 offensive lineman, was once committed to Ohio State but recently committed to Colorado.
Harry Miller (Fr.): As Ohio State's only five-star offensive line commit in its 2019 class, Miller enters the program with sizable expectations. The 6-foot-4, 305-pound interior lineman was the No. 30 overall prospect and the second-ranked center in his class. Miller is an impressive prospect off the field, too; he was Buford (Georgia) High School's valedictorian. 
Ryan Jacoby (Fr.): Jacoby was the only offensive lineman in Ohio State's class of 2019 to enroll early, getting a head start on his preparation to play in college. As a freshman playing offensive guard, he's still unlikely to see the field much, if at all, in 2019. The 6-foot-5, 290-pound lineman was the No. 283 overall prospect and the seventh-ranked Ohioan in his class. He and defensive end Noah Potter gave the Buckeyes a pair of four-star prospects from Mentor.
Enokk Vimahi (Fr.): A late addition to Ohio State's 2019 recruiting class, Vimahi will be the rare Hawaiian Buckeye. Ryan Day landed his commitment after taking a flight to visit him at home late in the recruiting process. Given his Mormon faith, Vimahi plans to take a two-year mission trip after spending his freshman year at Ohio State, meaning the Buckeyes will be without him during the 2020 and 2021 seasons. There's a chance he doesn't play a collegiate snap until 2022. The 6-foot-4, 263-pound guard was the No. 124 overall recruit and the second-ranked Hawaiian in his class. 
Dawand Jones (Fr.): Even as a true freshman, Jones – 6-foot-8, 360 pounds – will be the largest lineman on the team. He's more athletic than some big men, given his basketball prowess that led to Division I offers, but he'll undoubtedly have to lose weight and improve his shape before factoring into Ohio State's plans. Jones, an Indianapolis native, was the No. 1,044 overall prospect and the 86th-ranked offensive tackle in his class.
Ohio State has four offensive line commits in the class of 2020.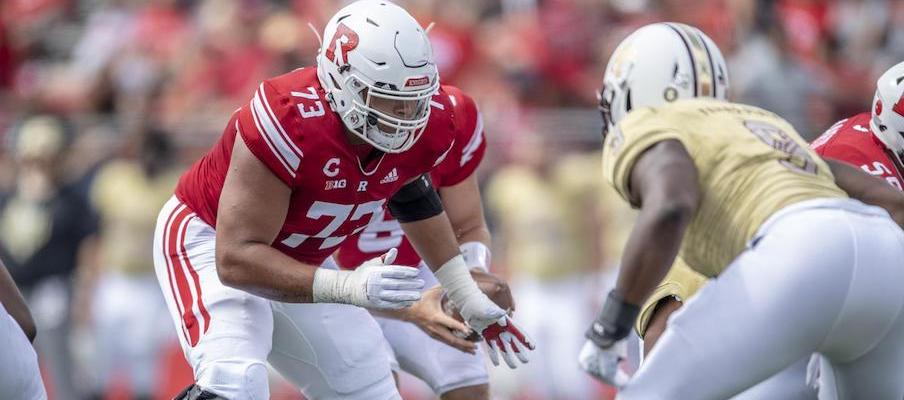 Outlook In 2019
This spring, the Buckeyes had difficulty building camaraderie. Thayer Munford missed every practice with an injury, and Jonah Jackson had to complete his classes at Rutgers, which prevented Ohio State from practicing together with its five projected starters.
So when the team enters the fall, it'll be pertinent for Munford and the four first-year starters to begin to gain chemistry together.
State of the Position
Jackson (left guard), Myers (center) and Davis (right guard) are likely to start at their respective positions. Petit-Frere and Bowen are engaged in a position battle to earn the starting right tackle job. Whichever of those two does not start will join Cupp and Alabi as primary backups.
Though four players will be first-time Ohio State starters, each player in contention for a starting job has significant upside. Petit-Frere and Davis were five-star recruits, and Myers was a near-five-star prospect. Jackson and Bowen have starting experience.
Behind the starting five, the Buckeyes could use Bowen as a potential injury fill-in at both tackle and guard, even if he wins the starting right tackle job. 
Strengths of the position
Though Ohio State has to replace multiple starters, Munford at left tackle gives it a sturdy building block. He played well last season, and he should turn into an even more consistent blindside protector as a junior.
On the inside, both Davis and Myers have major potential to turn into high-quality linemen. Davis, in particular, showed off his abilities in the postseason, which should have excited Ohio State fans about his long-term future. Both players have three seasons of eligibility remaining, too.
Jackson's addition not only aids Ohio State's depth concern, but it gives Studrawa another lineman he should feel confident in. Jackson was a team captain at Rutgers and has more than a year of experience as a starter.
Whether Bowen starts or not, his versatility as both a guard and tackle will be an asset. He'll give the coaches confidence that even if someone gets injured, they can count on him. 
If Petit-Frere starts, Ohio State will likely have only one senior – Jackson – on its starting offensive line, which would give the young players plenty of experience to build on. That would benefit both the group and each individual in the future.
Soon, the Buckeyes will add a bevy of linemen. They already have four players committed in their 2020 class, and they'll likely add two more. With Johnson leading the way as a five-star prospect, Ohio State has done well to this point in the recruiting cycle.
Weaknesses of the position
Losing four starters naturally breeds uncertainty about the future of the unit.
There's absolutely reason for optimism about the four likely new starters. But Davis has just two starts, Myers have never started, Jackson has only started with Rutgers, Petit-Frere has only played in three games and Bowen hasn't played for a year-and-a half. Each of the first-year starters has to prove they belong.
Behind them, depth remains a concern. The addition of Jackson helped in that area, and they have Bowen, Cupp and Alabi, too. But even in 2020, when Jackson, Bowen and Alabi are out of eligibility, the Buckeyes will be treading water. 
Studrawa has missed on landing in-state recruits and developing out-of-state recruits, and Ohio State is still paying for those missteps.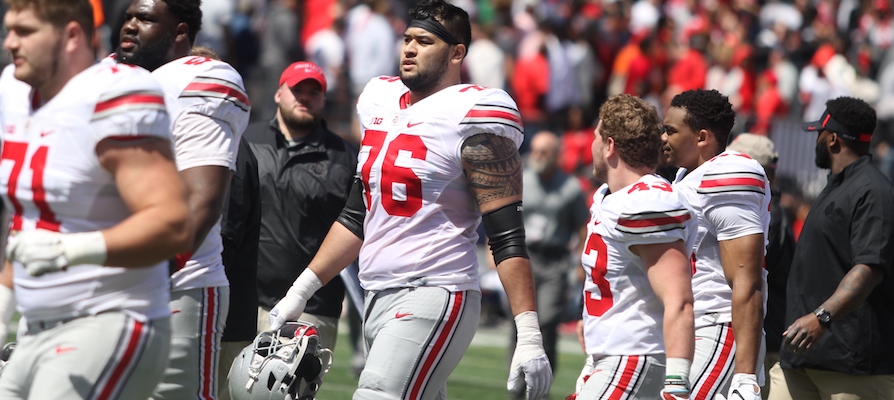 Long-Term Outlook
No one could look at Ohio State's offensive line situation in 2019 and 2020 and feel fully confident in its success. But in the long term, Studrawa's unit is on the right track.
The Buckeyes continued to piece everything together by adding Jackson this spring, and they might have to go after another graduate transfer next spring. But after the 2020 season, they're set up to have a much more comfortable group of linemen.
2019 Projected Depth Chart
Left tackle: Thayer Munford, Joshua Alabi
Left guard: Jonah Jackson, Gavin Cupp
Center: Josh Myers, Matthew Jones
Right guard: Wyatt Davis, Harry Miller
Right tackle: Nicholas Petit-Frere, Branden Bowen
2020 Projected Depth Chart
Left tackle: Thayer Munford, Paris Johnson
Left guard: Harry Miller, Luke Wypler
Center: Josh Myers, Matthew Jones
Right guard: Wyatt Davis, Ryan Jacoby
Right tackle: Nicholas Petit-Frere, Max Wray
2021 Projected Depth Chart
Left tackle: Paris Johnson, Dawand Jones
Left guard: Harry Miller, Luke Wypler
Center: Josh Myers, Matthew Jones
Right guard: Wyatt Davis, Ryan Jacoby
Right tackle: Nicholas Petit-Frere, Max Wray
Potential early NFL draft entrants could shake up the future of the line.
Munford will have a chance to leave after the 2019 season, and if he opts to forgo his senior season, the Buckeyes would once again find themselves in an unenviable situation. Max Wray, Dawand Jones and Paris Johnson (who would be a true freshman in this scenario) would likely be the options to replace him at left tackle, meaning Ohio State could have to look for a graduate transfer.
Davis also could leave early after the 2020 season, and Myers and Petit-Frere are other possible early entrants. Ohio State will be able to gauge the possibility of any of them leaving early based on how they perform this season.
Regardless of who leaves early, the pressure will be on the first-time starters to perform in 2019, for Ohio State plans to rely on them for multiple years.
The future of Miller and Matthew Jones could affect the interior line of the future. Both could end up at either guard or center, and Miller will likely begin his career at guard. The possibility of Miller or Jones eventually starting at center and pushing Myers back to guard in 2020 or 2021 exists.