MENTOR – While he prepared for his latest local television interview on Wednesday morning, Ryan Jacoby scrolled through the Twitter application on his phone.
All of a sudden, his eyes lit up. The smile across his face seemingly couldn't get any wider – he was beaming the entire morning – but somehow it did. Jacoby briskly walked over to a group of his classmates gathered a few feet away in the Paradigm Building at Mentor High School following his signing with Ohio State. He had to show them what he was looking at.
"Hey, I'm trending," he said with excitement, holding up his phone for everyone to see.
Jacoby didn't expect to see that, especially since he committed to Ohio State nearly nine months ago. Really, he didn't expect any of this.
He never imagined he'd ever sign papers to play for the Buckeyes. Until seventh grade, he didn't even think he'd ever play football.
"It's surreal, honestly," Jacoby told Eleven Warriors on Wednesday. "I could never have imagined how well it went. It feels like I'm in a dream. It's crazy."
Sitting alongside his parents and at the same table as two of his Mentor teammates – Ohio State signee Noah Potter and Michigan State signee Nick Samac – Jacoby signed his National Letter of Intent on the first day of the Early Signing Period on Wednesday. Well, that's not totally true.
The four-star offensive lineman had inked his signature at 7:01 a.m. before taking a photo and sending it in at 7:02 a.m. So, Jacoby just signed a flier noting the accomplishments of the trio of Mentor athletes that was being handed out to attendees.
Ohio State signee Ryan Jacoby had already sent in his National Letter of Intent at 7:01 a.m., so he just signed this sheet of paper at the ceremonial signing. pic.twitter.com/3AohjW0VHa

— Colin Hass-Hill (@chasshill) December 19, 2018
He could have waited to make it official at the 9 a.m. celebratory signing, but he couldn't wait. Jacoby wanted to be the first to send in the letter once the time frame opened at 7 a.m. on Wednesday.
"I put money on me that I was going to be first, but Cade Stover was the first one," Jacoby said. "You know how he is, he's a little crazy. So, he was probably sitting there with a second timer going down."
"The moment that always stood out to me is the number of times that a ref came to me and said, 'You have to tell him to stop.' I said, 'Well, did the whistle blow?' Because he's a kid who plays to the whistle.– Steve Trivisonno on Ryan Jacoby
Like many Ohioans, including his current and future teammate Potter, Jacoby grew up an Ohio State fan. But since he didn't play much football until middle school, he never considered playing for the Buckeyes as a possibility.
Growing up, Jacoby had only played one year of the sport he now devotes his life to. He quickly quit football because he wasn't able to play on a team with his friends. Instead, he decided to play hockey. Everything went smoothly until a coach caught a glimpse of the larger-than-average kid at sixth grade orientation.
"He's like, 'You play football?' I was like, 'No,'" Jacoby said. "He's like, 'You're going to play football.' I'm like, 'All right, no I'm not.' Throughout the whole year, he was on me just nudging me every day. All my friends play football, so I was like, you know what, I'll give it a shot. I fell in love with it."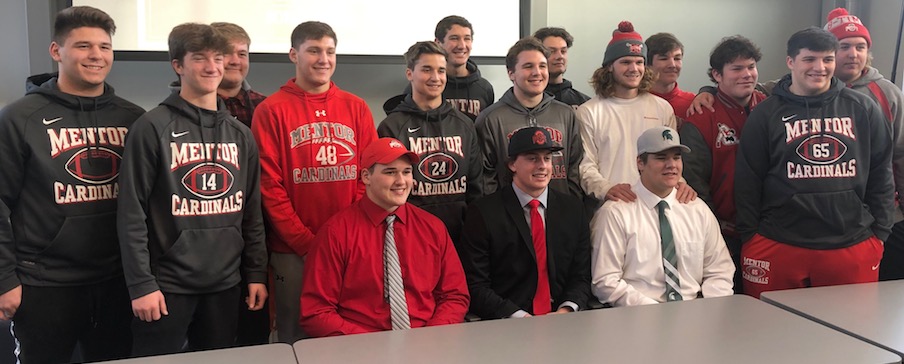 Jacoby played his first year of football in seventh grade. Just two years later, Mentor head coach Steve Trivisonno took note of Jacoby's size and skill, realizing he'd likely have a shot to play at the next level. As a sophomore, he earned a starting spot on Mentor's offensive line, and his recruitment took off.
At the end of the season, he earned his first scholarship, an offer from Toledo. Within the week, he received offers from two other MAC schools.
"I was like, 'All right, this is a reality now. I've just got to keep working hard and if I play my cards right, I can end up where I want to go,'" Jacoby said.
Ultimately, Jacoby wanted to be a Buckeye. He determined that when, during his sophomore year but before he had ever received an offer from any program, he attended an early season non-conference game.
He left Columbus with one thought: "I want to come here."
Two years of high school football later, on Jan. 12, he finally earned the coveted offer. It took Jacoby less than two months to make it official.
On March 1, he committed to Ohio State, becoming just the second player to commit to the program's 2019 class.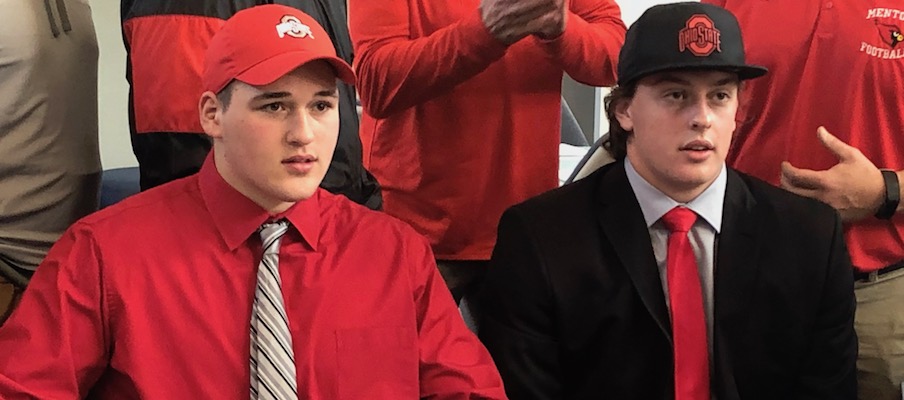 Jacoby is the kind of in-state prospect that some people worry Ohio State has gone away from. The born-and-bred Ohioan has rooted for the Buckeyes his entire life. He understands the rivalry with Michigan. Jacoby would do whatever Ohio State needs to get a win, and he'd be a Buckeye regardless of who was in charge. Recently, his mother showed him pictures of himself wearing scarlet and gray bow ties. He's always been a fan.
So, panic didn't set in when a coach texted him the morning of Dec. 4 to alert him that Urban Meyer would be retiring and Ryan Day would be promoted to head coach.
"I was like, 'Oh, well that sucks.' I love coach Meyer. It's going to be weird without him there. Ryan Day's going to have a good program. Nothing much is going to change. Just a different voice,'" Jacoby said.
The day after the announcement, Day and Greg Studrawa went to Jacoby's house to ensure he would stay committed, though they didn't have much to worry about. He had already made up his mind. He would be a Buckeye. Jacoby's dad even got Day to give his first autograph as a head coach during the in-home visit.
Jacoby's next step comes in just a couple weeks, when he moves on from high school and becomes an early enrollee at Ohio State in January. He's excited, but the past few months have passed in warp speed.
"I move in in 16, 17 days, I think," Jacoby said. "It's just like, what? Like, I'm a kid still."
Standing 6-foot-5 and weighing 270 pounds, Jacoby is bigger than the average kid.
Trivisonno described him as a "mauler" who plays the game in an "old-fashioned" style. Jacoby called himself a "tough kind of guy." He noted that he can play through injuries, saying "nothing really affects me."
"The moment that always stood out to me is the number of times that a ref came to me and said, 'You have to tell him to stop,'" Trivisonno said. "I said, 'Well, did the whistle blow?' Because he's a kid who plays to the whistle. That's different than what you get out of a kid today."
But, Jacoby still has a boyish innocence. He feels genuinely grateful for the opportunity and still can't believe this has happened to him.
So, when asked what it'll be like when he steps on the practice field for the first time, Jacoby was honest.
"Scary. Probably the first couple times, it'll be a little bit scary, but I'll get used to it," Jacoby said. "I'm there for a reason, I think. I think I'll fit in."
More specifically, Jacoby said, "It's going to be a little bit scary going against Chase Young for the first time. He's just insane."
Jacoby is correct. Young is "insane." But now, they're teammates, which means they have aligned goals. Jacoby said he wants to win Big Ten championships and a national championship. Then, of course, he hopes to make it to the NFL.
That would certainly get Jacoby trending on Twitter again.