MENTOR – Noah Potter grew up an Ohio State fan in a family full of fanatics.
He remembers exactly where he was sitting for what he now calls the "worst day of my life." Potter, relaxing in his living room on Dec. 7, 2013, already had his Christmas tree up. He wanted a two-week-early present: a chance for the Buckeyes to play for the national championship.
The next three-and-a-half hours, Potter watched with despair as Mark Dantonio and Michigan State pulled off a 34-24 upset in the Big Ten title game, handing Ohio State its first loss of the season. He still recalls the "awful" feeling he had when Braxton Miller couldn't convert a read option on 4th-and-2 midway through the fourth quarter.
"I was so sad because I knew we were going to make the national championship if we won it, but we lost," Potter told Eleven Warriors. "So, that was really sad."
Like many teenagers who grew up in northeast Ohio, Potter adores the in-state power that he grew up rooting for. He always wanted to suit up in scarlet and gray and run out of the corner tunnel at Ohio Stadium in front of more than 100,000 fans. On Oct. 28, 2017, Potter finally got the opportunity, receiving an offer from Ohio State.
Six months later he announced his commitment, posting a graphic of himself flexing while wearing a No. 97 jersey. Above him in the visual were Cameron Heyward, Joey Bosa and Nick Bosa. Both in the caption and in lettering on the graphic, Potter wrote that he was committed to Ohio State.
Officially committed to THE OHIO STATE UNIVERSITY #gobucks pic.twitter.com/o1dID0QUOB

— Noah Potter (@noah_potter10) April 17, 2018
Truly, though, he committed to Larry Johnson.
"I would go where Larry Johnson was," Potter said. "I'll just keep it as simple as that."
While at a camp following his freshman year in high school, at around the time when Mentor head coach Steve Trivisonno realized his then-15-year-old defensive end might have a chance to play football at the next level, Potter met Johnson. It didn't take long for Johnson to wow him.
The respected defensive line coach helped Potter with his stance and spent much of the camp working with him. At some point during that day, before his sophomore year of his high school had even begun, he made the decision that he wanted to play for him.
"Just the way he teaches," Potter said. "He's really specific in what he wants. He doesn't yell. He coaches you. He doesn't yell at you. The ingenuity that he's shown with his pass-rushing moves and side scissors, long arm, all the stuff like that, hand combat. It's just second to none compared to other coaches."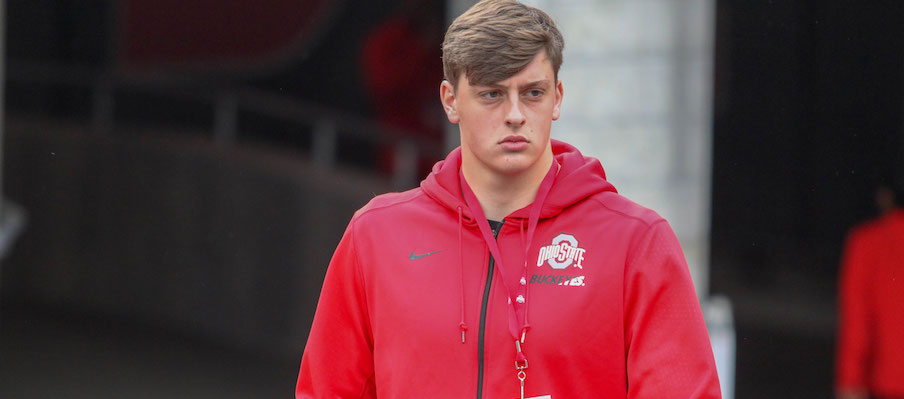 Potter spares no compliment of Johnson.
"The stuff I learned from him, he got me all my offers," Potter said. "Him and (Mentor) coach (Bob) Berwald, my two D-line coaches. They got me all my offers."
Johnson's work ethic and passion for his players stand out to Trivisonno, as well, who has dealt with him for years.
"Larry's probably as good a human being as I've ever had the pleasure of being around," Trivisonno said. "He's a great person. He cares, and he works hard. He owns his craft, and he does it well. He loves his players. It's what you want to play for."
Though Potter felt the allure of the in-state powerhouse and certainly knew early in his recruitment that he wanted to play for Johnson, he wanted to take his time to evaluate his options.
So, he took visits to Penn State, Alabama, Wisconsin and Florida. Other nationally prominent programs, such as Notre Dame, Georgia, Michigan and Oregon, offered as well. Every time he stepped foot on another college's campus, he kept the Ohio State defensive line coach in the back of his mind. Johnson set the bar high, and he wanted to see whether anyone could match it.
"Once I visited other schools, like Alabama, Wisconsin, I was all comparing their D-line coaches to coach Johnson," Potter said. "None of them came close. They were great schools. But I wasn't going to go to a great school. I was going to play for the best D-line coach in the nation."
Potter's claim is backed up by Johnson's seemingly endless list of accomplishments.
Johnson has coached 14 Big Ten defensive players of the year or linemen of the year, which is more than any school has had in the past 22 years. Seven defensive linemen who played under him in college became first-round draft picks, and Nick Bosa and Dre'Mont Jones threaten to increase that number by two with the 2019 NFL Draft just months away. Chase Young might move that number into double-digits in 2020.
"Not to be arrogant, but I envisioned being a highly recruited kid and being a Buckeye, playing for coach J. Being a D-end at Ohio State's just a dream come true. Just a blessing."– Noah Potter
Just last year, three defensive ends – Sam Hubbard, Tyquan Lewis and Jalyn Holmes – were selected in the first four rounds of the draft. Johnson, whom Ryan Day called a "legend" on Wednesday, played a key role in landing five-star defensive end Zach Harrison, who will play alongside Potter in the coming years.
Potter wants to be next. When he committed on April 16 following another visit to campus, he thought he was locked in as Johnson's latest protege. The long process had finally come to a satisfactory conclusion.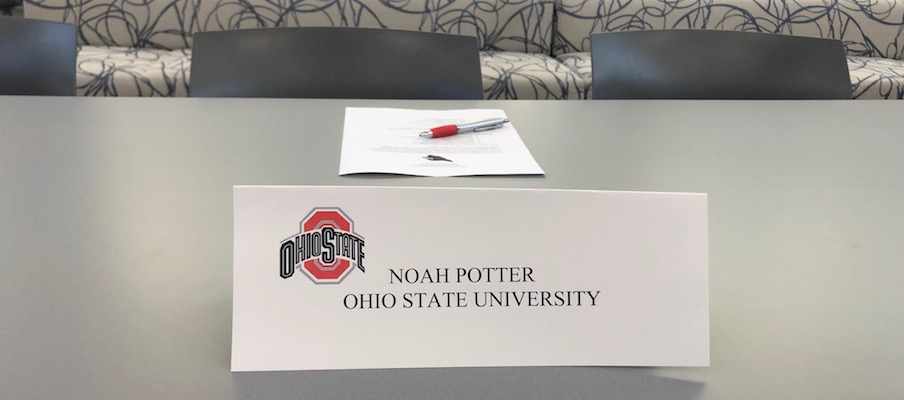 Everything changed with a Bleacher Report push notification.
Sitting in his first-period astronomy class at Mentor High School on the morning of Dec. 4, just two weeks before he planned to sign his National Letter of Intent. Potter looked down at his phone and saw the new of Urban Meyer's retirement. He had not been given a heads-up of the impending announcement.
Potter's teacher, a fellow Ohio State fan, asked him what happened. Potter, still reeling from the surprise, delivered her the news.
"She was like, 'What?'" Potter said. "It was kind of a shock for both of us."
Johnson and assistant athletic director of player personnel Mark Pantoni texted Potter shortly after he saw the news, but he was flustered.
"A bunch of schools were texting me that day saying, 'We want you still,'" Potter said. "It was definitely a state of panic because I didn't know what was going to happen with the team I committed to."
Ohio State coaches swiftly contacted him to schedule an in-home visit. They didn't want to waste any time. They wanted to meet the next day. The Potter family had questions, and Ryan Day and Johnson headed to Mentor to deliver answers.
Johnson arrived at Potter's house at 9 a.m. and stayed until noon. Day arrived for the visit after meeting with Ryan Jacoby, Potter's high-school teammate and a fellow Ohio State commit, and stayed for an hour.
Potter really only had one question: Would Johnson remain on Day's coaching staff?
"That was the big thing," Potter said. "As long as he was staying, I'm staying."
Though Day has not formally announced Johnson as his defensive line coach, Potter received enough confirmation of Johnson's retention to remain committed.
When he pledged to Ohio State in April, he stopped talking to other schools, and they quit contacting him. During Meyer's suspension in August, programs got back in touch with him, but he rebuffed the interest. Meyer's retirement and the announcement of Day becoming head coach again reignited schools, which began contacting Potter. That continued all the way until Tuesday night, when coaches from about 10 different programs were still trying to get him to flip.
But with Johnson still in the mix at Ohio State, Potter had no reason to look around.
"Not to be arrogant, but I envisioned being a highly recruited kid and being a Buckeye, playing for coach J," Potter said. "Being a D-end at Ohio State's just a dream come true. Just a blessing."
On Wednesday morning, the first day of the Early Recruitment Period, Potter sent in his signed National Letter of Intent to play football at Ohio State. The dream that he always knew would come true became a reality.
Two hours later, he joined Jacoby and Nick Samac, a Michigan State signee and his Mentor teammate, for a ceremonial signing.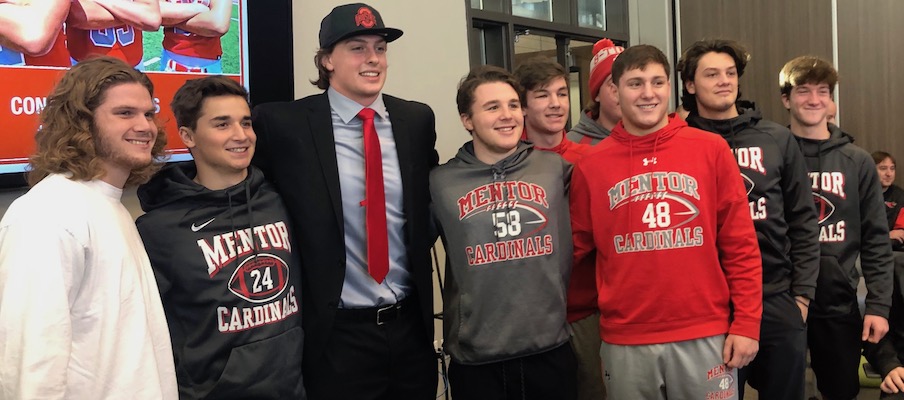 Potter dressed up in the same suit he wore to homecoming.
"I'm the only one who decided to wear a suit," he quipped to Jacoby and Samac when he walked in the door of the Paradigm Building at Mentor High School before the ceremony.
"I don't wear suits," Jacoby responded, embodying offensive linemen across the nation.
Potter wore a grey shirt under his suit jacket and put on a scarlet tie. He bought scarlet socks for the occasion, as well. Sitting side-by-side with Potter were his parents, Tim and Ronda. Before the ceremony began, Tim leaned over to give Samac's mother a congratulatory embrace. He jokingly said, "That'll be the last time we hug for four years."
With Samac playing offensive line and Potter being a defensive end, the Mentor teammates might match up in college at some point in the next few years.
"I was thinking to myself, I don't even want to sit next to a Michigan State commit any more," Potter said with a smile. "Now that we're not even Cardinals any more, it's going to be kind of hard. But I love the kid, and I'm excited for him."
The ceremony lasted just four minutes. There were no commitments. In fact, everyone had already sent in their papers. Everything was just for show.
After signing his name on the line, Potter picked up his black hat with the scarlet Ohio State logo and fit it on top of his head – which features Bosa-esque flowing hair – then smiled for the cameras.
For about the next 90 minutes, Potter, Jacoby and Samac snapped countless photos. First, Potter posed for pictures with his family, then with his extended family, which included his younger cousin who wore a Kirtland High School jacket that had colors suspiciously close to Michigan's maize and blue.
Potter gave him grief: "Really? Blue and yellow?"
Photos with friends came next. He interspersed interviews with local television stations and newspapers. Finally, he posed for pictures with Jacoby, Samac, their teammates and the Mentor coaching staff.
By the end of the morning, his facial muscles had given up.
"Noah, a real smile," Potter's mother, Ronda, exclaimed as Potter posed for his latest photo. "That's a fake smile."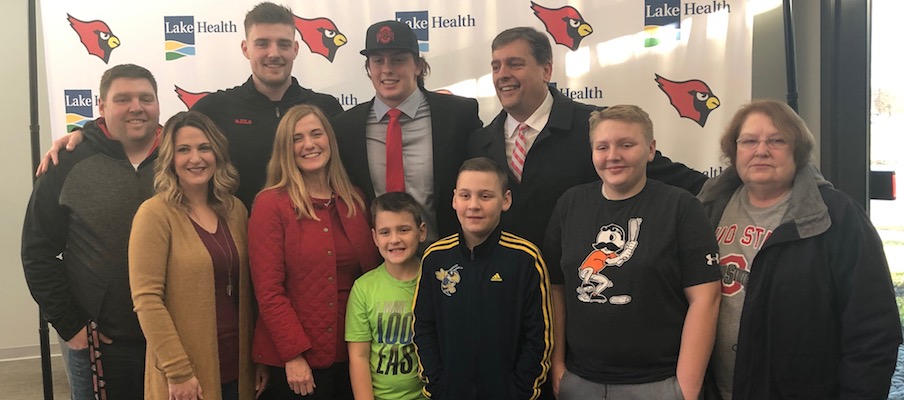 Potter has no reason not to smile.
He'll enroll early in January, along with Jacoby, and get a head start working with Johnson and the coaching staff this spring. Though Ohio State will return six defensive ends and add Harrison, Potter intends to work his way onto the field quickly.
"I think if you're good enough, (Johnson is) going to put you out there," Potter said. "I know that he's said in the past that he doesn't want freshmen making mistakes and having them within the whole career. But I know what I can do, and I'm excited for the future."
Just two weeks ago, Potter was no longer sure what his future held. What once was certain no longer seemed so sure.
But with an assurance from Johnson, for whom he has the utmost reverence, he finalized his plans, sent in the signed form and became a Buckeye. And it all happened due to the man Potter calls the best defensive line coach "in the history of college football."