Over the summer, Eleven Warriors is taking a look at the state of every position on the Ohio State football team.
The only question ever asked about Ohio State's tight ends is whether this is the year they finally become high-volume pass-catchers.
Spoiler alert: Probably not.
However, the Buckeyes are set up to have one of their deeper tight end units in recent years. They return a pair of returning starters – Rashod Berry and Luke Farrell – to lead the group. Jeremy Ruckert gives Kevin Wilson a tight end with the ability to split out and line up as a wide receiver. Jake Hausmann, an upperclassman, will provide depth. Plus, they'll integrate a true freshman – Cormontae Hamilton – into the mix.
The Personnel
Ohio State expects to have five scholarship tight ends in 2019, with one who will play his final season as a Buckeye.
Rashod Berry (RS-Sr.): After opening his career as a defensive end, Berry has found a home at tight end, where he's the only player with senior eligibility. He began the 2018 season taking the majority of tight ends snaps, though Farrell took more than him as the season progressed. The Lorain native has 15 catches for 178 yards and four touchdowns in his career. He caught nine passes for 78 yards last season. Berry is one of the most athletic players on the team at any position.
Luke Farrell (RS-Jr.): Now in his fourth season at Ohio State, Farrell has the edge to start at tight end in 2019 after corralling the starting duties during the 2018 season. He led the team's tight ends with 20 catches for 205 yards and a touchdown last season. The native of Perry grew in importance due to his ability to both block and slip out and catch passes. With tight ends expected to play a bigger role in the fall, Ohio State will attempt to take advantage of the 6-foot-6, 250-pounder's versatility at the position.
Jake Hausmann (RS-Jr.): Even after three seasons of sparse playing time, Hausmann remains blocked on the depth chart, sitting in fourth behind Farrell, Berry and Ruckert. He played on offense in just two games last season, being relegated to special teams in the others. The Cincinnati native entered the program with high expectations, but time is running out for him to make a substantial impact. Given the depth at the position, it could be hard for him to see the field.
Jeremy Ruckert (So.): Urban Meyer once called Ruckert possibly the best tight end prospect he has ever recruited, so expectations for him have always been unenviably high. Ruckert played just 129 offensive snaps as a true freshman, catching one pass for 13 yards. He entered Ohio State as the second-ranked tight end in his class, and he has the most pass-catching potential of any tight end on the roster. If he develops well, he could become an offensive force in the air at the position.
Cormontae Hamilton (Fr.): Built unlike the others at his position, Hamilton offers a slightly different option at tight end. He's shorter than the average tight end, standing 6-foot-2 and weighing 263 pounds. At a press conference in December, Ryan Day said Hamilton can do "a lot of things," including playing off the ball and lining up at fullback or H-back. Hamilton might redshirt as a freshman, but he'll give the Buckeyes an alternative to the other tight ends on its roster. The Memphis, Tennessee, native was the No. 585 overall prospect and the 25th-ranked tight end in his class.
Ohio State does not currently have any tight end commits in future classes.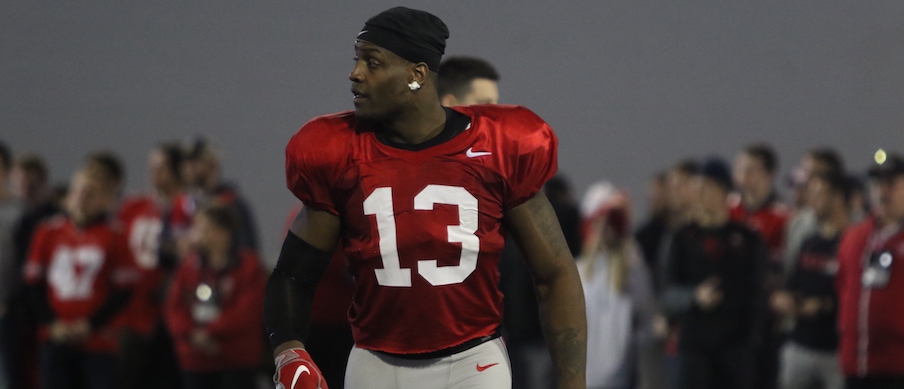 Outlook In 2019
Wilson plans to play multiple-tight end sets more often in 2019 than in prior years. Why? There's a simple explanation.
"The second tight end wasn't as good as the second receiver or the third receiver or the fourth receiver," he said this spring. "So what are you gonna do? You're gonna play your best 11, or your best 12, or 13 or 14 or 15 people."
With Farrell, Berry and Ruckert ready for major roles, Ohio State plans to make tight end a more important position on the offense than it has been in the recent past – or, at least that's what the coaches harped on this spring.
State of the Position
Sure, the Buckeyes will have to actually show they will rely more on their tight ends rather than just talk about it. But given the talent in the room, it would make sense for them to increase their tight end usage.
Farrell and Berry have experience playing together in dual-tight end sets, and they both have succeeded as the only tight ends on the field at one time.
Farrell both looks and plays like the classic, prototypical tight end. He's 6-foot-6, 250 pounds and doesn't lack athleticism. Is he a game-breaking receiver? No. But he has proven to be a serviceable downfield target and a reliable blocker. He has a well-rounded game.
Berry will play a sizable role at tight end alongside Farrell. Given his uncommon athleticism at 6-foot-4, 255 pounds, he can impact games both in the receiving game and as a blocker. He has to cut down on his penalties, which held both him and the team back at times last season.
The presence of Ruckert will allow Wilson to get creative with how he uses his tight ends. Both he and Day have discussed using him as a wide receiver, splitting him out to get him in advantageous matchups against either smaller defensive backs or less athletic linebackers.
Hausmann gives the position depth. He has been around the program and understands Wilson's expectations.
Hamilton could redshirt as a true freshman. He's enrolling this summer, and there's enough depth and experience in front of him to bring him along slowly.
Strengths of the position
If Farrell or Berry weren't on this roster, Ohio State would still be in a comfortable position. But since both veterans return for the 2019 season, the position group is one of the most experienced on the team.
The presence of the upperclassmen allows time for the younger tight ends to develop and offers Wilson the flexibility he desires when dialing up game plans.
Ruckert, who spent most of last season waiting in the wings, is overqualified as a third-string tight end, so the coaches will figure out how to ease him into the offense. He's the long-term answer at the position, but isn't forced into early playing time. Instead, the coaches are able to determine when and how they deploy him.
There's a lot for Ohio State to like about how this position stacks up, both in terms of the quality of personnel and the versatility of the options for the next couple seasons.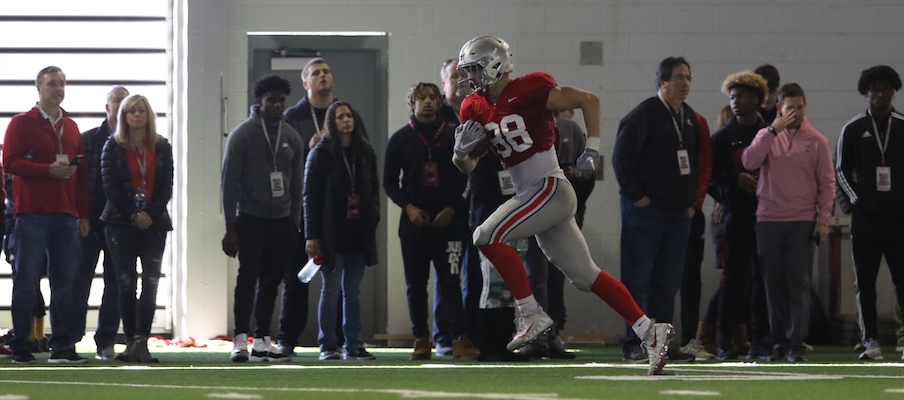 Weaknesses of the position
In order to find weaknesses at tight end, we'll have to nitpick. It's not a perfect position by any stretch, but it's a solid group with few flaws both in the short-term and long-term.
Though Ohio State has three options at tight end who could serve as starters, it doesn't have a true go-to receiver at the position. There's no stud on the roster. Many people expect Ruckert to develop into that type of player. But he's not there yet. 
For the next few years, Ohio State will rely on Ruckert. But behind him, the coaches need to find his successor. It could be Hamilton, or it could be someone in either the 2020 or 2021 recruiting cycles. But the answer isn't obvious. This isn't truly a weakness, though. Instead, it's just something to watch for the foreseeable future.
Long-Term Outlook
With the presence of Berry, Farrell and Ruckert on the roster, Ohio State's near future plans at the position appear set.
The trio will trade snaps in the 2019 season. Then, provided Farrell doesn't leave early for the NFL, he and Ruckert will man the position in 2020. By 2021, Ruckert should have total control of the position.
2019 Projected Depth Chart
Luke Farrell
Rashod Berry
Jeremy Ruckert
2020 Projected Depth Chart
Luke Farrell
Jeremy Ruckert
Jake Hausmann
2021 Projected Depth Chart
Jeremy Ruckert
Cormontae Hamilton
Unknown 2020 recruit
As long as Ruckert develops into the tight end so many people expect him to become, Ohio State has a bright future at the position. He should continually increase his touches each season. Then as a senior in 2021, he'll have the position to himself.
The Buckeyes are targeting the addition of at least one tight end in its 2020 recruiting class. The options include a variety of in-state prospects, including Luke Lachey, Joe Royer, Clay Caudill and Sam Daugstrup.