Over the next couple months, Eleven Warriors will take a look at the state of every position on the Ohio State football team.
First up: Quarterback.
A year ago, Ohio State's quarterback room featured Dwayne Haskins, Joe Burrow and Tate Martell. But those three now play for the Washington Redskins, LSU Tigers and Miami Hurricanes, respectively.
Largely with transfers, Ryan Day reconfigured the position group, which now includes three scholarship quarterbacks, all of whom transferred into the program.
Let's dig in.
The Personnel
Ohio State's quarterbacks have played a combined four snaps for the Buckeyes, and all came from Chugunov, the projected third-string quarterback.
Justin Fields (So.): The presumed starter. Fields transferred from Georgia in January and had his waiver request approved by the NCAA, allowing him to play immediately without having to sit out a season. As a true freshman last year, he completed 27-of-39 passes for 328 yards and four touchdowns. He also rushed for 266 yards on 42 carries. Out of Harrison High School in Kennesaw, Georgia, Fields was the No. 2 overall recruit in the class of 2018. He will become the highest rated recruit ever to play for the Buckeyes, per 247Sports. 
Gunnar Hoak (RS-Jr.): The likely backup. Hoak spent three years as a backup at Kentucky before opting to transfer to Ohio State last weekend. He will be immediately eligible to play. Last season, he went 13-for-26 for 167 yards and two touchdowns. Hoak developed into a three-star prospect at Dublin Coffman. His dad (Frank Hoak), uncle (Fred Pagac) and cousin (Fred Pagac Jr.) played for the Buckeyes.
Chris Chugunov (RS-Sr.): The fifth-year reserve. Ohio State added Chugunov as a graduate transfer from West Virginia last offseason, and he served as the third-string quarterback last year, playing just four snaps the entire season. Chugunov played in eight games in three years for the Mountaineers, starting two. He went 45-for-95 for 551 yards with three touchdowns and three interceptions at West Virginia. He's a native of Skillman, New Jersey.
Danny Vanatsky (So.): The in-state walk-on. Vanatsky attended Cincinnati Hills Christian Academy. His dad, Jim, played for Cincinnati.
JP Andrade (Fr.): The preferred walk-on. Andrade committed to Ohio State on Friday, improving the position group's lacking depth. The 6-foot-3, 205-pound three-star signal-caller is the No. 1,729 overall prospect in his class.
Ohio State has two commits in future classes.
Jack Miller (2020): A four-star prospect from Scottsdale, Arizona, Miller committed to Ohio State before Urban Meyer retired. Despite his father having a close relationship with Meyer, Miller has remained a strong commit. The 6-foot-4, 210-pound quarterback is the No. 70 overall prospect and the fourth-ranked pocket passer in his class. He attends Chaparral High School and is the No. 5 prospect in Arizona. He holds offers from Alabama, Florida State, Arizona, Texas A&M, Michigan and others.
Kyle McCord (2021): Just hours after publication, McCord committed to Ohio State. He's a four-star prospect from Philadelphia, where he attends St. Joseph's. McCord is the No. 113 overall prospect and the eighth-ranked pro-style quarterback in his class.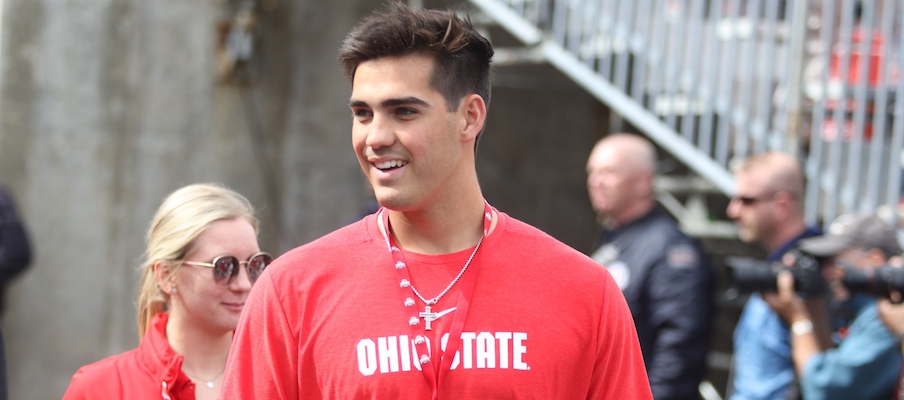 Outlook In 2019
A source indicated to Eleven Warriors' Dan Hope that Hoak will have a chance to compete with Fields to start this fall, but him winning the job would be a major surprise.
Unless Fields falters and Hoak has a magnificent preseason, Fields will open the season on Aug. 31 as the starting quarterback.
As a more highly touted prospect than anyone to play quarterback for the Buckeyes in the modern recruiting era, Fields has lofty expectations with many people expecting him to showcase a special skill set early in his career. K.J. Hill said Fields delivers faster passes than Haskins, and he possesses an intriguing strength-speed combination as a runner.
However, he's also barely a year removed from high school and learning a new offense from a fresh group of coaches. After the spring game, Fields said he still needs time to master the playbook, which he'll have a chance to do this summer. 
Even if he needs extended time to fully acclimate himself within Day's offense, Fields will be able to dice defenses up on the ground immediately. He averaged 6.3 yards per carry with Georgia as a freshman and flashed his rushing ability a couple times in the spring game. The quarterback run game largely disappeared from Ohio State's offense last year with Haskins as the helm, but it will reemerge with Fields looking to take advantage of the aspect of his game that comes without an overly steep learning curve.
Fields' readiness as a passer, though, will truly determine his ceiling as a first-year starter in the fall. In the spring game, he went 4-for-13 for 131 yards and a touchdown with most of his production coming on a 98-yard toss to Binjimen Victor. Day and Mike Yurcich will work with him on efficiency and ball placement leading up to the season.
The addition of Hoak, a graduate transfer, eases the concern that existed behind Fields. Before his addition, the backup quarterback situation was nearly nonexistent, with Chugunov being the only other quarterback on the roster. Hoak is in the same position as Fields, learning the offense this summer. But he provides a better safety net than the Buckeyes previously had. Chugunov is the emergency third-string quarterback. 
Strengths of the position
With Fields currently atop the depth chart and Miller committed, Ohio State has a pair of quality quarterbacks locked in for the foreseeable future.
While there's some uncertainty about how good Fields can be immediately as a first-year starter in a new offense, no one doubts his long-term potential. He beat Trevor Lawrence and a host of other highly regarded quarterbacks to win the Elite 11 in 2018 and developed into the second-best player in his recruiting class. Ohio State was rightfully thrilled to land him as a transfer.
Knowing Miller will join the quarterback room in 2020 eases any concern about a transition plan once Fields leaves. Presumably Fields will head to the NFL after his junior season in 2021, and Miller will be entering his sophomore season, setting up a transition plan as seamless as one could look two years ahead.
Hoak should be a serviceable backup for the next two years, too. Given his connection to the program, the Buckeyes shouldn't worry much about his status on the roster.
Another strength: the coaching staff, as currently constructed, is advantageous to quarterbacks. Day's history with quarterbacks played a role in Fields choosing Ohio State after leaving Georgia, and though he'll have less time than he did the past two years to spend with the position, he'll still have a major impact on the room now led by Yurcich, the passing game coordinator and quarterbacks coach. Yurcich is aided by Corey Dennis, a senior quality control coach whom Haskins had kind words for last season.
Weaknesses of the position
Fields' potential and Day's history of quarterbacks should set Ohio State up well entering the 2019 season, but there are a ton of moving parts, which could prove detrimental to the offense.
Day is a first-time head coach. Fields will be a first-time starter and entered the program in January. Yurcich was hired in January. Hoak transferred last week. The Buckeyes need everything to coalesce, and everyone to fit snuggly into their roles in a small time frame. Not exactly a comfortable scenario.
Even though Ohio State added Hoak, its depth is still lackluster. The Kentucky transfer has four months to learn the playbook and prepare for action. And behind him, uncertainty remains. Chugunov has experience, but he was brought to the program to serve in a reserve role.
Day put a band-aid on the depth situation for the upcoming season by adding Hoak and Andrade, but given the ever-increasing propensity of quarterback transfers, Ohio State has learned to never feel too safe with its quarterback depth. Things change, and they change quickly.
Long-Term Outlook
Quarterback might be the most difficult position in college football to project more than a year or two down the line, and given the amount of transfers in the past year, no one who follows the Buckeyes needs a reminder.
Let's take a shot at a look ahead, anyway.
2019 Projected Depth Chart
Justin Fields
Gunnar Hoak
Chris Chugunov
2020 Projected Depth Chart
Justin Fields
Gunnar Hoak
Jack Miller
2021 Projected Depth Chart
Jack Miller
Kyle McCord
JP Andrade/Danny Vanatsky
It might seem illogical, but Ohio State fans should hope Fields isn't still in the program for the 2021 season. If all goes according to both his and the program's plan, he'll develop into a top-flight quarterback and start the next two seasons before following Haskins into the NFL, hoping to become a first-round pick. If Fields is still in Columbus in 2021, that scenario didn't happen.
The succession plan is clear: Fields in 2019 and 2020, then Miller in 2021 and beyond with McCord also in the mix.
Ohio State has a lot riding on Fields and Miller in the next few years, but it could do a lot worse than attaching itself to those two signal-callers. And as for any long-term quarterback strategy, it's subject to change.
Behind Fields, Hoak should be a serviceable backup the next two seasons. He's the clear No. 2 option this season. Then Miller will be added to the mix in 2020 with Chugunov running out of eligibility, ensuring the program still has three scholarship quarterbacks.
By 2021, Ohio State will likely want at least one more quarterback on its roster. Given the current commits, the Buckeyes expect to have Miller and McCord on the roster, but they're the only two scholarship quarterbacks. They could target a graduate transfer or a second quarterback in either its 2020 or 2021 classes if they want to avoid a current walk-on serving as the third-string quarterback.
Editor's note: This story was updated at 12:45 p.m. to reflect the commitment of Kyle McCord.