Over the summer, Eleven Warriors is taking a look at the state of every position on the Ohio State football team.
The past two years, J.K. Dobbins and Mike Weber have split carries as the two featured backs in Ohio State's offense. But Weber has joined Ezekiel Elliott on the Dallas Cowboys, allowing Dobbins to take the brunt of carries and opening a spot at the No. 2 spot on the running back depth chart.
Demario McCall, Master Teague, Marcus Crowley and Steele Chambers will join Dobbins in the backfield, and each will look to prove to Tony Alford that they deserve carries along with the returning starter.
The Personnel
Ohio State expects to have five scholarship running backs this fall, though it went through spring practice with three healthy with McCall sidelined by a calf injury and Chambers finishing high school.
J.K. Dobbins (Jr.): The bellcow. Dobbins started the first game of his Ohio State career, rushing for 189 yards in a win against Indiana, and has remained an important piece of the offense since then. While splitting carries with Mike Weber each of the past two seasons, he rushed for 1,403 yards as a freshman and 1,053 yards as a sophomore. The Texas native's yards per carry dropped from 7.2 to 4.6 between 2017 and 2018. He's projected to be a high-round pick in the 2020 NFL draft.
Demario McCall (RS-Jr.): The enigma. McCall has bounced between running back and H-back for the duration of his career, while also battling injuries. He played H-back last season before moving back to running back, where he is now full-time. He's expected to compete for the backup running back spot, but was unexpectedly limited this spring, not practicing for the majority of it. In his career, McCall has 71 rushes for 431 yards and four touchdowns and 15 catches for 245 yards and two touchdowns. He had eight carries and nine receptions last season.
Master Teague (RS-Fr.): The second-year back. Teague played in three of last season's first four games as a true freshman but sat out the rest, allowing him to redshirt. He had 17 rushes for 106 yards and a touchdown. The former four-star recruit from Tennessee spent the majority of spring practice with the second-team offense. Teague, a physical runner, had two touchdowns in the spring game.
Marcus Crowley (Fr.): The Gatorade State Player of the Year. Crowley enrolled early this spring, getting a jump on preparing for his freshman season. A late-rising recruit, Crowley was the No. 371 overall prospect in his class and became an Ohio State target following the decommitment of Sampson James. He starred in Jacksonville, Florida, at Trinity Christian Academy, the school that also produced cornerbacks Shaun Wade and Tyreke Johnson. As a senior, he averaged more than 10 yards per carry and rushed for more than 2,000 yards en route to becoming Florida's Gatorade Player of the Year.
Steele Chambers (Fr.): The summer enrollee. Chambers is the only scholarship running back not yet enrolled at Ohio State. He has the potential to play multiple positions, including linebacker, but will begin his collegiate career in the backfield. The Roswell, Georgia native was the No. 231 overall prospect and the 11th-ranked athlete in his class.
Ohio State does not currently have any commits in future classes.
Outlook In 2019
Unlike the past two seasons, there's no debate about the starter or who will get the majority of carries. This is Dobbins' backfield.
When they were in the backfield together, Dobbins and Weber always rolled with the company line. They said they didn't mind splitting carries, allowing Alford to dictate how many touches they get. However, it wasn't difficult to discern that both would have enjoyed serving as workhorse backs.
Dobbins had a chance last year to be the clear No. 1 back when Weber missed Ohio State's game against Maryland due to injury, and he thrived, rushing 37 times for 203 yards. Given there's no clear backup with Weber gone, he should expect an uptick in carries, though Justin Fields will eat into some rushing opportunities since he's more of a runner than Dwayne Haskins.
In order for Ohio State to maximize its offense, it needs Dobbins to regain his freshman form, when he averaged more than seven yards per carry. He has been bandied about as a possible first-round pick in 2020, but that will only happen if he's able to find his 2017 consistency.
Behind Dobbins, the Buckeyes need one or multiple backs step up. Even if Dobbins takes the majority of carries, it's in the team's best interest to have others able to spell him when he's tired. 
McCall offers Alford a smaller option who could be used as some sort of a third-down back. However, Ohio State needs McCall to finally get healthy before it can entrust him with such a role. Teague took most of the second-team reps in the spring and could have an edge to become the backup. Crowley and Chambers might need time to develop, though Dobbins and others have shown running backs have the ability to make immediate impacts as freshmen.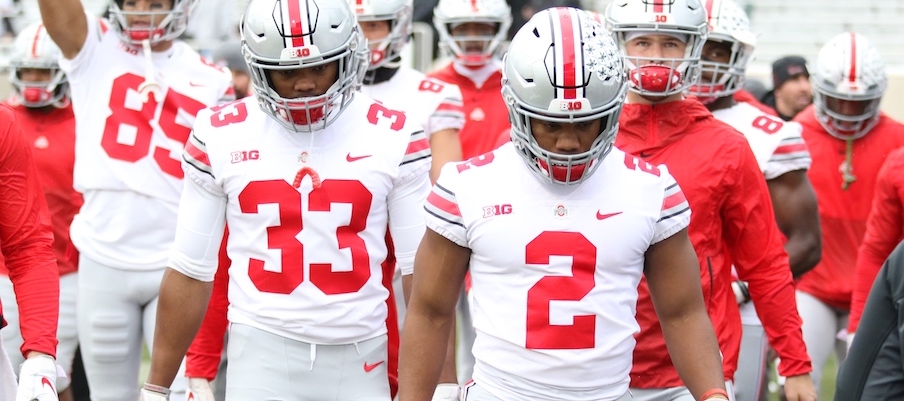 Strengths of the position
Dobbins offers Ohio State a level of comfort. Even though Alford and the coaches know they need to get him back to his 2017 level of play, there's no debate. He's the starter, and he'll be getting most of the handoffs.
Not having Weber allows the Buckeyes to continually pound the ball with Dobbins, allowing him to get into a rhythm. The coaches hope that leads to him returning to his freshman productivity. 
In past years, Alford has done well with lead backs who don't split carries, with Elliott being the most successful example in his Ohio State tenure. 
The Buckeyes also have loads of potential behind Dobbins. McCall has flashed as a possible game-breaker for years. Teague didn't play much as a true freshman, but he's a muscle-packed, inside-the-box back who also has speed. Crowley and Chambers were both four-star prospects, too. Though no one has become the clear backup, Ohio State doesn't lack options.
Weaknesses of the position
Dobbins will return to his freshman form now that he doesn't have to split carries any more, right? Right? That's the expectation, but it's worth being reasonably cautious until it actually happens in the fall. Some of his struggles could be a product of the offense. But he had one games in 2017 in which he averaged fewer than five yards per carry, and he had seven games in 2018 in which he averaged fewer than four yards per carry.
With Ohio State undergoing coaching and quarterback changes, Dobbins will be one of the most important players on the team, and it's a necessity to ensure he's performing at his best.
There's also a complete and total unknown behind Dobbins, both in 2019 and beyond.
Ohio State hasn't been able to figure out how to use McCall, and McCall hasn't stayed healthy. If his light switches on by the fall, Alford could use him as a complement to Dobbins, but he needs to show he can be trusted in preseason practices. Teague had just 17 carries as a freshman, and Crowley and Chambers have never played in a college football game. Might one of those three be ready to step up as an underclassman this fall? Maybe. But that's far from a certainty.
Also, since Dobbins is projected as an early pick in next spring's NFL draft, Ohio State has to consider who'll replace him as the lead back, and there's no obvious answer right now. It could be one or a combination of McCall, Teague, Crowley and Chambers, but none of them have made the choice clear. Alford and the coaches are targeting a couple five-star backs in the 2020 recruiting cycle, but the Buckeyes don't have any committed yet. Ohio State needs to figure out a succession plan for the post-Dobbins era in the coming months.
Long-Term Outlook
This year is set.
Next year and beyond? Since Dobbins will likely leave for the NFL after the 2019 season, who knows. We can only guess, but we'll do our best.
Of course, there's the caveat that if the Buckeyes land a five-star prospect in 2020, they'd absolutely be in one of the two top spots on the 2020 and 2021 depth chart projections.
2019 Projected Depth Chart
J.K. Dobbins
Demario McCall
Master Teague
2020 Projected Depth Chart
Master Teague
Demario McCall
Marcus Crowley
2021 Projected Depth Chart
Master Teague
Marcus Crowley
Steele Chambers
Two major factors will dictate the future at running back: which player – or players – steps up this season and becomes the backup to Dobbins, and who does Ohio State land in its 2020 recruiting class.
If McCall, Teague, Crowley or Chambers burst onto the scene in the fall and become the clear-cut backup, it could give them an edge as a possible starter in 2020 – and 2021, if it's not McCall.
A lot, though, will rest on which running back the Buckeyes land in 2020. They're targeting a pair of five-star prospects – Kendall Milton and Bijan Robinson – among others. If Ohio State picks up a commitment from either Milton or Robinson, they'd become possible starters as true freshmen in 2020.