Over the summer, Eleven Warriors is taking a look at the state of every position on the Ohio State football team.
In his first season as an assistant coach, Brian Hartline enjoyed a receiver room captained by Parris Campbell, Terry McLaurin and Johnnie Dixon. A coach's dream. A trio of leaders who have endured nearly a half decade of experience, showed notable improvement each year and developed into impact players. 
They're gone now, but his position group is far from depleted.
Once again, Ohio State will be led by a strong group of seniors whom the underclassmen will push. Even though Ohio State is less than a year removed from the Zach Smith saga, the position is set up to succeed both short-term and long-term.
The Personnel
Ohio State has 10 scholarship wide receivers on its roster for 2019, including four seniors.
K.J. Hill (RS-Sr.): Back for his fifth year, Hill returns as the leading receiver and a likely candidate to break the program record for most career receptions. He needs just 48 catches this fall to become the record holder. Hill will offer Justin Fields a reliable receiving option who has arguably the best hands on the team and a knack for getting open underneath. As a redshirt junior last season, Hill had 67 catches for 856 yards and six touchdowns, all of which were career-highs. He'll start at H-back this season.
C.J. Saunders (RS-Sr.): The former walk-on was awarded a scholarship last spring after earning a role in the offense. Saunders, an H-back, had 17 catches for 221 yards and a touchdown in 2017, then had 10 catches for 73 yards in 2018. Though Jaelen Gill will push him for playing time, he has a chance to be on the two-deep depth chart at H-back behind Hill. The native Ohioan attended Dublin Coffman.
Austin Mack (Sr.): Back for a final year after his junior season was cut short due to a foot injury, Mack hopes to finally fulfill his potential that has been bandied about for years. The Fort Wayne, Indiana, native caught 26 passes for 331 yards and a touchdown before his injury in Ohio State's loss to Purdue. Mack has the ability to play both the X receiver and Z receiver positions.
Binjimen Victor (Sr.): In his first three seasons at Ohio State, Victor has made maybe more highlight catches than any other player on the team. No one will forget his touchdown against Penn State last season any time soon. At 6-foot-4 and 205 pounds, he can catch seemingly any pass. Consistency, though, has been his enemy. Victor had 21 catches for 354 yards and four touchdowns last season. 
Jaylen Harris (RS-So.): In his first two seasons at Ohio State, Harris was stuck behind experienced veterans at receiver. With Mack and Victor still on the roster, there's still not a wide open spot for him. But he has his best shot to earn playing time yet. In two years, Harris has played in 10 games and caught four passes for 49 yards. At 6-foot-5 and 215 pounds, he has a similar form to Victor, but he hasn't had a shot to show it off as much. Harris is a Cleveland Heights native.
Ellijah Gardiner (RS-So.): A late add in Ohio State's 2017 recruiting class, Gardiner hasn't impacted Ohio State much yet in his collegiate career. He redshirted as a true freshman then played just seven offensive snaps last season. He didn't play, even on special teams, in five of the first eight games. Gardiner remains lower on the depth chart and likely won't have much of a role at receiver this fall. The Kemp, Texas, native will have to first make an impact on special teams.
Chris Olave (So.): Few knew Olave's name before the end of his freshman season, and now he's one of the most hyped wideouts on the team. The San Marcos, California, receiver had just five catches entering the final regular season game. Then, he blocked a punt against Michigan, caught two touchdowns in the win over the Wolverines and had a five-catch, 79-yard performance versus Northwestern. The 6-foot-1, 185-pound breakout player will step into a larger role as a sophomore on the outside.
Jaelen Gill (RS-Fr.): Despite entering college as a near-five-star recruit, Gill played in just two games and redshirted as a freshman. He might have been able to play, but the depth at the position allowed the lifelong running back to continue his transition to H-back. As Ryan Day makes the offense his own, the H-back position could change slightly, but Ohio State will ensure it finds a way to best use Gill's multi-dimensional skillset. He attended Westerville South.
Kamryn Babb (RS-Fr.): Injuries just keep finding Babb. He suffered another knee injury this spring that could hold him out for his second season in a row. He missed his freshman season with a torn ACL. When healthy, Ohio State has high expectations for Babb. Despite being hindered by injuries in high school, too, he became the No. 73 overall prospect and the 13th-ranked wide receiver in his class. Babb is a St. Louis native. 
Garrett Wilson (Fr.): As the second-ranked wideout prospect in his class, Wilson was one of three five-star prospects to become Buckeyes. Much is expected of him in his career, with immediate contributions anticipated. The Austin, Texas, native impressed coaches during spring practices as an early enrollee. Ryan Day mentioned him as a young player who will have a role in 2019. Wilson could even push for a starting spot. He made the best catch of the spring game, snagging a touchdown over Sevyn Banks in the corner of the end zone. 
Jameson Williams (Fr.): Though Wilson got a head start as an early enrollee, Williams isn't arriving on campus until this summer. The St. Louis native was the No. 82 overall prospect and the 13th-ranked wideout in his class. He'll add defense-breaking speed to the position group.
Ohio State has a pair of commits in future classes.
Gee Scott Jr. (2020): In a year, Scott will make the cross-country trek from Washington to Ohio and become a Buckeye. He committed to Ohio State on Christmas, giving Hartline his second commit in the class of 2020. Scott is the No. 74 overall prospect and 14th-best wideout in his class. He's an impressive physical specimen at 6-foot-3 and 211 pounds despite having a year of high school remaining.
Jaxon Smith-Njigba (2020): Ohio State has had success with Texas natives, and Smith-Njigba hopes he can be next in line. He's the No. 156 overall prospect and the 30th-ranked wideout in his class. He's 6-foot-1 and 188 pounds and is viewed as a polished prospect.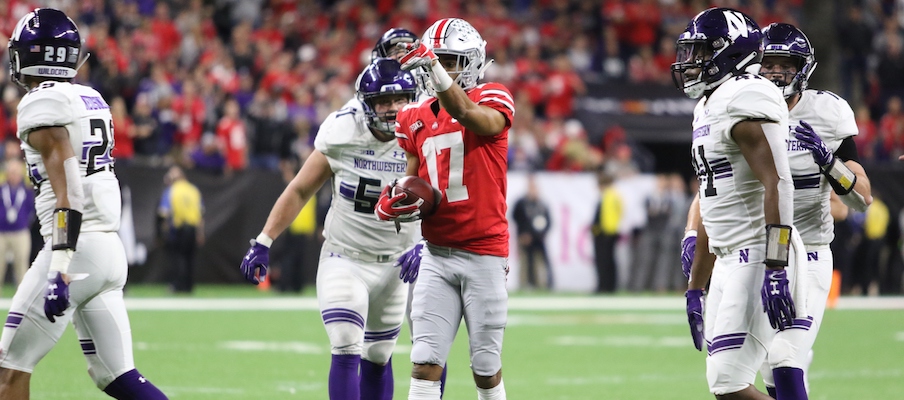 Outlook in 2019
J.T. Barrett leaned on Hill in 2017, Dwayne Haskins heavily relied on him in 2018 and Fields will make him one of his top targets in 2019.
No matter who he has had at quarterback in the past couple years, Hill has produced, and the Buckeyes need him to maintain that consistency this fall. The sure-handed wideout is the surest thing at the position. Had he opted to enter the 2019 NFL draft, Ohio State would have had a sizable hole at H-back, but he offers stability at the position. 
Behind Hill, Hartline has an ascending talent (Gill) and a safe option (Saunders). In his second season, Gill should be ready for a spot on the two-deep depth chart. But if not, Saunders will be there.
State of the Position
On the outside, Mack and Victor need to produce better than they have in their first three seasons, or they risk getting passed on the depth chart.
Mack seemed ready to play from the moment he stepped on campus but has not yet broken out in the way anyone imagined. Now healthy, he has a chance to lock down a starting spot and become one of Fields' top options on the outside.
Victor has shown glimpses of his talent, but can he make those plays on a regular basis? There's a lot of evidence pointing to him being just a big-play threat, but he has one more season to show the missing consistency.
Olave and Wilson each have chances to play important roles as underclassmen.
Late last season, Olave came on, and though he was dinged up late this spring, he'll have a spot in the rotation. Undoubtedly, he'll be a popular preseason pick to become a breakout player.
Wilson hasn't played a collegiate snap, but many have already assumed he's the next great Ohio State receiver. He surely has special talent, so how much will he play in year one?
The next couple months will be spent building a rapport with Fields, who arrived on campus in January. He throws a different – faster, though possibly more difficult to catch – ball than Haskins, so receivers must adjust. 
Strengths of the position
Seniors give coaches comfort. They've spent years in the program, have seen both the highs and lows and have one more season to show out.
Ohio State's quartet of seniors runs the gamut: a future record-holder, an enigma, someone coming off an injury and a former walk-on. As a group, the four – led by Hill – give Hartline a strong core of receivers charged with replacing a trio of arguably the best leaders on the team.
Both Olave and Wilson will be enviable building blocks for the future.
Olave came out of nowhere for a late-season surge as a freshman, placing him in the spotlight. Now that he's far from unknown, he'll be counted on to play a key role as an outside wideout for the next two to three years.
Wilson's expectations will be even higher, though. He has exceptional ball skills and polish for someone who should still be wrapping up his senior year of high school. Throw Gill into that group, and Ohio State has a promising group of youngsters.
Hartline hasn't even spent a full year as a full-time assistant coach, but he has impressed, especially on the recruiting trail. Locking down Scott and Smith-Njigba proved important, especially since the Buckeyes will take quite a few wideouts in their 2020 class, and he has the team positioned well for five-star prospect Julian Fleming.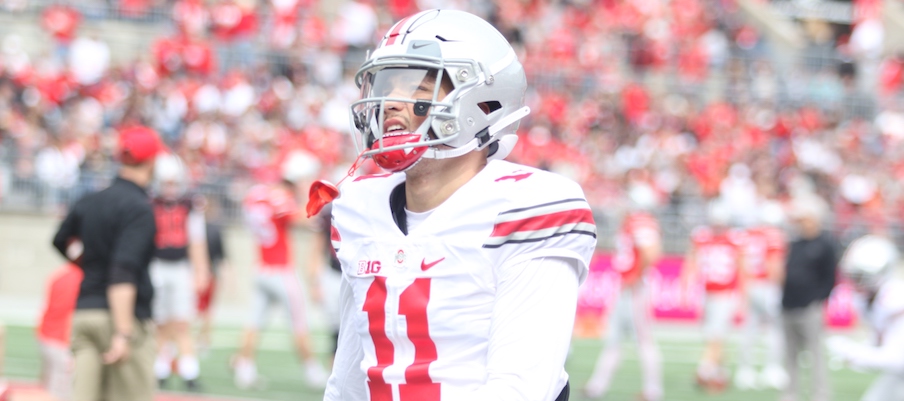 Weaknesses of the position
Hill won't surprise anyone. Everyone knows what to expect. But beyond him, who else is a sure thing?
Mack suffered a season-ending injury in the fall. Victor hasn't shown consistency. Much is expected of Olave, but he has just 12 career catches. Harris and Gardiner have played sparsely. Gill barely played as a freshman. Wilson and Williams haven't played.
Saunders might actually be the second-surest wideout on the roster. There's a lot of potential at receiver, but with that naturally comes uncertainty.
Beyond 2019, Ohio State's inexperience becomes even more pronounced. Olave has the most career receptions among wideouts expected to be on the roster in 2020. Players without much experience must step up.
Long-Term Outlook
The 2019 depth chart has a chance to change, but the personnel likely won't. The only difference would be if Saunders backed up Hill at H-back instead of Gill. Otherwise, the four outside receivers listed should be the four who play the most.
Beyond this fall? That's where things get tough.
Ohio State already has two wideouts in its 2020 class committed, and it'll likely take a couple more. If the Buckeyes land Fleming or someone with his skill level, they'd absolutely crack the two-deep. But for now, we're only projecting players on the roster or those currently committed.
2019 Projected Depth Chart
X-Receiver
Austin Mack
Binjimen Victor
Z-Receiver
Chris Olave
Garrett Wilson
H-Back
K.J. Hill
Jaelen Gill
2020 Projected Depth Chart
X-Receiver
Garrett Wilson
Jaylen Harris
Z-Receiver
Chris Olave
Kamryn Babb
H-Back
Jaelen Gill
Jameson Williams
2021 Projected Depth Chart
X-Receiver
Garrett Wilson
Jaylen Harris
Z-Receiver
Chris Olave
Jaxon Smith-Njigba
H-Back
Jaelen Gill
Jameson Williams
Olave, Wilson and Gill have a chance to develop into an impactful trio in the next couple years. Provided they maintain their ascendance, they'll have major roles in 2020.
With so many incoming receivers in the 2020 recruiting class and outgoing wideouts after the 2019 season, these projected depth charts will change significantly.