C.J. Saunders has one more shot to earn a spot in Ohio State's wide receiver rotation, and it could be his best opportunity yet.
While Saunders' coaches and teammates have already expressed for the past couple years that Saunders was pushing for a spot in the rotation, his path to the field as a slot receiver was blocked by Parris Campbell and K.J. Hill, who played the vast majority of reps at that position for the Buckeyes in both 2017 and 2018.
Now that Campbell is preparing to play in the NFL, however, the door is open for Saunders to potentially earn a spot on the two-deep depth chart behind Hill, which could lead to regular playing time on an offense that has employed a six-man receiver rotation in recent seasons.
That's no guarantee, as there are a multitude of talented receivers competing to earn their way into the rotation this spring. Saunders' most direct competition for playing time comes from Jaelen Gill, a highly touted recruit from the class of 2018 who has the talent to play a significantly increased role this season even though he redshirted last season.
Saunders has earned his chance to get a legitimate shot at winning a place in the receiver rotation, though, through three years of hard work since he originally joined the team as a walk-on cornerback in 2016.
Ever since he moved to wide receiver in 2017, Saunders has pushed for playing time. He played 182 snaps that season, mostly in lopsided games, highlighted by a six-catch, 102-yard performance against UNLV.
Saunders earned a scholarship from Ohio State last spring, and saw meaningful playing time in the offense for the first half of the season, playing 99 snaps – mostly as a secondary slot receiver in four-receiver sets – in the Buckeyes' first eight games. He didn't play any offensive snaps in the Buckeyes' final six games, as they switched to playing Campbell and Hill simultaneously in four-receiver sets, but he played in all but two games on special teams, lining up as the secondary kickoff returner for most of the season while also fielding eight punts in Ohio State's first four games.
Saunders has had to continuously work on his game in order to prove he deserves a shot to play a bigger role. In particular, Saunders has had to bigger and stronger – he's up to 188 pounds this spring – in order to become a better run blocker, all the while also learning to play faster.
He believes he's now as ready as he's ever been to make an impact for the Buckeyes.
"There's a lot that's gone in over the last two years," Saunders said while meeting with the media this spring. "Being effective in the run game was the first step, and getting stronger, and being able to be durable in my routes. And I think I've done that by gaining weight, gaining strength, trusting the weight staff's process and what they had planned for me. The next step would be working on my speed, and I think with the weight room, that has became a big part of my game. Because I've always felt like I've been comfortable with my hands, my top-ends, my routes."
As a fifth-year senior, Saunders also believes it's his responsibility to be a leader in the wide receiver room and be a player who his coaches can trust.
So far, Ohio State wide receivers coach Brian Hartline says that's exactly what Saunders has been, both on the field and in the meeting rooms.
"C.J. Saunders does a phenomenal job," Hartline said. "He is a guy that I use as an example a lot. Whether it be taking tests in our room, whether it be overall effort in our room, he does a great job.
"I can't find a half-speed rep of C.J. Saunders on film. It's impossible," Hartline continued. "So he's really doing a great job of leading the room by example."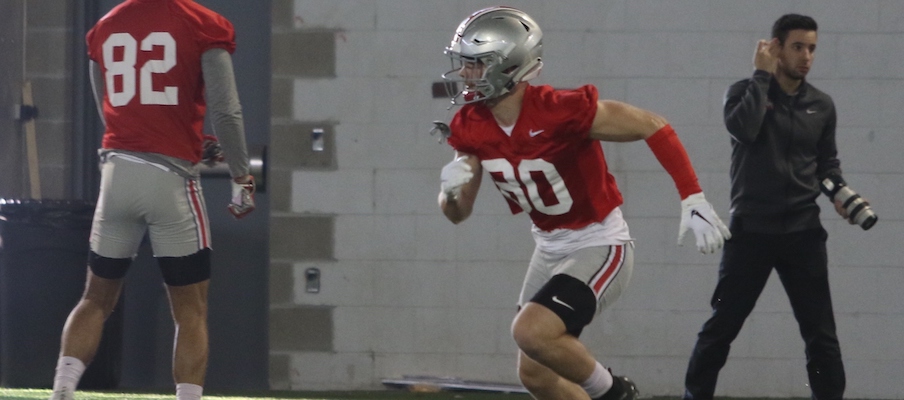 Being that leader, whether that means doing the little things well in practice or acing his tests in the film room, is something that's important to Saunders.
"Yeah, I think I take pride in definitely being able to be a leader and be relied upon," Saunders said. "With Coach Hartline, his thing is, there's so much more than just production. I haven't had on Saturdays the most production out of the room, but that doesn't mean I can't influence guys and lead them in the right direction and teach them stuff that I know that helps me be a better receiver."
"I can't find a half-speed rep of C.J. Saunders on film. It's impossible."– Ohio State wide receivers coach Brian Hartline on C.J. Saunders
Saunders wants to earn more playing time in his final season as a Buckeye, but being a leader also means helping the younger players – like Gill – who are trying to surpass him on the depth chart. And while his role on the field for his senior season remains up in the air, he values every opportunity he has to help his team get better, whether that means playing himself or mentoring his teammates.
"I wouldn't even use the word competition, it's more just helping each other get better," Saunders said of working with Gill. "I think I have a lot that I can help give to him … How can I help him become the best receiver he can be? And he's doing the same thing pushing me."