Tyreke Smith rattled off the same names anyone would expect.
When asked who caught his eye and really impressed him this year's spring practice, which wrapped up with the spring game on Saturday, the sophomore defensive end first took the politically correct position, saying everyone had played well. Smith followed up by mentioning Nicholas Petit-Frere and Noah Potter. He looked down, wracking his brain, trying to think of anyone else.
Then his eyes got wide.
"Garrett Wilson on the offensive side, he's definitely showing (improvement). He catches some stuff in practice, I'm like, 'Man, how do you catch that?'" said Smith, breaking into a smile and chuckling.
Wilson, a freshman early enrollee, had 14 practices to show the coaches and his teammates that he deserved a significant role in the offense in the fall, and he saved one of his best catches for last.
"He's a guy that can go up and control his body like one of the best I've ever seen. He's made a couple one-hand ridiculous plays. But his ability to go up over a DB, that's something that he does much better than me."– C.J. Saunders
Early in the second quarter, Matthew Baldwin targeted Wilson, his former teammate at Lake Travis High School in Texas, floating an 18-yard toss to the right corner of the end zone. Sevyn Banks, in one-on-one coverage, seemingly had position to make a play and slowed down. Wilson, looking anything but a freshman who technically should still be in high school, never slowed down.
Leaping off his left leg, Wilson perfectly timed a jump and propelled himself over Banks, extending both arms to high-point the ball and reel it in over the cornerback who fell to the ground before standing up and throwing a punch into the air out of anger.
"Y'all saw the play today where he got up on the fade route. He's been doing that all spring," Justin Fields said. "That's just him. Nobody on the team was surprised by that. We knew that was going to happen."
Behold: Garrett Wilson. pic.twitter.com/oH56Bwn4Eh

— Eleven Warriors (@11W) April 13, 2019
Wilson's catch shouldn't have shocked anyone. The second-rated wide receiver in the class of 2019 entered the program exceptionally polished for someone his age. His performance on Saturday confirmed everything expected of a five-star wideout.
In December, when Ohio State inked Wilson's signature and made the Texas-to-Ohio move official, Ryan Day said he was "as talented a young man" in terms of ball skills, speed and change of direction as anyone he had been around. If Wilson wanted to, Day claimed, he could play Division I basketball.
It's hard to dispute that after seeing Saturday's four-catch, 44-yard performance, punctuated by the 18-yard touchdown snag.
"The best catch? That one today was pretty sweet," C.J. Saunders said. "I can't wait to watch that on film or on TV. He's a guy that can go up and control his body like one of the best I've ever seen. He's made a couple one-hand ridiculous plays. But his ability to go up over a DB, that's something that he does much better than me."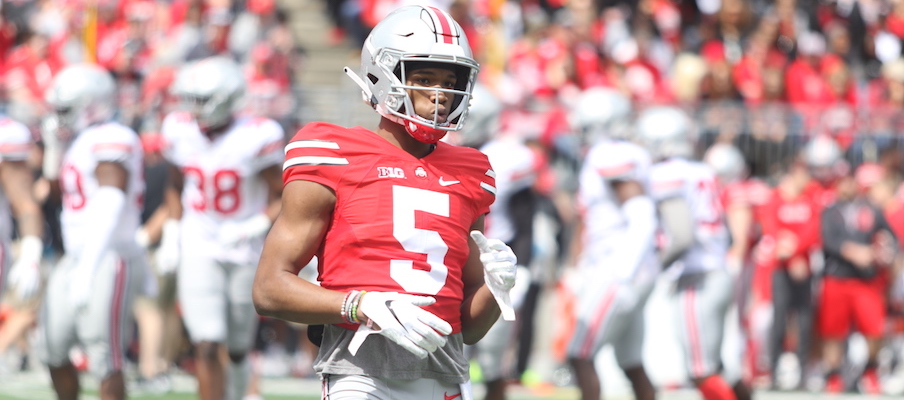 Wilson will have a sizable role in Ohio State's rotation in the fall, and how could he not? This isn't last year.
At this point a season ago, the Buckeyes had a trio of rising seniors – Terry McLaurin, Parris Campbell and Johnnie Dixon – aided by Austin Mack, Binjimen Victor and K.J. Hill. That was the two-deep depth chart. The six returning upperclassmen left minimal room for younger wideouts to break into the rotation. Not until the final stretch of the season did Chris Olave break through, catching a pair of touchdowns against Michigan in the last game of the regular season and snagging a 29-yard touchdown the next week in the Big Ten title game.
Mack, Victor, Hill and Olave are back, and each will have spots in the receiver rotation. But there's an opening for a fourth outside wideout alongside Mack, Victor and Olave.
Unless something drastic changes, Wilson will fill that role. Once again, how could he not? Ohio State won't be able to keep him off the field.
"When you turn on the tape, he's a guy that when the ball goes his way, the completion percentage is really high," Saunders said. "And as a receiver, that's huge. Whether it's a spectacular catch or a wide-open catch just building that trust with quarterbacks, he's been able to do that this (spring). Not only quarterbacks, but teammates and coaches. We know when you throw it to him, there's a good chance of him coming down with it."
Whether Fields or Baldwin takes the field against Florida Atlantic on Aug. 31 – the competition will roll into the summer – it would be surprising for the starting quarterback not to develop a strong rapport with Wilson, whose natural ability doesn't come around too often.
Day brought him up at several points this spring as someone who stood out.
"I've seen a lot of growth, period," Hill said. "From the day he walked in the offseason training to spring football. I feel like the main thing when he developed as a person. He's growing up already from a little boy to a man, and I feel like that's why he's making those plays. And he's humble. He's sucking up everything he can. He's learning. That's all he wants to do is learn. He's coachable."
Wilson translated that growth and ability into a strong performance on Saturday. First-year players shining in the spring game is nothing new.
Every year, a couple young, inexperienced players show out in front of the well-attended exhibition at Ohio Stadium, inevitably increasing expectations on them. Some of the spring game standouts translate that into production in the fall, while others struggle with that. Wilson seems likely to fit into the former category.
Doubt him at your own risk. He's special.