Ohio State records fall every year. This season should be no different.
Dwayne Haskins reset the record books in 2018, and one of his receivers and one of his running backs – as well as a fellow Maryland native – have a chance to make their mark in 2019 by potentially breaking or tying some individual Ohio State records.
Chase Young – Can become second player to record double-digit sacks in two seasons
Eight Ohio State players have had at least 10 sacks in a season. Jason Simmons broke into double digits first with 10.5 sacks in 1991. Vernon Gholston, Joey Bosa, Mike Vrabel, Andy Katzenmoyer, Matt Finkes, Will Smith and Chase Young also had seasons with at least 10 sacks.
Only one player – Vrabel – has reached 10 sacks in multiple seasons, and Young could become the second.
Despite a pair of sprained ankles that hindered him during the middle of last season, Young racked up 10.5 sacks as a sophomore, becoming the first to record double-digit sacks since Bosa's 13.5 in 2014. He's back for his junior season, and he's primed to have another strong season, which could land him in the record book alongside Vrabel.
K.J. Hill – Can tie or break record for most consecutive games with a catch
How consistent has K.J. Hill been? Well, he has caught at least one pass in 34 games in a row, a streak that dates back to Ohio State's win against Northwestern on Oct. 29, 2016.
Gary Williams holds the current record for consecutive games with a catch, and no one has ever come close to him. He caught passes in 48 straight games, a record that spanned from 1979-82.
To break Williams' record, Hill needs to play 15 games in 2019 and make catches in all of them. The only way to do that? For Ohio State to play in the national championship. No pressure.
He could tie Williams' record by having catches in 14 games, which could happen if the Buckeyes either made the Big Ten title game and a bowl game, or if they didn't play in the conference championship but made the College Football Playoff and had a national title game appearance.
J.K. Dobbins – Can become the second player to rush for 1,000 yards in three consecutive seasons
Archie Griffin topped 1,000 rushing yards in the 1973, 1974 and 1975 seasons, becoming the first player in Ohio State history to crack the mark three straight seasons. In the following four decades, multiple players – including Ezekiel Elliott, Antonio Pittman, Beanie Wells, Eddie George and Keith Byars – rushed for 1,000 yards in back-to-back seasons, but nobody managed to do so three years in a row.
Dobbins will likely become the second Ohio State back to ever rush for at least 1,000 yards in three straight seasons, joining Griffin.
He put himself in this position by breaking the single-season program record for most rushing yards as a freshman, racking up 1,403 yards in 2017. The following season, despite splitting carries with Mike Weber, he tallied 1,053 yards.
As Ohio State's undisputed lead back in 2019, he almost certainly will break 1,000 rushing yards for the third year in a row, provided he stays healthy.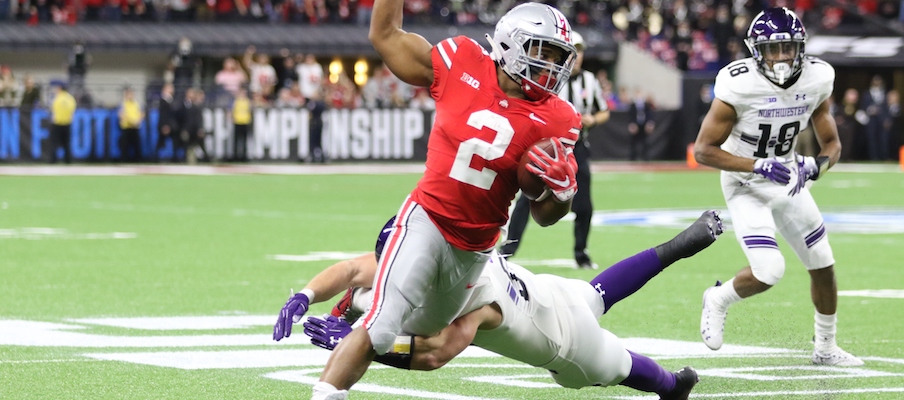 Chase Young – Can tie or break single-season sack record
This is pure speculation since the season is months from beginning, but Young will have a shot at Gholston's single-season sack record.
In 2007, Gholston picked up 14 sacks, breaking Vrabel's record of 13 sacks that had stood for 12 years. Twelve years after Gholston set the latest mark, Young could have a chance to break it again.
Even after Nick Bosa's injury, with offenses giving him more attention than originally anticipated, Young thrived last season. He had four multi-sack games during his sophomore season, including two against Penn State and a career-high three versus Northwestern.
Ohio State will set Young loose once again in 2019.
K.J. Hill – Can break career receptions record
David Boston's program record of 191 career receptions has stood for two decades, but Hill is in prime position to break it in 2019.
He had 18 catches as a freshman, 56 catches as a sophomore and 70 catches last season as a junior, giving him 144 career receptions. Therefore, he needs just 47 catches to tie Boston's record and 48 catches to become the record-holder for most career receptions in Ohio State history. 
Hill's 144 catches already rank him sixth in program history, behind Boston (191 catches), Cris Carter (168), Michael Jenkins (165), Gary Williams (154) and Corey Brown (145), and just ahead of Parris Campbell (143).
Others To Keep In Mind
J.K. Dobbins – Can tie or break record for most games in a season with 200 rushing yards
Dobbins has only topped 200 yards in a game once in his career, but it came in a win against Maryland last season in which Weber didn't play. Since Weber's in the NFL now, it's not inconceivable Dobbins can take a run at this record.
Ezekiel Elliott and Eddie George hold the current record, having both rushed for 200 yards three times in a season. 
K.J. Hill – Can break career record for most receiving yards
Hill likely won't break the career receiving yards record, but he's already in the top 20 and has a full season of play remaining.
He has 1,696 career receiving yards, which puts him 1,202 yards from Michael Jenkins' record of 2,989 career yards.