While Ohio State's most highly touted recruits often don't redshirt and its star players often leave school early for the NFL, the most important players on the team often include fifth-year seniors.
That's certainly been the case for the past couple years. Ohio State's top player leaders in 2017 – quarterback J.T. Barrett, center Billy Price and defensive end Tyquan Lewis – were all fifth-year seniors. The revered trio of wide receivers who led last season's team – Parris Campbell, Terry McLaurin and Johnnie Dixon – also finished their careers as fifth-year seniors.
Ohio State is set to have more than a dozen fifth-year seniors on its 2019 roster, and they should make a big impact once again.
The most high-profile fifth-year senior on the Buckeyes' roster this season might be K.J. Hill, who could have entered the 2019 NFL draft and likely would have been a middle-round draft selection, but opted to stay at Ohio State for one more year instead. Now, he'll have the opportunity to be one of the senior leaders of this year's wide receiver room.
Hill has been among the Buckeyes' top two receivers in each of the past two seasons (along with Campbell in both years), so he'll be the starting slot receiver and likely the go-to target for this year's offense. He's also in great position to become Ohio State's all-time leader in receptions, needing just 50 catches to eclipse David Boston's career total of 191.
Another fifth-year senior who gave serious consideration to leaving for the NFL but decided to return for one more year is Damon Arnette. Like Hill, Arnette made his decision to stay at Ohio State after consulting with former Ohio State wide receiver Cris Carter; in Arnette's case, he had actually planned to leave and booked a flight out of Columbus but called a last-minute audible to stay after taking Carter's advice to heart.
Now entering his third year as a starting cornerback for Ohio State, Arnette will be expected to provide veteran leadership in the Buckeyes' secondary.
The Buckeyes are loaded with fifth-year seniors in the trenches. On the defensive line, Robert Landers and Davon Hamilton return as Ohio State's top two nose tackles, and both could be among the leading candidates to be captains for the Buckeyes this year. Jashon Cornell appears to be the frontrunner to start at the other defensive tackle spot, moving inside from defensive end to fill the vacancy opened by Dre'Mont Jones' decision to enter the NFL draft instead of returning for his fifth-year senior season.
On the offensive line, fifth-year seniors Branden Bowen and Joshua Alabi are both in the mix as potential starters. Either could start at right tackle, where Nicholas Petit-Frere is also competing for the starting job, while Bowen is also a candidate to start at left guard. The Buckeyes are bringing in another fifth-year senior in Jonah Jackson, a graduate transfer from Rutgers, who will likely be the frontrunner to start at left guard when he arrives this summer. Regardless of whether Bowen and Alabi start, though, they'll likely see some playing time and provide crucial depth and leadership up front.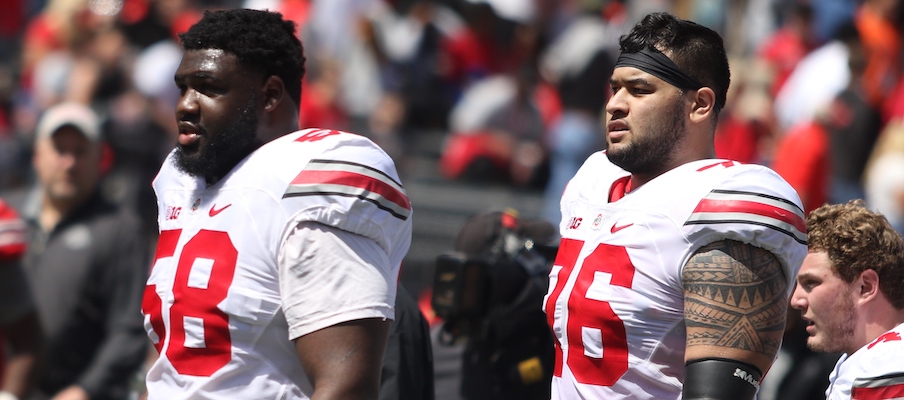 Rashod Berry, who has been one of Ohio State's top two tight ends the past two seasons, is another fifth-year senior with the potential to make a big impact in his final season as a Buckeye. Even though he's already been at Ohio State for four years, he's still developing as a tight end after spending part of his career on the defensive line, and will look to finally turn his potential into greater production in 2019 – though he has to contend with Luke Farrell and Jeremy Ruckert for playing time.
C.J. Saunders is pushing for playing time in the wide receiver rotation as a fifth-year senior, potentially as Hill's backup in the slot (though Jaelen Gill made a strong push for that spot this spring), even though he began his career at Ohio State as a walk-on. He's been on the cusp of earning a spot on the rotation for the past two years, and has emerged as another leader in the wide receiver room thanks to his work ethic.
Saunders is one of two fifth-year seniors who began their careers as walk-ons but are now on scholarship; Kevin Woidke, a reserve offensive lineman who does play regularly on the field goal team, received a scholarship for his final season this spring.
Another fifth-year senior who plays an important role on special teams is Liam McCullough, who is entering his fourth and final season as Ohio State's starting long snapper and has been consistently reliable for the Buckeyes over the past three years in that job.
Justin Hilliard has been a key player on special teams for the Buckeyes for the past two seasons while also seeing some playing time at linebacker, but it's uncertain whether he will be able to play in his fifth-year senior season after suffering an Achilles injury this spring. Either way, he's another veteran player who could provide leadership even if he's not on the field.
Ohio State's roster of fifth-year senior scholarship players is rounded out by Chris Chugunov, who is in his second season with the Buckeyes as a graduate transfer from West Virginia and provides needed depth as a third-string quarterback following this offseason's departures of Matthew Baldwin and Tate Martell.
Among those 14 fifth-year seniors, seven of them have already received their bachelor's degrees. Cornell graduated last summer, Chugunov and Jackson graduated from their previous universities and Bowen, Hilliard, McCullough and Saunders all graduated Sunday. Those Buckeyes will all be in graduate school this fall. For the other seven fifth-year seniors, another year of eligibility means more time for them to complete their degrees – just as Sean Nuernberger did last summer and Campbell, Dixon, Brady Taylor and Malcolm Pridgeon did this past winter as fifth-year seniors.
Going into Ryan Day's first season as head coach, with five new assistants on the coaching staff, strong player leadership will be as important as ever for Ohio State this season. With fifth-year seniors in nearly every position group, and several of them in line to play key roles, there should be plenty of candidates to provide that leadership.