Ohio State's recruiting class of 2017 is entering a pivotal season.
Those Buckeyes are entering their third season in Columbus, which means they're expected to be ready to play significant roles for Ohio State if they haven't already. Each of them now have two years as Ohio State players under their belts, and by the end of the upcoming season, all of them will be on the back end of their careers while some of them will have decisions to make about whether it's time to go to the NFL.
Third-Year Reset
With that in mind, Eleven Warriors has taken an individual look this offseason at each of Ohio State's 18 third-year scholarship players – in descending order of their 247Sports composite recruiting rankings – and the expectations that preceded their Ohio State careers, how they have performed in their first two seasons as Buckeyes and the outlook for the remainder of their careers.
The Third-Year Reset wraps up with a look at Blake Haubeil, the No. 4-ranked kicker in the class of 2017, who has already contributed in each of his first two seasons at Ohio State but now has the Buckeyes' placekicking duties all to himself entering his junior year.
Before He Became a Buckeye
After transferring from Amherst Central High School to Canisius High School (both in Buffalo, New York) for his final two years of high school, Haubeil was selected by The Buffalo News as the first-team all-Western New York kicker and selected by USA TODAY as the first-team All-New York kicker for each of his two seasons with the Crusaders. 
In his junior season in 2015, Haubeil made a 61-yard field goal – the second-longest field goal in New York high school football history – that made the difference in a 23-20 win for Canisius over South Park High School. In his senior season, Haubeil helped lead the Crusaders to a New York Catholic High School Athletic Association championship by making all 56 of his extra point attempts.
Haubeil made 17 of the 22 field goals he attempted in his high school career.
Ranked as the No. 11 prospect across all positions for the state of New York for the class of 2017, Haubeil was the first scholarship kicker to sign with the Buckeyes since Sean Nuernberger in 2014.
Career to Date
Although Haubeil arrived at Ohio State as a grayshirt – meaning he would not be placed on scholarship until after his first season, as has become customary for recruited Ohio State specialists – that didn't stop him from becoming an immediate contributor. He was chosen to be the Buckeyes' kickoff specialist for the season opener as a true freshman.
Haubeil's first season in that role was bumpy, as he struggled to adjust to the coffin-corner kickoff strategy that Urban Meyer's Buckeyes utilized. Five of his kickoffs went out of bounds, while he was inconsistent throughout the year with his distance and hangtime, and he was benched on multiple occasions for Nuernberger – though he got the job back both times – as kickoff coverage proved to be a persistent problem that plagued Ohio State all season.
As Ohio State became less hellbent on kicking the ball into the corner last season, following the NCAA rule change that allowed kickoff returners to call for fair catches inside the field of play and still advance the ball to the 25-yard line, Haubeil was more effective on kickoffs in 2018. He handled all 103 of Ohio State's kickoffs for the season, only two went out of bounds and the Buckeyes ranked second in the nation with only 14.9 yards allowed per kickoff return.
Haubeil also became Ohio State's placekicker for field goals and extra points for the final eight games of last season after Nuernberger suffered a groin injury that would linger for the remainder of the year. In his first game in that role, at Ohio Stadium against Minnesota, Haubeil made all three of his field goal attempts – including a 47-yard kick – as well as three extra points. For the season as a whole, Haubeil made 10 of 13 field goal attempts and all 37 of his extra point attempts.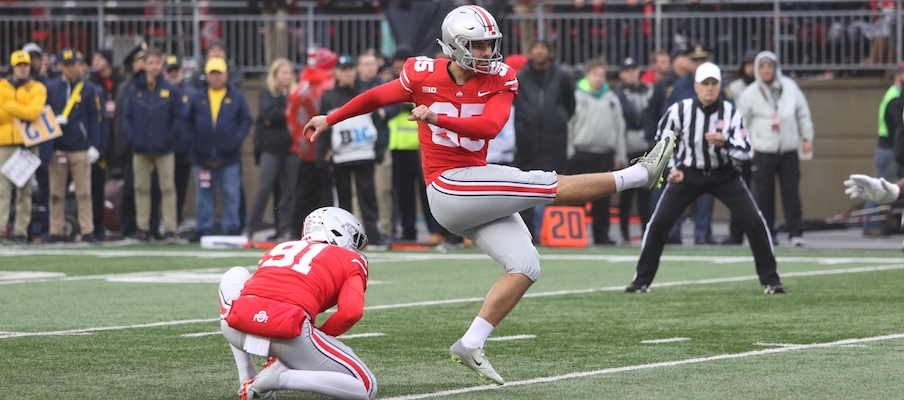 Third-Year Outlook
After handling every kickoff in all 14 of Ohio State's games last season and every field goal and extra point attempt in the final eight games, Haubeil is now firmly established as the Buckeyes' top kicker. Nuernberger's five-year career at Ohio State is now over, and the Buckeyes do not currently have another kicker on scholarship.
Now, the question is whether Haubeil can establish himself as one of the best kickers in college football.
As evidenced by his 61-yard kick in high school, Haubeil certainly has the leg strength to be one of the nation's best. He still has to prove that he can make long field goals at the collegiate level on a consistent basis, however, as he made only two field goals of 40-plus yards in 2018, while two of his three misses came from 33 yards or shorter.
Haubeil believes it will help his consistency this year now that he has more than half a season of experience kicking field goals and extra points under his belt.
"Getting the chance to do field goals last year was huge, so I'm just trying my best to be as consistent as possible," Haubeil said this spring. "Create, develop and perfect my routine, so I can go out there (this season) with full confidence."
With a new head coach in Ryan Day and a new special teams coordinator in Matt Barnes, Ohio State could choose to alter its kickoff strategy this season, though that likely won't be revealed until the season begins. A more traditional strategy of kicking the ball as far as possible down the middle would seemingly play into Haubeil's strength as well, though his improvement from year one to year two with the coffin-corner kickoff gives the Buckeyes reason to be confident about his ability should they prefer to stick with that strategy.
Ohio State needs to be able to count on Haubeil to make the kicks he's supposed to make and execute consistently on kickoffs; continued and steady improvement will be the key to accomplishing that. The Buckeyes also need to be able to trust Haubeil if they need him to make a clutch kick with the game on the line; he hasn't been tested much in that area yet.
There's no reason to believe Haubeil can't be one of the best kickers in the Big Ten and even the entire country, though, if his Ohio State career continues along its upwardly moving trajectory.
Beyond 2019
Haubeil didn't take a redshirt year, so he has just two remaining seasons of eligibility. As such, he is in line to be the Buckeyes' kicker through the 2020 season, after which Jake Seibert – an Ohio State commit currently ranked as the No. 2 kicker in the class of 2020 – will likely be in line to succeed Haubeil in 2021.
Whether Haubeil can establish himself as one of the elite kickers in college football over the next two years will determine whether he has a shot to be selected in the 2021 NFL draft, as there are typically only a few kickers who make it to the league from each respective draft class. (The last Ohio State kicker to be drafted was Mike Nugent in 2005.)
Haubeil will need to not only be very consistent on kickoffs and field goals inside 40 yards, but also add some 50-plus-yard field goals to his collegiate resume, in order to make a real impression on NFL scouts.
Before he reaches that bridge, though, Haubeil's task will simply be to be the best kicker he can be for the Buckeyes for the next two seasons. Ohio State has had some inconsistency from the position in recent years, so Haubeil has the potential to be the Buckeyes' best kicker in some time if he can deliver on the expectations that came with his recruitment over the next two seasons.
Now that he is firmly established as the top kicker on the team, Haubeil will also have the opportunity to exert himself as a team leader – particularly for the specialists, and probably especially in 2020, when he will be a senior on a team that is set to lose 19 scholarship seniors after the 2019 season.