While Ohio State ultimately put up 504 yards of offense in its 30-14 win over Minnesota, it wasn't a great day for the Buckeyes' offensive line, particularly its offensive tackles.
Left tackle Thayer Munford was knocked out of the game in the third quarter when he was knocked backward into Dwayne Haskins in the process of Haskins being sacked, resulting in Munford's ankle being caught between two players as he fell backward over Haskins.
After spending a couple minutes on the ground, Munford was able to walk off the field under his own power, but he did not return to the game. That said, he could be back for the Buckeyes' next game at Purdue next Saturday.
"He rolled his ankle a little bit, and he's got a little bit of a hip issue, but I think he's going to be okay," Ohio State coach Urban Meyer said after the game.
With Munford out of the lineup, Joshua Alabi played the rest of the game at left tackle in his place. Offensive coordinator Kevin Wilson said he thought Alabi "came in and did a nice job."
The reason why Munford got rolled up on was because right tackle Isaiah Prince was beaten badly on the play by Minnesota defensive end Jerry Gibson, who went right around Prince for a free shot at Haskins and the sack. And that wasn't the only black mark on the day for Prince.
In his worst game since his notoriously rough sophomore season in 2016, Prince was also beaten for a pair of sacks by Minnesota defensive end Carter Coughlin (though Ohio State center Michael Jordan also missed a pull block on Gibson on Coughlin's first sack), and flagged for three penalties (two for false starts and one for being an ineligible receiver downfield) in Saturday's game.
Wilson said after Saturday's game that he thought Prince's poor play compounded over the course of the game because he allowed his mistakes to get into his head.
"I think he was kind of playing in the past," Wilson said of Prince. "He couldn't press pause and move forward. And as a veteran player, he's done that. He'll be better at it. We're all human. He didn't let it go quick enough, and that's going to haunt him. But that'll also be a teachable moment that hopefully we can get him past."
That said, Meyer thought Ohio State's entire offensive line struggled on Saturday, when the Buckeyes also averaged just 2.9 yards per rushing attempt.
"I don't know if we played particularly well today," Meyer said of the offensive line. "We gave up three sacks. We have to keep Dwayne upright. Short-yardage is not a strength. Red zone is not a strength. And running the ball is not a strength. So it's something we've got to get figured out."
Haubeil steps up
With starting kicker Sean Nuernberger sidelined for Saturday's game with what an Ohio State spokesman described as a "minor strain," Blake Haubeil was called upon to kick field goals and extra points for the first time in his Ohio State career.
Haubeil took advantage of the opportunity.
The sophomore from Buffalo, New York, made all three of his field goal attempts on Saturday – including a 47-yard kick, as well as 21- and 27-yard kicks – along with all three of his extra point attempts.
On a day that Ohio State scored a season-low three touchdowns, the Buckeyes needed their kicker to split the uprights, and Haubeil delivered in his debut.
"I woke up like every other day today, and as soon as I got the call for field goals, I just tried to get as ready as possible," said Haubeil, who is also Ohio State's kickoff specialist.
Haubeil said he received words of encouragement before the game from Nuernberger, who expressed confidence in Haubeil that he would be up to the task.
"He knows how hard we work as a unit and how much preparation goes into it," Haubeil said. "And he told me before the game, he said, 'You got it, man. Just stick with your routine, you're going to put them all through, just stay as calm as possible.' And when I've gone 10 other guys who've got my back out there on the field goal unit, it's nice."
Proud of my man @BlakeHaubeil for stepping up when we needed him today. Killed it all day!!!

— Sean Nuernberger (@Sean4Heisman1) October 13, 2018
Hilliard gets his chance
Saturday's first start of his Ohio State career was a long time coming for redshirt junior linebacker Justin Hilliard.
A five-star recruit out of Cincinnati's St. Xavier High School in 2015, Hilliard was supposed to be an immediate impact player for the Buckeyes. His first two years in Columbus were ravaged by injuries, however, keeping him from earning a significant role on the field until last season, when he became a regular on multiple special teams units.
Through Ohio State's first six games this season, Hilliard had continued to be a core special teamer for the Buckeyes, playing only 56 snaps at linebacker. With Malik Harrison sidelined for Saturday's game after going through concussion protocol, however, Hilliard finally got his shot to play a big role on defense, starting in Harrison's place at outside linebacker.
"It meant so much," Hilliard said after the game. "My entire career here, that's always what I dreamed. Coming out of high school, this was my dream school. It's always what I wanted to do. Had some setbacks, some injuries, some other things. And it just felt super to be out there."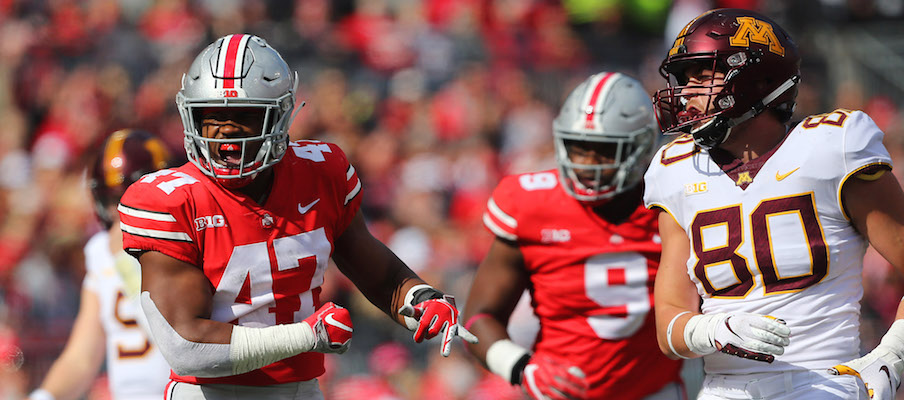 With the setbacks he had earlier in his Ohio State career, Hilliard acknowledged there were times that he was uncertain whether the opportunity he had Saturday would ever come. But he got that opportunity as a result of the hard work he has put in.
"Me and (Ohio State wide receiver) Johnnie Dixon, we were rehabbing for a couple years, we went through some dark times like I said, sometimes where we didn't even think we were going to play again, and then we kind of just fought through that and then tried to stay as positive as possible," Hilliard said. "Never feeling sorry for yourself and just keep going."
Hilliard took advantage of his opportunity on Saturday, recording five total tackles and two pass breakups, including a crucial knockdown on a 3rd-and-6 pass in the red zone that forced Minnesota to settle for a 32-yard field goal attempt, which Gophers kicker Emmit Carpenter missed. But while he was pleased with the plays he was able to make, he believes he must still work to get better.
"I got a lot to work on," Hilliard said. "I know I can play, make plays, but I got to focus on every play, doing my assignment, make sure no big plays get out."
Throwing to the tight ends
When asked Wednesday for his thoughts on how Ohio State's tight ends have performed this season, Meyer said the Buckeyes needed "to get them more involved" in the passing game.
That's been said before in Meyer's tenure without it actually coming to fruition, but it actually did on Saturday, as tight ends Rashod Berry and Luke Farrell each caught a pair of passes.
In a vacuum, four receptions by the tight ends might not seem like a lot – especially considering Haskins completed a school-record-tying 33 passes for a second consecutive week – but Ohio State's tight ends had only caught five passes for the entire season going into Saturday's game.
Farrell's two catches, including a career-long 24-yard catch, went for a combined 37 yards, while Berry's went for 20 yards.
Wilson, who is also Ohio State's tight ends coach, said after Saturday's game that he is pleased with how his tight ends – also including true freshman Jeremy Ruckert, who did not catch a pass against the Golden Gophers but did see playing time on offense – are coming along this year.
"Last week was their best game as a group and graded out really well," Wilson said. "It's nice of Rashod to make a play, Luke had a couple nice ones and more than anything, the way they can block and run better and complement the line is going to make us a better run team and a more complete team."