For the first time in Urban Meyer's stint at Ohio State, the Buckeyes pulled out a win while rushing for 100 or fewer yards. They held off Minnesota for a 30-14 win on Saturday despite Mike Weber (51 yards), J.K. Dobbins (35 yards) and Dwayne Haskins (six yards) combining for just 92 rushing yards.
In the past decade, games with such little production on the ground have almost always ended in Ohio State losses.
The only two other games during Meyer's tenure that teams rushed for so few yards resulted in a 31-0 Fiesta Bowl loss to Clemson in 2016 and a 17-14 loss to Michigan State in 2015 that effectively eliminated the Buckeyes from College Football Playoff contention. In fact, Ohio State has lost its past eight games in which they rushed for 92 or fewer yards, dating back to 2007.
This team's offense, though, differs from every other unit since Meyer arrived at Ohio State for one reason: Haskins.
He dices up defenses through the air unlike any other Buckeye quarterback Meyer has coached, which has altered the offensive "balance" he holds in such high regard.
Meyer's Ohio State teams have accrued more rushing than passing yards per game in five of his six seasons. In his 16 seasons prior to this one as a head coach – six at Ohio State, six at Florida, two at Utah and two at Bowling Green State – his offense maxed out at 263.7 passing yards per game with eventual first overall NFL draft pick Alex Smith in 2004.
With Haskins, that has drastically changed. Haskins' 412-yard game against Minnesota increased the Buckeyes' average to 371.4 passing yards per game. It doubles Ohio State's average in 2012 (185.5 pass yards per game) and nearly doubles 2015's average (188.8).
As the Haskins-led pass game has continued to reach new heights, though, Ohio State's run game has faltered. The Buckeyes average 185.4 rush yards per game this season. They have not rushed for fewer than 242.3 rush yards per game in a prior season under Meyer as head coach.
"Whether we're running first, whatever, we have to maintain physical presence as an offense to be a high-end championship-type team."– Kevin Wilson
Meyer called the lack of rushing production "discouraging a little bit" after the game, but seemed to lean into a pass-first approach.
"Once again, (we're) 7-0, and looking down we're throwing for 412. It is what it is," Meyer said. "Just knowing the game of football, I've been around. At some point, you've got to line up and do what you do."
Can Ohio State win with 400-plus passing yards and fewer than 100 rushing yards?
"I think so," Meyer said. "As of today and last week, no, but there certainly are signs. We've got two good backs, and we've just got it get it worked out."
That attitude is a far cry from the run-heavy approach that has been used in recent years. But with a Haskins-level passer at quarterback, it would make sense to use him as much as possible. The Buckeyes have seemingly gained yards through the air at will this season, and once again did so on Saturday.
Haskins frequently found K.J. Hill, who had nine catches for a career-high 187 yards and two touchdowns. Parris Campbell caught eight passes for 56 yards and has at least seven catches in each of the past four games. Binjimen Victor scored important touchdowns against Penn State and Indiana. Even Terry McLaurin, often lauded for his blocking, caught a touchdown on Saturday to give him a team-high seven scores.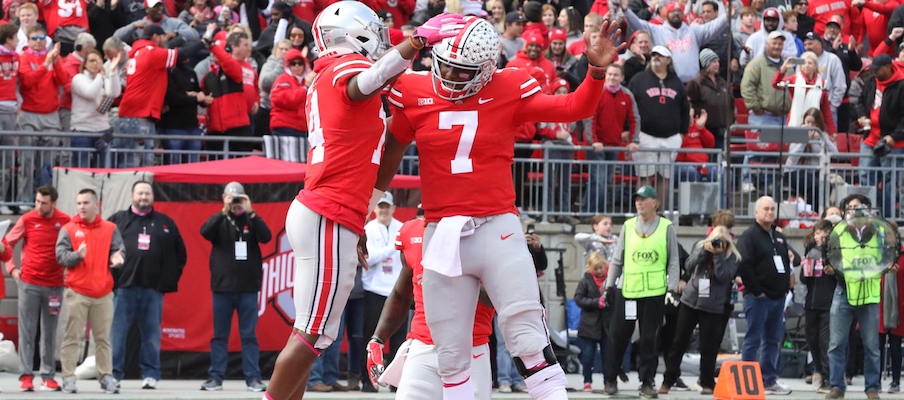 Ohio State gained 504 yards of offense despite fewer than 100 yards coming on the ground. The ground game gave the Buckeyes enough to beat the Golden Gophers, but Kevin Wilson doesn't believe the lacking production will suffice against a higher level of competition.
"To be a championship team, you do need to throw the ball like we're throwing it," Wilson said, "But we've got to find the consistency and toughness to get the run game going."
He compared the unbalanced offense to someone using both their right and left hands. Just as they couldn't win a fight with one hand, Wilson believes the Buckeyes will need both facets of the offense to work later in the season.
"We need to be able to be good enough down the stretch, in Big Ten weather, in Big Ten games, to have two hands," Wilson said.
Hill agreed, saying at some point, an opponent will stop the pass game and the Buckeyes will have to rely on Weber and Dobbins to pull them to a victory. Thus far, that hasn't happened. Even when Ohio State couldn't get anything going through the air for awhile against Penn State, the offense averaged 3.2 yards per rush.
The ability to rely on a strong run game has only worsened as the season has progressed. Rushing efficiency has trended down, steadily declining from 7.1 yards per carry in the season opener against Oregon State to 2.9 yards per carry on Saturday.
Wilson, a former assistant coach at Oklahoma, watched Mike Leach's Texas Tech teams succeed with an even more extreme pass-first approach. But Wilson said Leach's best teams were "very, very physical," even though they didn't run much.
"Whether we're running first, whatever, we have to maintain physical presence as an offense to be a high-end championship-type team," Wilson said.
Wilson said the Buckeyes aren't there right now. But that hasn't yet led to a defeat.
With only one hand against Michigan State or Michigan, though, Ohio State knows it might be in trouble.