Urban Meyer's offenses at Ohio State have consistently had a reputation of sparingly utilizing tight ends in the passing game.
That reputation certainly hasn't changed this year. Through the first six games of the Buckeyes' season, in which Dwayne Haskins has already completed 142 passes for 1,919 yards and 25 touchdowns, Ohio State tight ends Luke Farrell, Rashod Berry and Jeremy Ruckert have combined to catch just five passes for 51 yards and two touchdowns – and only one of those catches, a 13-yard reception by Farrell, has come in the last four games.
As the Buckeyes begin their second half of the regular season, however, Meyer says he wants to see their tight ends make a bigger impact as receivers.
"In the pass game, just OK," Meyer said Wednesday when asked to evaluate the tight ends' performance this season. "That's something we're still growing with, but in the pass game, we need to get them more involved."
The tight ends' lack of involvement in the receiving game hasn't exactly hurt Ohio State's passing offense. Between Haskins' gaudy numbers and backup quarterback Tate Martell's performance in limited action, Ohio State is currently tied for the Football Bowl Subdivision lead in passing touchdowns (26), ranks second in completion percentage (73.0) and ranks third in both passing yards per game (364.7) and passer rating (188.8).
Still, the emergence of Ohio State's tight ends as receiving playmakers could add value to the offense in specific situations – particularly in short-yardage situations, where the Buckeyes are currently searching for answers, and in the red zone – and give opposing defenses one more option they have to worry about.
The tight ends themselves, of course, would like to have more opportunities to catch the ball, and they believe the key to making that happen is to continue showing what they can do in practice.
"Just got to keep working every day in practice," Berry said Wednesday. "Completing passes in practice, and just building that confidence, really."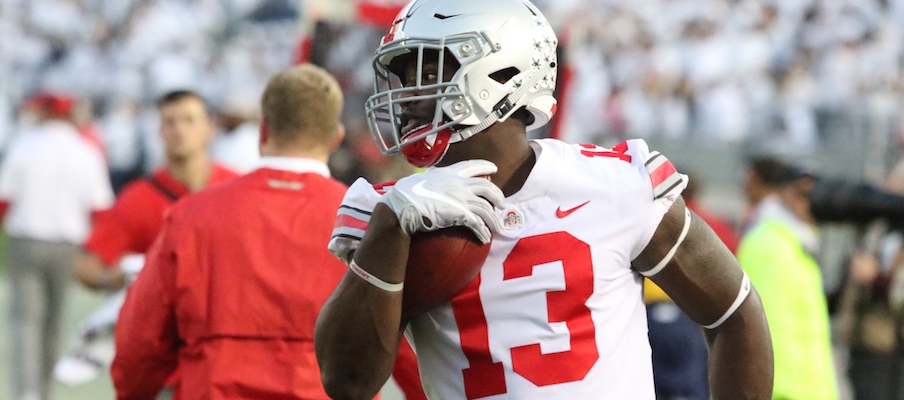 The priority for Ohio State's tight ends, however, is and always has been their ability to block, and Meyer is pleased with their improvement in that regard.
"Blocking, they're getting much better," Meyer said. "So I'd grade them a 'B' overall."
Farrell also believes the performance of his position group is progressing in the right direction.
"I think we're improving a lot as the season goes on, which is what we need to do, so we can be playing our best football at the end of the season," said Farrell, the only tight end who has caught multiple passes this season (three for 32 yards and one touchdown). "As it's always been, you got to prove yourself blocking first, which I think we've been doing pretty well."
Farrell and Berry have played the majority of snaps in Ohio State's tight end rotation this season, with each starting three games so far. Berry has played 233 total snaps to Farrell's 192, but both have seen regular playing time in all six of the Buckeyes' contests.
Both tight ends have already played more snaps than they did in 2017, which was Farrell's first playing season (he played 107 snaps last season) and Berry's first playing season at tight end after moving from defensive end (he played 215 snaps last season).
Both players said Wednesday that they believe they complement each other well.
"I feel like we complement each other great," Berry said. "We've both got strengths and we both got weaknesses, and we just improve and coach each other up and make sure we both are getting better at it."
"I think we're improving a lot as the season goes on, which is what we need to do, so we can be playing our best football at the end of the season." – Ohio State tight end Luke Farrell
Ruckert, meanwhile, has appeared in five of Ohio State's first six games and played 80 snaps after arriving in Columbus this summer as the Buckeyes' most highly touted tight end recruit of the Meyer era. He's still developing as a blocker after playing mostly as a receiver in high school, but the Lindenhurst, New York native has perhaps the most potential of the group to emerge as a regular pass-catching threat.
"Jeremy Ruckert's going to be an excellent tight end," Meyer said Wednesday. "He's exactly what you look for in recruiting. He's got a great future here."
Farrell said he has been impressed with the way Ruckert has improved in his first few months on campus.
"He's been doing great," Farrell said. "Ever since he got in here this summer, he just wants to be better, which is awesome. Doing whatever he can mentally, physically to get better, and you can see the improvement."
The Buckeyes also have a fourth tight end in Jake Hausmann, a third-year sophomore like Farrell, who has appeared in three games and played 11 offensive snaps after missing the first three games due to a hamstring injury. Although he was actually a more highly rated recruit than Farrell, Hausmann hasn't been able to earn a significant role in Ohio State's offense yet, but Farrell says Hausmann has "been improving a lot, too."
"He's been dealing with a lot of injuries so far, which is never easy, but he's been making improvements as well and getting back to full, 100 percent healthy," Farrell said. "We're looking forward to having him."
While the tight ends tend to be overshadowed in Ohio State's offense, they still play an important role – particularly as blockers in the run game, where Meyer says the Buckeyes need to improve after averaging just 3.2 yards per carry in their past two games, but also in the passing game not only as receivers, but as pass protectors in some situations.
It remains to be seen whether the tight ends will start having more balls thrown their way, as that's rarely materialized over the past six-and-a-half years. But they say their focus is on continuing to improve in all areas of their games so that they are ready to contribute in every facet of the offense.
"As a group, what we need is just everybody working off of each other and improving," Farrell said.